Best Slots with a Tash 2023: Top Movember Slots
The month of November has become a time when all the world comes together for Movember. Below we take a look at how some online casinos mark the charitable initiative and list some of the best moustache slots you can play.
What is Movember?
First making the news in 1999, Movember is a charitable initiative started by a group of men in Adelaide, Australia, that seeks to change 'the face of men's health on a global scale'. Indeed, the initiative sees many people grow the biggest and most impressive moustache they possibly can in order to raise awareness for prostate and testicular cancers, as well as men's mental health and suicide prevention.
The concept has been registered as an official charity for the past 16 years and, in 2012, the NGO was listed as one of the world's top by the Global Journal.
How Online Casinos Mark Movember
In 2020, Movember continues to be one of the most followed and talked-about charitable initiatives in the world – and it should come as no surprise seeing as the charity has funded well over 1,200 projects in more than 20 countries.
Movember at online casinos is marked by adorning parts of their websites with moustaches, using their offices and social media accounts to raise awareness, and getting their team members to help raise funds. Last year, for example, Mr Play Casino, which also celebrates its birthday in November, asked its employees to sport a moustache to help raise awareness and even donated a part of its November earnings to men's health initiatives.
Rizk Casino, meanwhile, launched an Instagram competition for its users, who were urged to send a picture of their Movember moustache. Moreover, for three days during the month of November, players who levelled up were given 10 free spins.
All this, apart from getting people to build a better bond with their online casino, also helps raise awareness publicly and privately about the cause.
Top 10 Moustache Slots
As the most iconic reminder of what Movember stands for, moustaches take centre-stage during the month of November. Below we take a look at ten amazing video slots that celebrate the moustache.
Gonzo's Quest
As one of the world's best-loved video slots, Gonzo's Quest was NetEnt's first-ever platinum release. The game has a tagline that reads 'The Search for Eldorado', and it's all about myth, legend, gold and Gonzo's very distinguishable moustache.
The actual video slot, whose RTP stands at 96%, has five reels, 20 paylines, and one-of-a-kind Avalanche Reels that let you win up to five times your prize for every winning spin. The game also has another incredible feature called the 'Free Falls Bonus'. This bonus gives you multipliers of up to 15 times for consecutive winning spins.
Barber Shop Uncut
It's hard to find a more Movember-friendly video slot than Thunderkick's Barber Shop Uncut. Indeed, this game is set inside a barber shop and spins will see the game shaving and grooming the men on the reels. It's a sweet game, sure, but it's also a great video slot.
With five reels and 40 paylines, Barber Shop Uncut gives you the chance to win 2,355 times your stake each and every time you spin. With an RTP of 97%, Barber Shop Uncut has some incredible feature, too, including the Re-spin one where winning reels stay put while the others spin. Meanwhile, the Bonus Game gives you the chance to win up to 30 free spins.
Nikola Tesla's Incredible Machine
Created to celebrate the life and achievements of one of history's most famous inventors, Nikola Tesla, this video slot by Yggdrasil could not have possibly left out one of Tesla's most recognisable features: his moustache.
The game itself takes a fun twist as it's set within his laboratory 100 years after his death. But not all is as it seems as an invention Tesla wanted to keep secret has been unearthed. With an RTP of 96.2%, 25 fixed paylines, three reels and a maximum win of over €1,000,000, its down to the players to solve the mystery. And there's a lot of help along the way, including Exploding Wilds, Wild Substitutions and Reel Clones.
Madame Moustache
Enter the world of Madame Moustache, a female saloon owner who has a habit of wearing fake moustaches to show that she can make the business work as well as any man.
In this comic-like, Western video slot by Spinmatic, you'll find four reels, 10 paylines and an RTP of 95.18%. The symbols, meanwhile, include playing card suits and four characters including Madame Moustache, who is the Wild Symbol. To win the ultimate prize, get four Madame Moustache symbols – it's not easy, but it's definitely worth it.
Dead or Alive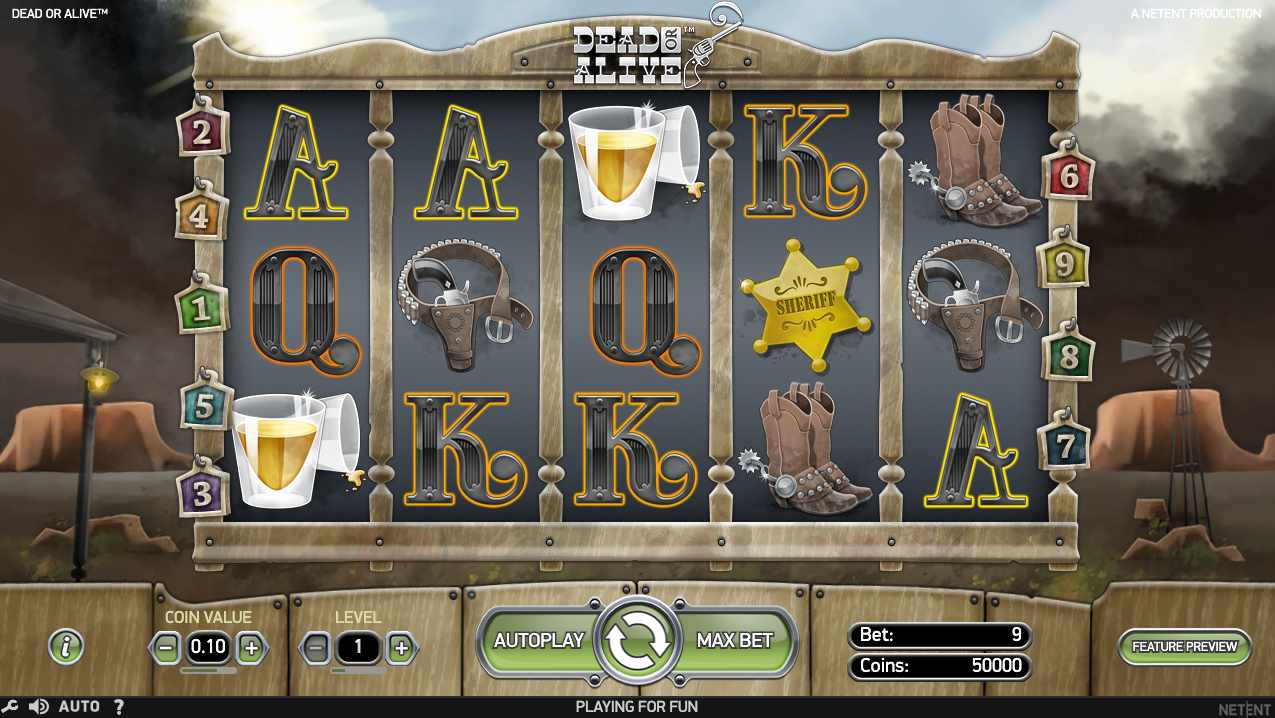 This serving by NetEnt is also set in the Wild West and has shot glasses, pistols, cowboy boots and Sheriffs' badges as it symbols. The game is fronted by a smoking cowboy who sports a great moustache.
Dead or Alive also has a lot of action. It's got three rows, five reels and nine paylines, as well as NetEnt's famous Free Spins feature, which you can trigger by landing three-plus gun symbols. There are also Wilds and Multiplier Wins, the latter of which can give you up to 29 free spins! The game's RTP stands at 96.8%.
Wild Toro
As you may have guessed from this video slot's title, Wild Toro is about bullfighting… but there's a twist: in this game, the bull wins each and every time against the evil matador who sports a moustache.
Created by ELK Studios, the game has four rows, five reels and 178 ways to win, which along with an RTP of 96.4%, gives you the chance to win up to 2,250 times your stake. Wild Toro also has three separate bonus features, which includes the Toro Walking Wild feature that gives you four re-spins.
Hall of Gods
Also by NetEnt, Hall of Gods is based on Norse mythology and features the likes of Odin, Thor and Freya. The moustache here appears several times in the representations of these gods – and what moustaches they have!
The game itself has five reels, 20 paylines and an RTP of 95.3%. It also has three progressive jackpots – known as Mini, Midi and Mega Jackpots – that increase depending on the number of players playing the game. This has helped make this one of the developer's main titles.
Flaming Fox
You can't look at this game without thinking of Kung Fu Panda, particularly as the moustached fox, the only character in the game, is very reminiscent of Master Shifu in both appearance and martial arts abilities.
Game-wise, Flaming Fox, which is a creation of Red Tiger Gaming, and has five reels, three rows and ten win lines in both directions, along with an RTP of 96.11%. What you need to look out for is the Flaming Fox feature, which gives you a series of reels with high-value symbols.
The Keystone Kops
Created by IGT, The Keystone Kops is based on the incompetent yet lovable police officers that were featured in many a Mack Sennett silent film in the early 1900s. Today, the game gives players three adventures and plenty of moustache moments.
The game has five reels, 100 paylines and 11 bonus features, which include Progressive Picks, Mystery Multipliers and Symbol Upgrades. With an RTP of 95.25% (just slightly under the 96% average), it's a fun game to play and win at.
Lucha Legends
This Mexican wrestler-themed video slot sees many of the main characters sporting incredibly well-groomed moustaches. Indeed, the game is all about celebrating Luchador culture, which is the tradition of Mexican wrestlers who, so often, have moustaches.
Lucha Legends, created by Microgaming, has five reels and three rows, and is a medium-volatility slot with an RTP of 96.38%. It also has a number of features, including the Super Wilds, which are triggered when the Luchadores destroy normal wilds, and the Power Up Mode, which doubles your stake as well as the chances of hitting the Super Wild feature.
The Best Movember Slot Developers
There are loads of internationally-renowned developers that have created moustache slots for you to play. In this article, we tried to list as many as we could, but there are so many that it's impossible to list them all. If the above aren't to your fancy, you could also try playing Satsumo's Revenge by PlayTech or Shave the Beard by Hacksaw Gaming, both of which feature plenty of moustaches.
Alternative Slot Themes
Not really into moustaches? Well, there are many other types of themes you can choose from, including adventure slots, pirate slots, Egyptian themed slots, Aztec slots, Viking slots and much, much more! Know more about Aztec Slots.
Play Movember Slots for Free
While many people on this page will be looking to play Movember slots for real money, there are those who would like to play them for free – and who can blame them? Playing for free isn't just a fun way of whiling away the time, but also a great way of learning the ropes and understanding the video slot's paytable before staking any real money.
The majority of online casinos in Europe allow players to play free demos of all their best casino games without the need to register or input any credit card details. For players from the United Kingdom, however, a recent change in the law means that they have to register even if they want to play for free. This is totally free and safe, though, as the law is there to protect minors and excessive gamblers.
US-based players have it a little harder, as not all the games mentioned here can be played at US online casinos and not all States allow citizens to play online casino games online. Even so, some developers do give US players the chance to play demo versions of their games directly on their websites, so it's a good idea to check them out if you like a particular game we mention in this article.
Moustache Slots FAQs
Movember is an annual charitable initiative that began in Australia and which aims to raise awareness about prostate cancer and testicular cancer, as well as mental health and suicide prevention among men. The initiative is marked by numerous people across the world, including by those who choose to grow a moustache (also known as a mo') for the month of November (hence the name Movember).

Moustache slots are exactly what they say on the tin: they are slots that feature moustaches or characters sporting moustaches. This may sound like a niche category, but there are many moustache-themed slots out there!

This depends entirely on your online casino of choice, but the majority of casinos still give out bonuses to players looking to play Moustache slots or Movember Slots… Some even increase the bonuses you can get. Among the many bonuses you can look out for are sign-up bonuses, free spins and no-deposit bonuses.

At loads of online casinos, actually! While not all online casinos mark Movember specifically, many of them carry moustache-themed slots that you can play. If you're looking for the right casino to play at, scroll up for our recommended list of regulated and licensed casinos.

Yes, moustache-themed slots can be played for free in the same way that other slots are played for free. For European players, the best way to do this is just to head to their favourite online casino, where they can play demo versions of the majority of the games without the need to sign up or register. Players hailing from the UK, meanwhile, can do the same but the law requires them to register (for free) before doing so. US players are a lot more limited in this regard, but some developers do give you the chance to play demo versions of their slots for free directly on their site.