The Ultimate Online Slots Guide 2023
The search for the ultimate slot machine may seem akin to the search for El Dorado, but it's actually much easier to fulfil. Indeed, as we explain in our experts' online slots guide below, the three things you should look for are theme (does it appeal to you?), the RTP rate (how much will it pay?) and volatility (how often will it pay?)
How to Choose the Right Slot Machine
There are dozens of world-renowned game developers, and each of them has a portfolio of hundreds of titles in a variety of themes and with many different mechanisms. It's no surprise, therefore, that when it comes to choosing the perfect online slot to play, many players are left stumped.
Even so, the world of the video slot is not as enigmatic as it seems: all you need to know is what the key things to look for are, and our ultimate online slots guide aims to do just that!
Different Types of Slots
A slots guide on how to pick the best slot machines has to start with an explanation on what the different types of slots you'll find at online casinos are. This is because the way a video slot is programmed has a lot to do with how much and how often you can win.
Online Slots (a.k.a. Classic Slots)
Online slots are digital slot games based on slot machines you'd normally find at brick-and-mortar casinos or pubs. Just like these land-based slots, online slots often have three reels (the horizontal lines where symbols fall) and only one payline (one line where getting three matching symbols results in a win). These games usually have very simple mechanisms and do not allow for complex wagering options (such as placing multiple coins on each payline). Image-wise, these slots also follow in the footsteps of the traditional fruit machines, with cherries, lemons, bells, bars, and 7s being very common symbols. Winnings on classic slots like these are usually smaller than those from video slot titles.
Most online casinos carry 100s or even 1,000s of video slot titles. This variation has indeed become the most common type of slot, and the reasons for this are multiple. For a start, these games have superior graphics and soundtracks set to a theme, which make them a lot more engaging. Secondly, they come with five reels (rather than the traditional three), which give the games a lot more paylines (including diagonal ones, sometimes). Thirdly, these games often come with some type of in-game bonus like free spins or bonus rounds.
Jackpot slots, which are also referred to as progressive slots or progressive jackpot slots, are a variation on the video slot mechanism. These, too, come with more reels and often more than one payline, yet the main difference here is that the video slot is linked to a 'network' that increases the jackpot. The way this works is that a part of the wager for every real-money spin that is played on the slot is placed in a kitty, which one lucky winner will win at random every number of days or weeks.
Megaways™ & Megaclusters™
As the technology to create video slots advances, so do the mechanisms used by these games. In recent years, one of the world's best game developers, Big Time Gaming, has come up with two revolutionary new ways in which video slots award wins: Megaways™ and Megaclusters™!
The Megaways™ mechanism gives video slots six vertical reels that can accommodate up to seven symbols each, as well as an extra horizontal reel with four symbols. These games also have numerous built-in bonuses, including cascading reels that see symbols within winning combinations being replaced by new ones that can offer further winnings without the need to spin again. At their full capacity, this mix of reels give users up to 117,649 paylines.
The Megaclusters™ mechanism, meanwhile, awards users based on clusters of similar symbols rather than lines. A Megaclusters™ game always starts with a 4×4 grid that has space for 16 symbols. Then, each symbol in a winning combination is replaced by four symbols, which increase your chances of winning both in this round and the next. Such games also come with many in-game bonuses, including win multipliers and free spins.
How to Pick a Slot Machine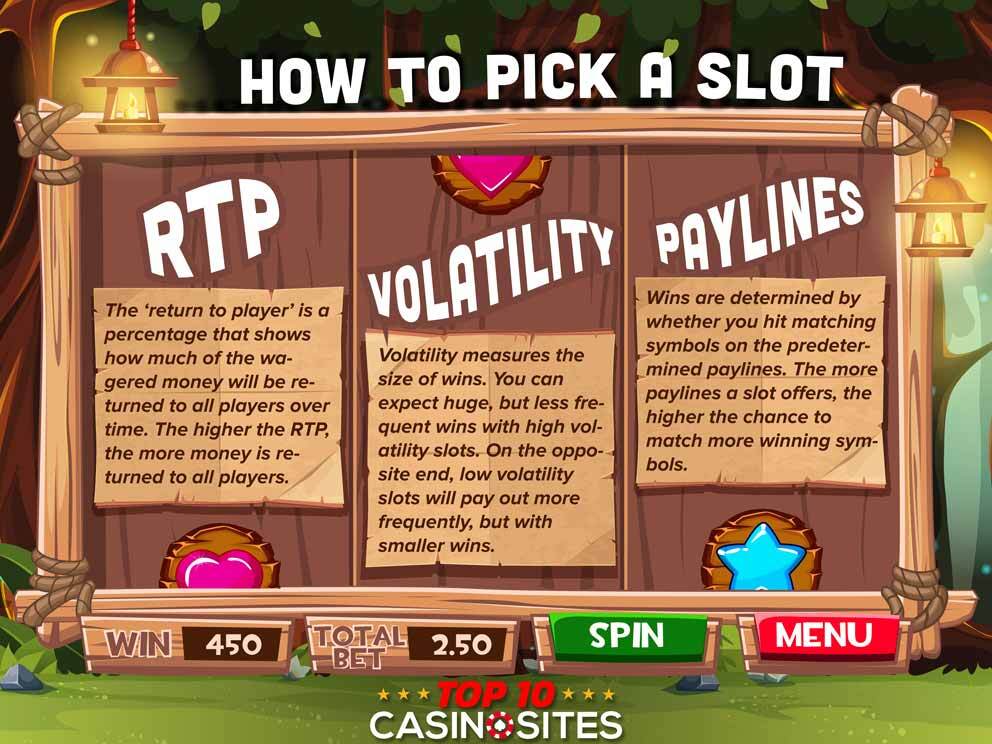 When it comes to deciding how to pick a winning slot machine, the above will certainly help – but there are other factors to consider too.
Our first piece of advice in this exhaustive slots guide is to pick a game that you find entertaining – after all, slots are designed to be fun, above all else. With themes ranging from Ancient Egypt and pirates to the Wild West and Irish folktales, there is something for everyone in the world of the online slot machines.
Secondly, if you'd like to win more often, then don't forget to check out two factors that are often overlooked. We explain this in further detail in the point below.
RTP & Variance
All types of slot games played at an online casino operate using an algorithm known as a random number generator (RNG). In so many words, this is a piece of software that is certified to always give you the same odds at winning, whether you're playing the game at one of the many online casinos in Europe, the UK, India, Canada, or anywhere else in the world.
The way the RNG of every game works is very similar, but there are two things that change depending on the game in question: an RNG must follow the game's RTP and its variance/volatility. But what do these mean?
A game's RTP (which stands for Return to Player) is how much of the money a player spends on the game will be returned to them. This is calculated per 1,000,000 spins, so if a game has a 95% RTP, then a player can expect to get at least €/£0.95 for every €/£1 spent over a 1,000,000 games. Of course, to many, these may seem like crazy numbers, but in reality a game with a high RTP (95%+) will give a return very frequently, even if you don't spin it a million times.
When it comes to variance and volatility, things get a bit more technical – however, there's nothing to be confused about. A game's variance tells you how those returns will be dispersed, while volatility tells you how long it will take for the returns to be made. In layman's terms, this explains whether a game will return small wins regularly (low volatility) or bigger wins less often (high volatility).
In a nutshell: if you want to play a game and win more often, you should pick games that combine a high RTP with lower volatility. Nevertheless, it's good to note that with such games, the chances of winning life-changing sums are lower than those with high volatility. So it does make sense to mix things up by selecting games with high RTP and high volatility.
The Best Video Slot Makers
When it comes to choosing a slot game, another important factor should be the maker. This doesn't just confirm that the game will be fun and that gameplay will be seamless, but it also guarantees that the RNG is certified and that its variance and RTP are 100% assured.
It's not easy to pick one or even a handful of slot developers who are the best in the business. Over the years, many companies have proven themselves to be highly imaginative with themes, in-game bonuses, and mechanisms.
As we explored above, Big Time Gaming have given us the incredibly popular Megaways™ and Megaclusters™ mechanisms, but then again Microgaming are the brains behind Mega Moolah, the progressive jackpot slot that has made more millionaires than other title in the world.
There are, of course, many others that have revolutionised the industry or created games that have stood the test of time or which have become fan favourites.
In the end, you can't go wrong if you pick a slot from one of the following developers: NetEnt, Evolution Gaming, NOVOMATIC Greentube, Wazdan, Endorphina, Barcrest, Quickspin, Thunderkick Games, Red Tiger Games, or any other developer mentioned in this article. As you can see further down below, all the games we recommend in this slots guide are developed by one of the big names.
Types of In-Game Bonuses to Look Out for
Bonus features may be a relatively new addition to video slots, but they have completely changed the way we interact with the game. Indeed, these built-in features have turned a once one-faceted game into a treasure hunt for free spins, bonus rounds, and bigger wins – but are they really worth their salt?
Well, to some, these bonuses may seem like a gimmick, but in reality these bonuses give you a better edge at winning. In certain cases, in fact, the RTP of the game is increased during bonus rounds. This is why it's always good to read reviews and slot guides by independent and trustworthy sites like ours to find out how to tell if a slot machine is worth your while.
Scatter, Wild & Multiplier Symbols
The symbols in a game aren't just there for decoration: each one of them serves a purpose or, at least, gives you a specific amount when they form part of a winning combination. Of course, some of these symbols offer basic wins, but three symbols found in a lot of modern video slots give players much more.
The Wild symbol replaces any other symbol in a winning combination, thus providing opportunities even when wins wouldn't otherwise be possible.
The only symbol this can't replace is the Scatter, which is usually the most special symbol in the game. A number of these symbols will usually unlock any in-game free spins or bonus rounds available.
Finally, some symbols on a game's paytable can also have Multiplier qualities, which will see your winnings doubled a certain number (a 2x multiplier will see your winnings doubled, and so on).
Free Spins & Retriggers
One of the most common questions we get is if there is a relation between the free spins players get from their casino as part of their casino sign up bonus and the ones received in certain video slots. The answer is no, but the best part is that you can get both.
See, some games are now giving players free rounds, meaning that you get to spin the game for free over and above the free spins the casino may give you on that game. These rounds still work on the same RNG and therefore give you the same odds as paid spins. To trigger these, most games require you to line up three or more Scatter symbols, but it's always good to check the paytable to ensure it is the case in your particular game.
Retriggers, meanwhile, are an added bonus to the bonus free spins where if you match three or more Scatter symbols during a free spin, you will get additional free spins. Megaways™ slots tend to have this as a basic bonus feature.
Other Bonuses
Over and above the Wild symbols and free spins, certain games give players extra bonuses or functions. In Megaways™, for example, players from Europe and other countries (though not the UK) can buy into the free spins. As a result, you're essentially increasing your odds at winning and at winning a larger jackpot, which can be 20,000x, or even 50,000x, your stake.
Best Online Slot Machines That Really Pay
One of the best ways of how to tell if a slot machine is ready to pay is by looking at reviews such as ours. In our slots guide, we list five games that are truly worth their salt.
#1 Ugga Bugga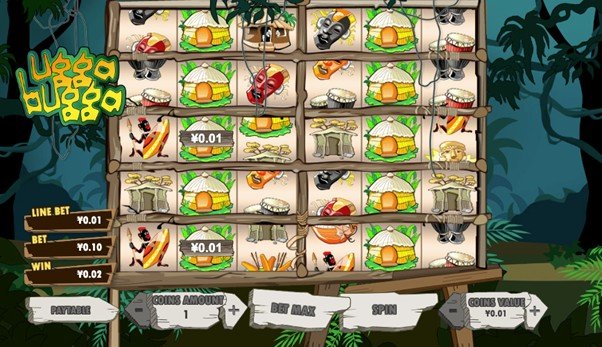 Widely considered to have the highest RTP of any video slot out there – 99.07%! – Ugga Bugga by Playtech is a low-volatility, jungle-themed extravaganza. Released in 2013, its mechanism is made up of 10 rows with three symbols each, and can be played for as little as €/£0.10 or as much as €/£250 per spin.
When it comes to bonus features, the game has no free spins, but it does give you the chance to spin, hold on to one of the symbols, and spin again without spending more money. There are also Wilds, which can replace all other symbols and even give you a win of 1,000x your initial stake, which at the top limit of €/£250, would result in a €/£250,000 jackpot!
Unfortunately, although we've mentioned it here on our slots guide, Ugga Bugga is no longer available to play since Flash was discontinued in 2020. However, we can only hope that Playtech will honour us with a revamped version of this popular title.
#2 Jokerizer
With five reels, 10 paylines, and an RTP of 98%, Jokerizer is a beautiful 3D slot by Yggdrasil Gaming. As its name suggests, the game is based on a deck of cards, with the Joker being the main symbol.
Unlike most video slots that actually pay, this game has high volatility; in this case, though, it doesn't matter as much as the paylines pay for three symbols or more aligned either from left to right or right to left.
In terms of features, Jokerizer has quite a few. Three Joker cards lined up diagonally or horizontally, for example, to give you a 6,000 coin jackpot (and if they are scattered, they can give you a win of anywhere between 1,000 and 6,000 coins, too).
Then there is also the Jokerizer mode, which is randomly triggered by a win. This is optional, but when playing it, each spin costs 20 coins, and for any two Joker symbols anywhere on the reels you will receive a payout of between 20 and 6,000 coins.
#3 Gypsy Rose
Gypsy Rose by Betsoft games is not universally known like the games mentioned above, but it really should be. Based on the theme of fortune telling, this game has five reels, 30 paylines, an RTP of 97.63%, and medium volatility, which can come together to give you a win of up to 336,000 coins.
The game has five special features, namely the Tarot Card bonus, the Love Potion free spins, the Wild Crow, the Wild Card Toss, and the Magic Book.
Each of these gives you a specific bonus. The free spins, which can be triggered an unlimited amount of times during one session of gameplay, will take you to a new set of reels where you can win but cannot lose money. The Tarot Cards will give you the chance to pick one of 15 concealed sums, while the Magic Book will multiply your win by 20 times.
#4 Wild Wild Riches
With a theme based on Irish folktales, this video slot by Pragmatic Play has a unique grid with five reels that can take up different amounts of symbols – two reels take three symbols, while the other three take four.
Here, the RTP stands at 96.77%, which is just above average for video slots, but the aforementioned grid of this high-volatility game gives players 576 ways of winning and a maximum payout of 4,608x your stake.
There are also two great bonus features that increase your chances of winning: the Money Collect feature will give you the chance to win prizes up to 25x your stake, or a jackpot of 500x your stake, while the free spins feature gives you 10 free spins that can be retriggered.
Wild Wild Riches is also a great option for players of any type of budget, as a spin can cost anywhere between €/£0.25 and €/£125. This is for sure the most popular game mentioned in our slots guide, with new variations constantly being released, too.
#5 Viking Runecraft
Created by Play'n GO, Viking Runecraft is a Norse mythology-inspired video slot. What makes it particularly special is that it has a 7×7 grid that awards players on symbols in a cluster rather than on lines. This, coupled with its 96.69% RTP, means that while the game has high volatility, it still returns winnings.
There are also many bonus features in this game. For a start, each win will take you up a level and reveal better opportunities for winning, as well as charge the metre of destruction. When full, the latter will trigger one of four extra bonus features that can give you additional multipliers, transform normal symbols into Wilds, and win 500,000 coins!
Slots Guide at a Glance: Tricks to Winning on Slot Machines
There are certain slots that actually pay more than others. Here's a slots guide list you can use to find the best game:
1. RTP: Choose a slot machine that has high RTP (95%+) so that you are more likely to get some of your budget back.
2. Low volatility: Choose a slot that has low volatility so you can get smaller wins frequently, rather than waiting for bigger wins indefinitely.
3. Variety: Although the above is true, you can also mix and match your gameplay. While you should play low volatility slots with a high RTP, it's not a bad idea to test your luck at games with high volatility every now and then. These games are fun, too, and award much higher wins to a few lucky players.
4. Maker: Only play slot machines by trusted game developers and on legal and licensed casinos, such as those regulated by the UK Gambling Commission. This will guarantee your safety and fairness of the games in question.
Slots Guide FAQs
If you're looking for a video slot that will give you a profit every time you play it, then sadly there are no such titles. Even so, if you choose a slot with a high RTP and low volatility, then you can expect smaller but more frequent wins, meaning you're more likely to get at least a part of your budget back!

Slot machines are games of chance that are operated through a random number generator, which ensures your odds and the house edge are always constant and fair. As such, it is impossible to win every single time you play any slot game. No slots guide is ever able to tell you definitively when a slot will pay out, because it is always random.

RTP stands for Return to Player. This is usually shown in the form of a percentage calculated by how much of each €/£1 spent by the player over the course of a 1,000,000 games will be returned to them. Of course, this is just an estimate, so players who are lucky to win often or big jackpots will get much more, while those who are unlucky will get less.

A game's variance tells you how returns will be dispersed over the course of the game (small or large wins), while volatility tells you how long it will take for the returns to be made (often or less frequently). In other words, a low-volatility game will return small wins regularly, while a high-volatility game will return bigger wins less often.

A paytable is basically what each symbol in a game will pay you when they form part of a winning combination.

A payline is a straight or zig-zagged line on which matching symbols or winning combinations must fall in order for you to be awarded a win. Different mechanisms have different amounts of paylines in different formations.

A Scatter symbol is one of the many symbols on the paytable. These are usually considered to be special, and can either unlock free spins or bonus rounds. A winning combination made up of them will return bigger wins than the other symbols.

A Wild symbol is another type of symbol found on the paytable and usually replaces all other symbols – bar the Scatter symbol – in a winning combination.

There are many ways to pick a slot machine, depending on what you are after. Of course, the first thing you need to keep in mind is that playing a slot machine is meant to be fun and entertaining, so finding one that appeals to your tastes (through its theme, for example) is a good place to start. Needless to say, you should always go for a slot machine from a renowned developer to ensure that your odds are always safeguarded, as recommended in our slots guide.