Our Guide To The Best Viking Slots 2023
Viking slots have fantastic storylines and are rich in in-game bonuses and features. So, why play a boring fruit machine when you can go on an epic Dark Age adventure?
Vikings
RETURN TO PLAYER (RTP)
96.05%
VOLATILITY
Medium-High
RELEASE YEAR
2018
GAME TYPE
5x3 & 7x5
FEATURES
Raid Spins, Hotspot Feature, Bonus game, Colossal Symbols, Free Spins, Scatter Symbols

WE RECOMMEND PLAYING AT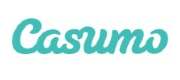 MORE OPTIONS:



Vikings Unleashed Megaways™
RETURN TO PLAYER (RTP)
96.5%
VOLATILITY
High
RELEASE YEAR
2018
GAME TYPE
6x7 + 1x4
FEATURES
Cascading Reels, Scatter Symbol, Free Spins with Unlimited Multiplier, Wild Symbol, Free Spins Scatter, Freespins Unleashed Bet, Gamble Feature
We love

This Blueprint Gaming slot has a long list of features and can be played from just €/£/$0.20.

WE RECOMMEND PLAYING AT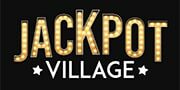 MORE OPTIONS:



Odin Infinity Reels™ Featuring Megaways™
RETURN TO PLAYER (RTP)
96.18%
VOLATILITY
Very High
RELEASE YEAR
2021
GAME TYPE
Infinite Reels
FEATURES
Infinity Reels™, Megaways™, Symbol Multiplier, Wild Symbol, 888x Infinity Bonus, Free Spins
We love

Yggdrasil and ReelPlay have given this game infinite reels with potentially infinite Megaways™.

WE RECOMMEND PLAYING AT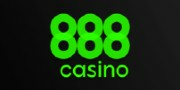 MORE OPTIONS:


What Are Viking Slots?
Pillage and plunder; discovery and colonisation; stunning artefacts and bloody sagas.
There are many reasons why the seafaring Scandinavians continue to capture our imagination. They are, after all, the stuff of legend and one of the best-known elements about the Dark Ages.
So, is it surprising that popular history continues to celebrate their legacy, tell their stories, and dwell on their terrifying actions? We don't think so – and clearly, neither do the thousands of players across the globe who play Viking slots on the daily.
Viking slots have themes that revolve around these Norsemen and women, as well as their gods. With symbols, bonus features, and soundtracks that hark back to a darker, more magical time when these plunderers conquered the sea with their master shipbuilding skills.
Different Themes in Viking Slots
Vikings have become one of the major themes in the world of real-money slots, so you'll be able to find tonnes of titles that take inspiration from these Dark Age warriors.
Nevertheless, interestingly, while working on our Viking slots guide, we realised that these titles can also be subdivided into two distinct themes.
Norse mythology is the umbrella term used for the religious stories told by Vikings. These stories were used to help believers make sense of the world, usually revolving around Norse gods like Thor, Odin, Loki and Freya, who dwell in Asgard.
They can also be related to other entities like Odin's Valkyries, whose job was to guide souls to Valhalla, a part of Asgard often thought of as Norse heaven.
Video slots based on this mythology are abundant and so are the elements they choose to focus on. In fact, while some focus on one character, others take a more generic approach. Either way, such slots tend to be full of magic and lightning!

Norse Mythology Slots to Check Out
Power of Thor Megaways™ by Pragmatic Play
Riches of Midgard: Land & Expand by NetEnt
Odin Infinity Reels™ featuring Megaways™ by ReelPlay & Yggdrasil
Tales of Asgard: Loki's Fortune by Play'n Go
Thunderstruck II by Microgaming
Valhalla by Wazdan
Valkyries by Yggdrasil
Faces of Freya by Play'n Go
Age of the Gods Norse: Ways of Thunder by Playtech
Asgard by Pragmatic Play
The Viking Explorers & Warriors
The Vikings weren't just their beliefs, however. In fact, they are still remembered for:
their shipbuilding skills that resulted in the fast-moving longship with its iconic dragon motifs;
their sagas, which tell epic tales of Norse heroes like Ragnarök and Erik the Red;
their pillaging and plunder, which shaped certain areas like the North of England for centuries;
their exploration, which some scholars believe extended all the way to North America; and
their horned helmets, which, although disputed by some historians, remain the most recognisable symbol of these warriors.
All of these things can feature in Viking slots, and that's always a good thing because it means that there's so much to draw inspiration from that no two games are alike.
Viking Explorers & Warriors Slots to Check Out
Vikings by NetEnt
Erik the Red by Relax Gaming
Ragnarök by Genesis
Troll Hunters 2 by Play'n Go
Vikings Go Wild by Yggdrasil
Viking Unleashed Megaways™ by Blueprint Gaming
Tiki Vikings by Microgaming & Just for the Win
Dragon Ship by Play'n Go
Vikings Go Berzerk by Yggdrasil
Børk the Berzerker Hack 'n' Slash Edition by Thunderkick
Why Play Viking Slots?
The real question is why not?!
Viking slots can be super fun, combining great video slot mechanics with a captivating theme that can be historically-, mythologically-, or fantasy-driven.
They also tend to be created by the best providers out there with crisp graphics and themed soundtracks that really help you immerse yourself in the game.
Moreover, some of these slots – like the Thunderstruck II slot – have made it to the top real-money slots lists of all time. Therefore, it's safe to say that this theme is by no means a passing fad.
Our 5 Favourite Viking Slots of All Time
With dozens of Viking slot titles out there, it's hard to know which one you should play first… To make life easier, we've reviewed our five absolute favourites.
#1 Vikings by NetEnt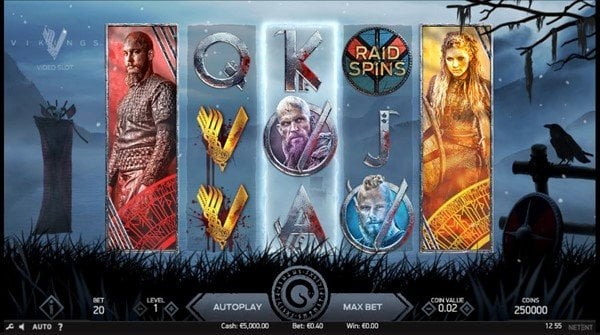 Are you ready to join the legendary Viking Ragnar Lothbrok and to cement your name in one of his sagas?
Vikings is one of the best TV slots around, and it's stocked by many of the top casinos with NetEnt games. As the title makes obvious, this game is based on the hit series originally created for the HISTORY channel.
In fact, you'll join Lagertha, Bjorn, Loki, and, of course, Ragnar himself, to pillage and plunder your way through a three-reel and five-row grid with high volatility and an RTP of 96.05%.
You'll also find plenty of help through the themed bonus features here. These include a Shield Wall Feature, where mystery symbols transform into potentially winning combinations, and Raid Spins, during which an expanded grid gives you up to 125 betways.
The minimum and maximum bets on this game are of 20p/c and €/£/$100, and the max win is a cool 10,000x your stake.
#2 Vikings Unleashed Megaways™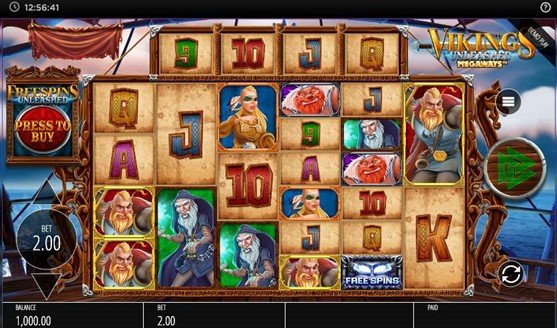 The Nordic warriors have set sail across the vast ocean and they're about to reach the coast of North America. As waves crash against the longship, your job is to help them secure their victory.
It's saye to say that in the colourful Vikings Unleashed Megaways™, you'll find everything you've come to expect from the best Megaways™ slots.
This includes 117,649 ways to win, Cascading Reels, a grid made up of six reels that can each accommodate up to seven symbols, as well as a top tracker with four extra symbols… But there's so much more this high-volatility game offers.
Here you can also find a Mystery symbol, free spins with unlimited win multipliers, and a bonus-buying feature that also comes with a gamble option that could increase your free spins and win multipliers!
With bets ranging from 20p/c to €/£/$10, this top Blueprint Gaming slot has an RTP of 96.5%.
#3 Odin Infinity Reels™ Featuring Megaways™
Invoke the power of Odin, Norse god of wisdom and magic, to bring forth wealth and fortune ahead of battle.
This collaborative effort by ReelPlay and Yggdrasil was the very first in the entire world to combine two ground-breaking mechanics.
Here, ReelPlay's Infinity Reels™ adds a reel to the grid every time you land a winning combination.
Meanwhile, Big Time Gaming's Megaways™ mechanic – under license to Yggdrasil – increases the number of ways to win up to infinity, depending on how many reels are present and how many symbols fall onto them.
But there's more! This high-volatility game has a symbol multiplier in the base game that is applied to all symbols and has no limit, while the free spins feature also comes with sticky multipliers.
However, Odin – in his infinite generosity – also offers two jackpots: a max win of 20,000x your stake, plus an 888x Infinity Bonus.
Odin Infinity Reels™ featuring Megaways™ has an RTP of 96.18% and can be taken for a spin for anything between 30p/c and €/£/$12.
#4 Thunderstruck II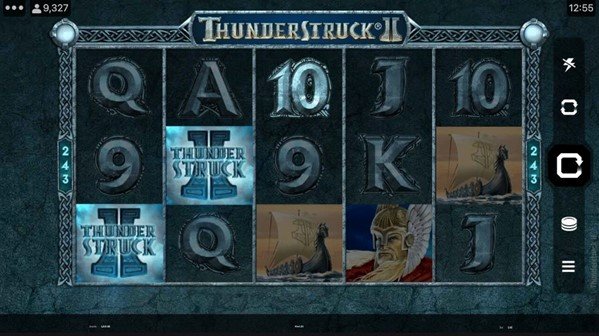 Will you be one of the chosen few?
In this icon of the Viking slots world, the three most powerful residents of Valhalla – gods Loki, Thor, Odin – are joined by the Valkyries in their quest to choose which Norse warriors will make it to Viking heaven.
And since you enter Valhalla with everything you own (given its with you on the pyre), your main job is to loot and plunder as much as you can.
Sounds awesome, doesn't it? Well, with its fantastic theme, Thunderstruck II is genuinely one of the best slots available at the finest Microgaming casino sites. In fact, there's a lot to discover in this low-volatility game, especially when it comes to bonus features.
Among our favourites are The Great Hall of Spins, where you can win up to 25 free spins with extra features (including 5x win multipliers and magic wilds) and the Wildstorm feature that can award you up to 8,100x your stake.
Playable for as little as 30p/c or as much as €/£/$15, this game has an RTP of 96.65%.
#5 Viking Runecraft Bingo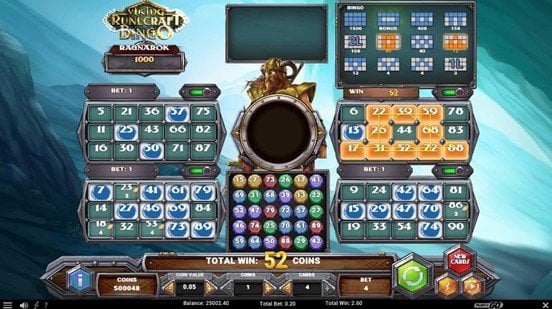 Bingo may not be synonymous with the Dark Ages or plundering Norsemen, but we live in a postmodern world that has successfully combined the two.
In Viking Runecraft Bingo, god of thunder Thor stands watch over an urn that dispenses bingo balls. Just like in the original game of chance, you win whenever the numbers that fall from the urn match with those on one line or a whole card (house).
But, of course, as in most online games, particularly slots, this game also comes with some fantastic bonuses. In fact, on top of being able to buy extra balls, there are numerous bonus games and prizes to be won – some of which go up to 1,000x your stake!
This game, which has an RTP of 95.87% and high volatility, is among the best Play'N Go titles.
The Best Viking Slot Developers
Viking slots are something most slot developers have dabbled in, and that is certainly not a bad thing. After all, it's the reason why we have so many fantastic titles and so many cool twists to the themes.
Even so, come casino games software providers have created masterpieces in the genre – and we're here to celebrate them!
Our Best Viking Slot Developers Awards
Microgaming for Thunderstruck II, which unites many-a-Norse god in a game that has generous bonuses and beautiful graphics that have stood the test of time.
Yggdrasil for giving us the amazing Vikings Go series, which includes titles like Vikings Go Wild, Vikings Go Berzerk, Vikings Go To Hell, Vikings Go Berzerk Reloaded, and Vikings Go To Valhalla.
ReelPlay and Yggdrasil for Odin Infinity Reels™ Featuring Megaways™. This collaboration gave us a slot with so many features and bonuses that it's hard to beat!
This joint award goes to 4ThePlayer for 2 Gods: Zeus Vs Thor; and Microgaming & Just for the Win for Tiki Vikings. Both slots are great examples of how combining themes can create something spectacular.
NetEnt for Vikings. We love how this slot ties into the series!
Play Viking Slots for Free
Are you looking to while away some time or test a title before you stake real cash on it? Many Viking slots casinos offer players the chance to try out demo versions of these games completely for free. Moreover, websites like ours often stock demos of video slots, too.
In fact, we always recommend playing a demo of a video slot before you begin playing for real money. We've outlined in the reasons why in our article dedicated to the benefits of playing free play casino games online, but the most obvious is that this gives you the chance to find out whether the slot in question tickles your fancy or not.
Remember, though, that playing for free means you won't win any real cash and won't make you eligible for any Viking slots casino bonuses.

Did you know?
Other Themes to Consider
If Viking raiders and gods are not your cup of tea, then you'll be happy to know that there are plenty of other themes you can pick from.
A Final Word on Viking Slots
With the Dark Age raiders being such a popular topic – both for history buffs and pop culture enthusiasts – developers often put everything they've got into their Viking slots. In fact, whether you're a fan of the subject or not, we're sure you'll find at least one title that will join your list of favourites!