Livespins™ – HappyHour's Revolution in Casino Streaming
If the Livespins™' launch event was anything to go by, HappyHour's new product promises to shake up the casino world. Livespins™ allows viewers to play alongside their favourite casino streamers, making for a more social online casino experience.

What Is Livespins™?
Livespins™ is a live streaming and casino gaming platform that's poised to revolutionise both the casino streaming and casino gaming sections of the online gambling market.
Well, that's quite something. How's it meant to do that?
The idea is that through Livespins™, players can both watch their favourite casino streamers playing the top slots around, and also bet alongside them on the same spins!
This means the streamer's losses will be the player's losses, but more importantly, it also means that the streamer's wins are also player wins! How cool is that!
But don't just take our word for it – check out the launch presentation at iGamingNEXT which introduced Livespins™ to the online casino world.
Robin Reed and HappyHour
Who's behind this massively innovative product then? Well, that'd be the team over at HappyHour, whose current CEO is Robin Reed (that's the man in the video above).
Reed was formerly head of Gaming Innovation Group (GIG), a company known for their excellent business-to-business work within the online gaming industry.
How Does Livespins™ Work?
So how does the service actually work? Well, it's a bit of a mystery at the moment. The product's announcement at the iGamingNEXT event held in September 2021 left some details to the imagination. We'll try our best to give you an idea based on what we gathered from the announcement.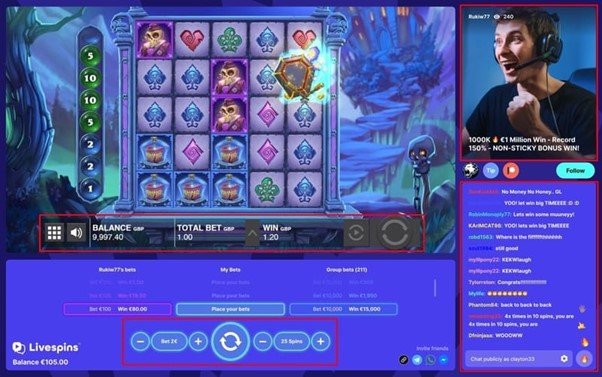 Livespins™ works by offering a combination of user interfaces you might already be familiar with. We've highlighted some of the important UI elements in the image above.
Front and centre you'll find the livestream of the slot game itself. You'll notice that the streamer's controls are visible, with your live streamer of choice situated at the top right of the screen. Below them, there'll be the live chat box.
Below the central livestream, there's a separate section dedicated to your own controls for the game. Here you can set the autospin feature and limits, as well as bet sizes (you can set a bet size that's different from the streamer's if you'd like to). Alternatively, you may choose to simply just watch for a while.
According to one of the developers from Livespins™' launch presentation, your bets and spin controls should all work with sub-second latency. If this promise pans out, it should make for a very smooth and fun experience!
Apart from the bet behind functionality, Livespins™ is also set to offer options for betting against the streamer you're watching, or creating side bets. Judging from the pre-release promotional images, above the viewer/player's controls there's even a bet history showing some group betting options to be available too.
Reed also mentioned that there might be some VR casino support in the future. Exciting times ahead!
Casino as a Social Activity
Nowadays, a lot of players also enjoy watching streamers try their luck at some of their favourite online casinos. Apart from the enjoyment you get from seeing the streamer you support hit jackpots, there's often also a social element involved, with viewers chatting to each other as well as to the streamer on the live chat.
In his presentation for Livespins™, Reed argues that casinos have always been a social phenomenon, with players cheering on or sharing the excitement of wins with their friends at brick-and-mortar casinos.
The social element present in land-based casinos expands online, with live casino games and the streaming phenomenon which has taken the industry by storm!
How Livespins™ Changes Casino Streaming
Sure, live casinos with streamers have existed in the casino space for a while, and as exciting as live dealer casino games  are, Livespins™ promises its users a new and unique experience.
While viewers have been able to watch their favourite streamers, playing with streamers on the same game is quite the breakthrough. Through Livespins™ casinos, players will be betting on the same spins that their chosen streamer would be betting on.
This creates a sense of teamplay for classic games that's just not available anywhere else in the online gaming realm. In addition, because players will be betting on the same game, the collective wins that are possible through this means should be some of the largest in online casino history! Classic online casino games can find a new life as livestreamed favourites.
Moreover, Livespins™ seems to currently be focusing on slot games rather than table games, where it is just the player versus "the machine". This differs to traditional live dealer games, where there is a dealer who always represents the casino and is pitted against the player.
To be fair, we really don't see why a Livespins™ casino wouldn't integrate this new method of playing on all of the best casino games!
Livespins™ at Online Casino Sites
You might be asking when you'll actually get to see Livespins™ at your favourite online casino site. Well, that's apparently more or less still in the works for most operators.
That said, on 25th November 2021, the first ever Livespins™ stream went live on CasinoFriday and lasted for 3 whole hours. This brand-new experience was made accessible to a few select players, who got the chance to enjoy the product in beta mode. Five players even managed to hit a 1744x win, which was the result of a €4.20 group bet evolving into winnings of €7,310!
HappyHour, Livespins™' creators, are already in talks with more casinos, affiliates, providers and streamers. Hopefully this means it won't be too long before we get to see Livespins™ at more of the best casinos and slots with streaming.
Similar to how online casinos dedicate specific sections for live games, slots, and table games, HappyHour envisions their product existing as a separate category to the others. However it ends up being implemented, it'll be one of the best casino features available on that site!
Livespins™ on Mobile
HappyHour intends to make Livespins™ completely compatible with all kinds of mobile devices. They alluded to this in their presentation, where they said that 96% of users have a smartphone, and more than 30% a tablet. Of course, desktop compatibility is also a given.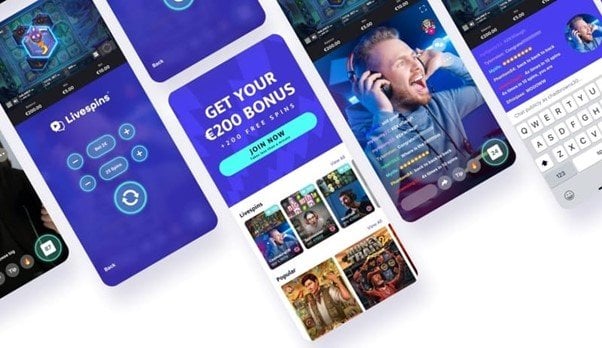 Livespins™ and Social Media
Apart from just support for smartphones and tablets, Livespins™ also integrates directly with social media. While not delving into too much detail throughout their presentation, the HappyHour team promised easy sharing of iconic moments directly to your favourite sites and apps that let you connect with others.
With such a pack-leading and modern approach to online gambling, it's no wonder that the crowd at their launch presentation got so excited.
Conclusion
We're really looking forward to Livespins™' expansion into the online casino world ourselves! The iGaming industry keeps giving us cooler and sleeker innovations by the truckload, and we can't wait to try this revolutionary one out.
Livespins™ FAQs
Livespins™ is a new online casino innovation from HappyHour which combines live casino streaming and slots in a never-before-seen way!

With Livespins™, you can bet on the same classic casino games that your favourite casino streamer is playing on, allowing you to make the same wins.

HappyHour are an innovative gaming company seeking to disrupt the iGaming industry with their products. They are the creators behind Livespins™.

On 25th November 2021, the first ever Livespins™ stream went live on CasinoFriday. The HappyHour team is currently in talks with more providers and casinos to expand their product as widely as possible.

HappyHour say that their Livespins™ product will be integrated tightly with social media, allowing you to share iconic gaming moments quickly and seamlessly.