The Best Spain Online Casinos 2023 – Safe and Legal Spanish Casino Sites
If you're a gambler living in Spain, online casinos and where to find them is a question that has likely popped up once or twice in your mind. From fair bonuses to fast payouts and all the latest games, read on to find your perfect Spanish match!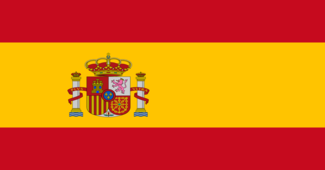 Top Online Casinos in Spain in 2023
Are Online Casinos Legal in Spain?
Thanks to the 2011 Gambling Act, it is now perfectly safe and legal to play at online casinos in Spain. Prior to the passing of this law, Spanish players could still gamble online, but without the peace of mind that the site they were on was regulated and fair.
The new legislation resulted in a more secure landscape for Spanish players, as only those operators that are licensed by the Spanish authorities are allowed to accept local players. Be aware that any operator that accepts players from Spain without being licensed by the Directorate General for the Regulation of Gambling (Dirección General de Ordenación del Juego) is not operating legally and can be fined up to €50 million.
Our advice is to steer clear of such sites, as you will be breaking the law by using them. Just as importantly, when playing at such sites, you have no guarantee of fairness, as unlicensed operators are not being held to the same regulations and high standards as those that are operating with a legal Spanish licence.
The good news is that international operators can also apply for a Spain online casino licence, even if they don't have a presence in the country itself. This means you'll still be able to play at your favourite big brands like William Hill and LeoVegas.

Legal Gambling Age
The legal minimum age for gambling in Spain is 18 years, and this includes pretty much all forms of gambling from remote to land-based, lotteries, and sports betting.
Age verification is part of the list of mandatory requirements before Spain online casinos can allow any player to register, and any operator found in violation of this will lose its licence and receive a whopping fine that can reach €100,000. This is in line with other European online casino laws like in the Netherlands and Germany.
Licensed casinos online in Spain must abide by the country's advertising rules. Since 2021, these have become even stricter¹, with gambling adverts only allowed within the restricted time slot between 1am and 5am.
More importantly, even the best online casinos in Spain are forbidden from advertising online bonuses digitally. Moreover, sponsorship of sporting leagues and teams is not allowed, and operators are forbidden from running campaigns that feature athletes and high-profile people. Fines for violating these laws start at €100,000 and can go up to €1 million, along with possible licence suspension up to six months.

You Won't Find Any Welcome Bonuses at Spanish Online Casinos
The DGOJ has banned the advertisement and issuance of all forms of welcome bonuses, including deposit matches and free spins. However, cashback, loyalty, and VIP bonuses are legal for players who have been verified for at least 30 days.
The authority for Spain online casinos is the Directorate General for the Regulation of Gambling (DGOJ) – or, as it's known in Spanish, the Dirección General de Ordenación del Juego. The authority was founded with the 2011 Gambling Act, which put it in charge of overall gambling licensing and regulation.
All online casinos in Spain need a licence from the DGOJ to be able to legally operate. Before granting a licence, the Spanish gambling authority will go through a process of checks to make sure that all safety, security, and fairness standards are satisfied, and that the operator's anti-money laundering and anti-fraud requirements are up to scratch.
Licences are granted for a validity of 10 years, as long as the licensed Spanish online casino guarantees that it will implement identification of players and ensure that games are properly audited.
Spanish online casinos are also responsible for guaranteeing that the calculation of prize payments is done fairly – failure to do this will result in massive fines and the potential loss of licence for that operator. Thus, as long as a site shows the DGOJ seal of approval, players don't need to worry that they're being taken for a ride.
If you're unsure whether your chosen site has a Spanish casino licence, scroll to the bottom of the homepage, and look for the DGOJ logo. If you don't find it, move on to a safer site.
Spanish Gambling Law and Tax on Winnings
Ever since gambling was decriminalised in 1977, Spain has always taken a tolerant view of this pastime. This is why the law regulating Spain online casinos did not create the controversies that similar laws created in other countries.
All forms of gambling, such as casino games, sports betting, poker, and lotteries are legal as long they are licensed.
Before the Gambling Act was introduced, gambling was regulated according to the laws of the different regions. Now that there's one regulatory framework that applies to both remote and land-based gambling on a nationwide basis, it has become much easier for Spanish players to identify the best online casinos in Spain.
The Gambling Act does allow the individual regions a measure of authority on gambling activities that are offered in one specific region. Thus, for example, a regional lottery would not fall within the scope of the law. This provision applies mostly to land-based games and casinos, as opposed to remote gambling sites which would be operating at a federal level across the country.

Gambling Taxation in Spain
The legalisation of Spain online casinos brought with it a consequence that is rather less fun – taxation. Since the 2011 regulations came into force, all winnings must be declared as income.
A 20% tax is levied on winnings over €2,500. Believe it or not, there's a silver lining to this: players are allowed to deduct their losses from the winnings. Let it not be said that Spanish gambling laws aren't fair! Operators, on the other hand, are taxed at a flat rate 25%.
Betting Limits on Online Spanish Casino Sites
Spain online casinos are required to take responsible gambling very seriously, with the Spanish gambling authority imposing several restrictions with respect to minimum and maximum betting limits.

Gambling Limits at Online Casinos In Spain
The 2011 Gambling Act places a limit of €600 per day on the deposits placed by players at remote gambling sites. These are additionally capped at €1,500 a week and €3,000 a month.
These limits can be exceeded only by means of a request in writing made to the casino. But even when the request is granted, the maximum bet for a game round cannot exceed €3,000. Lesser max bets are determined by type of bet and individual deposit limits.
Live casino games enjoy a higher limit without the need of requesting permission from your chosen Spain online casinos. It's common for live roulette, for example, to carry a max bet of €2,000, while VIP and PRO variants can go up to €2,500. This is considerably higher than the max bets you will typically find when playing real-money slots, bingo, and other casino games, where the average max bet per round is of €100 to €250.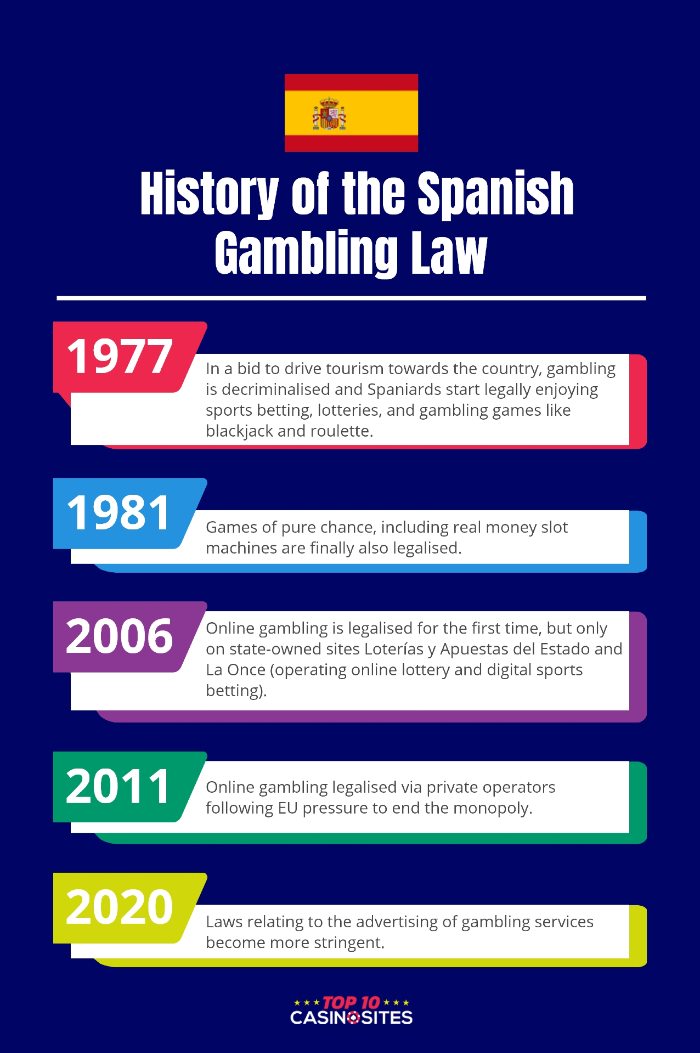 How To Choose the Best Casinos for Spanish Players
With so many international operators being granted a DGOJ licence, finding the best online casinos in Spain for you can be confusing. Our guide walks you through the most important criteria to keep in mind when looking for safe Spain online casinos, with special focus on safety and security, bonuses, game offerings, payments, and withdrawals.
Safety and Security
This is a priority for us when reviewing Spain online casinos, and it should be a priority for you, too. Licensing and security are the baseline for deciding whether to recommend a site or not. Being licensed by the Directorate-General for the Regulation of Gambling is the bare minimum, as it ensures that there's a certain standard of safety, but there are also other aspects to look at besides this.
While a Spanish gambling licence guarantees that the games offered by an operator are fair, the more auditors give their seal of approval, the tighter the security. Below are some security seals to look for when picking Spain online casinos. If you spot any of their logos, you know that security is top-notch.
Bonuses and Offers
Since 2021, Spain online casinos are not allowed to digitally advertise welcome offers and any form of casino bonuses or promotions. This has altered the Spanish online casino landscape considerably, but that is not to say that there aren't some good bonus deals to be enjoyed by returning players who are logged in. When choosing the best online casino in Spain, any operator that is advertising bonuses is breaking the law and thus it's best to steer clear.

Bonuses You Won't Find at Spanish Online Casinos
Available Bonuses
The bonus ban only applies to welcome bonuses, so players will find that the best online casinos in Spain do offer a loyalty bonus. The difference is that these are only available to players with verified accounts who registered more than 30 days before.
Cashback bonuses are perfectly legal at Spain online casinos if they're not advertised outside of registered, verified users. These offers will return a percentage of losses to players, however they are yet to gain popularity with Spanish players. Losses are a reality of gambling, so this is a nice way to help your bankroll stretch a bit further when luck isn't favouring you. As an average, expect anything between 5% and 15% cashback offers. Although rare, some may have exclusive VIP bonuses may offer cashbacks that reach 30%.
Popular Real-Money Games
Gambling is about fun, so it stands to reason that an excellent selection of casino games is a must when choosing the best online casinos in Spain. All sites recommended on this page offer a vast range of options, from the evergreen classics to the newest titles. An operator will only make it on our list of top online casinos if it's an all-rounder, offering ample options for slots, live casino, jackpots, and more.
Best Software
The best online casinos in Spain offer a mix of reputable software providers. Microgaming, BetSoft, Yggdrasil, and NetEnt are particularly popular, as are Spanish game creators like:
Red Rake Gaming – Creators of the Mexican-themed Maya slot
MGA Group – Created the first slot in Spain, as well as the highly popular La Mina de Oro and Arévalo
RFranco Group – Popular for their fruit slots
Seeing these names at online casinos shows a level of quality and trust from Spanish players.
Languages
Did you know that there are more Spanish-language speakers than English-language speakers in the world? True story – there are some 475 million native speakers across the globe, with Spanish only second to Mandarin Chinese in popularity.
Now you know why it's so important for online casinos to offer games and customer service in the Spanish language. It's not only for players that are based in Spain, as this is also the official language of players in Argentina, Bolivia, Chile, Colombia, Costa Rica, Cuba, the Dominican Republic, Ecuador, El Salvador, and many others. This is why the best online casinos will have native Spanish speakers and a Spanish-language site.
Customer Support
Finding the most convenient customer support options is a must at the top online casinos. These include live chat – preferably available 24/7 – phone, email, and FAQs. Spanish players also tend to use Skype a lot. Expect to also see this as a customer care option, something which is not that common in other countries.
It also goes without saying that online casinos should be offering customer support in the Spanish language, besides English. Considering the number of Spanish-speaking players even outside of the country itself, this is an important aspect to ensure that the gambling experience is smooth and hassle-free.

Payment Options
The official currency at these casinos is naturally the euro, so players can deposit and withdraw in their local currency without having to exchange. The US dollar is also popular with Spanish speakers outside Spain, with the Argentinian peso coming in at a close third.
Here are the payment methods you can expect to find at most legal Spanish online casinos:
Mobile Casinos – Playing on the Go in Spain
Online casinos are all available as a mobile casino option accessible on your mobile devices, whether Android, iOS, or tablet. Being able to gamble at a mobile casino is a minimum standard that we look for when choosing the top online casinos .
What we also look at is the overall mobile gaming experience – are all the games accessible, for example? And is the interface pleasant to use and glitch-free? Many of the best online casinos, such as Videoslots and Mr Green, have a dedicated gambling app that is compatible with all devices.
If you prefer not to take up space on your device, our Top Table List of casinos can be played in-browser on your device as they are mobile responsive.
New Online Casinos
With online gambling in Spain gathering popularity, new operator sites open up every week. Spanish players looking for the latest online casinos where they can gamble safely can check out the following licensed operators.
SlotsMagic Casino
Established in 2017, this site obtained its DGOJ licence recently and has now joined the list of licensed online casinos. It offers over 4,000 casino games from NetEnt and Microgaming.
Gratogana Casino
One of the newest arrivals that focuses purely on Spanish players, Gratogana Casino started operating in 2021 with a DGOJ licence. While the games library is not especially large, it enjoys a solid reputation and looks set to grow.
Metal Casino
Also launched in 2017, but obtaining its Spanish gambling licence later on, this is the perfect operator for those who love metal music. It's known for very fast withdrawals and super customer service.
How To Register at the Best Online Casinos in Spain
The Spanish gambling authority requires players to verify their identity before they can be accepted by any Spain casinos online. Registering is usually a simple and fast process if you follow the steps below.
Click on 'Register Now', which is usually found at the top-right of your screen.
Provide the information requested, usually name and surname, date of birth, address, telephone number, email, and your DNI (Documento Nacional de Identitad).
The operator will carry out all KYC requirements and ask you to provide photos of both sides of your DNI.
You can now set up your profile with your banking details.
Start playing!
Land-Based Spanish Casinos
Spain is well-known for its grandiose brick-and-mortar casinos, with Barcelona hosting some 30 gambling resorts and Madrid six. The most well-known is undoubtedly the Casino Barcelona, which attracts not only gamblers but also regular holidaymakers due to its luxury vibe.
The biggest casino is the Gran Madrid Torrelodones, an establishment that welcomes over half a million visitors a year, keen to try the 300+ gaming options or maybe the virtual reality room.
Beach lovers usually opt for the Casino Gran Canaria or Casino de Mallorca, both considered massive partying hubs. More hardcore players would prefer the Casino de Ibiza, which is known for serving not only slots but also some amazing cocktails.
What's the Future Like for Spanish Online Casinos?
One of the biggest questions is whether the welcome bonus ban, which was brought into force due to the recent pandemic, will be lifted. Given the fact that online gambling is a huge source of income for the government, there are those who believe that the situation will be revisited before too much time goes by.
Meanwhile, the number of licences issued by the DGOJ both to casinos and sportsbooks continues at a steady pace. Predictions are that the gambling market is set to grow by €1.5 billion by the end of 2025⁷.
Online gambling has grown steadily since it was legalised, with Spanish online players spending approximately €43.58 per month and 30% of residents gambling frequently, according to the DGOJ. The number of deposits is also on the increase, with a rise of 23.30% between 2020 and 2021. The highest net expenditure is within the 36- and 45-year age bracket.
How Do Online Casinos in Spain Compare To Other Markets?
Unlike in, say, Austria, Spanish casinos do not need to have a physical presence in the country, which makes the landscape more diverse. However, live casino providers need to have a studio situated in one of the brick-and-mortar casinos of the country, unlike, say, with casinos licensed by the Malta Gaming Authority.
This is why online live gambling options remain limited. Still, the situation is considerably more lenient than in countries like Norway or Finland, where there is a state-owned gambling monopoly.
Our Verdict
The outlook is good for Spain casinos online, as the DGOJ is doing a great job of keeping sites safe and secure, while offering enough variety to keep players entertained. All the casinos you'll find on this page are licensed to operate by the Spanish gambling authority, so you can make a deposit and lay down a bet with confidence.
Sources
¹thelawreviews.co.uk. (n.d.). The Law Reviews – The Gambling Law Review. [online] Available at: https://thelawreviews.co.uk/title/the-gambling-law-review/spain.
²Staff/Wire (2021). Players in Spain prefer online slot machines over other casino games. [online] Augusta Free Press. Available at: https://augustafreepress.com/news/players-in-spain-prefer-online-slot-machines-over-other-casino-games/ (Accessed 16 Jan. 2023).
³Reporter, S. (2019). The Rising Popularity of Roulette in Spain. [online] Olive Press News Spain. Available at: https://www.theolivepress.es/spain-news/2019/10/09/the-rising-popularity-of-roulette-in-spain/ (Accessed 16 Jan. 2023).
⁴Reporter, S. (2022). A Detailed Look at the State of Poker in Spain. [online] Olive Press News Spain. Available at: https://www.theolivepress.es/spain-news/2022/01/07/a-detailed-look-at-the-state-of-poker-in-spain/.
⁵Group, G.L. (n.d.). International Comparative Legal Guides. [online] International Comparative Legal Guides International Business Reports. Available at: https://iclg.com/practice-areas/gambling-laws-and-regulations/spain.
⁶GLI – Global Legal Insights – International legal business solutions. (n.d.). Blockchain & Cryptocurrency Laws and Regulations | Spain | GLI. [online] Available at: https://www.globallegalinsights.com/practice-areas/blockchain-laws-and-regulations/spain#:~:text=In%20Spanish%20law%2C%20cryptocurrency%20cannot (Accessed 16 Jan. 2023).
⁷cycles, T. text provides general information S. assumes no liability for the information given being complete or correct D. to varying update and Text, S.C.D.M. up-to-Date D.T.R. in the (n.d.). Topic: Gambling in Latin America. [online] Statista. Available at: https://www.statista.com/topics/9877/gambling-in-latin-america/#topicHeader__wrapper (Accessed 16 Jan. 2023).
Best Online Casinos FAQS
Yes, Spain fully legalised online gambling in 2011, allowing private operators to apply for a licence from the DGOJ. This entity's logo on a gambling site means that it is perfectly legal for Spanish players to register.

On this page we have chosen several casinos that fulfil our criteria when it comes to safety, security, games selection, customer service, and more. We are happy to recommend sites like Videoslots, PokerStars, and LeoVegas, so check our Top Table List for more information.

Spanish gambling law makes it illegal to advertise and hand-out welcome bonuses to players. But verified players who registered more than 30 days prior will still enjoy a variety of promotions, including cashbacks and match deposits.

The best casinos online offer a vast range of slots, table games, and even live casino. Expect to find a good selection of reputable software providers with classic and new titles.

As long as your chosen site is licensed by the DGOJ, then it is perfectly safe to play there. You will find a full list of licensees on the authority's website.