Best Online Casinos in Germany 2023
Germany online casinos have come in for a wild ride since the new laws of 2021 kicked into place, with much confusion among players about where to find the safest sites to play on. This guide, which is part of our Casinos by Country series, will answer all your questions with a deep dive into gambling regulations, bonuses, games, and all things casino-related for German players.


Safe & Secure Casinos

Accepts Euros

Verified Withdrawals For All Casinos Below
The Best Online Casinos in Germany for 2023
German online casinos
Gambling Milestones in Germany: The history of gambling in Germany stems from the opening of the first casino in 1720 to the introduction of the new Interstate Gambling Treaty in 2021, which marked a significant shift in the country's gambling regulations.
A New Era: This German Interstate Treaty ushered in uniform online gambling regulations for all states, replacing the absence of specific laws.
A New Sheriff in Town: This mandated that casinos wishing to serve players in Germany had to obtain licenses from the GGL, the country's new gambling authority.
Key Regulations: Important rules and restrictions for online casinos in Germany were introduced, including EU office registration, language requirements, deposit limits, opt-out features, slot game rules, advertising restrictions, and limitations on live betting.
Tax Free: The GGL maintains tax-free status on online gambling winnings for players.
Reel Rewrites: Slots are capped at €1 per spin and auto-play features have been removed.
Choosing the Right Casino: Before you sign up, check the casino's licensing, reputation, and adherence to regulatory requirements to ensure a secure and enjoyable gaming experience.
Bonus Variety: German players can enjoy a wide range of casino bonuses with fair terms and conditions, including welcome bonuses, no deposit bonuses, free spins, cashbacks, and exclusive VIP bonuses.
Payment Options: Casinos in Germany accept a variety of payment options, including credit cards, e-wallets, direct bank transfers, and popular prepaid vouchers like Payhawk and paysafecard.
Into the Unknown: As we look to the future, rest assured that Germany's online gambling scene is in a state of constant evolution, promising more licensed casinos on the horizon. Who knows what thrilling surprises await!
Are Online Casinos Legal in Germany?
Yes, it is perfectly legal for German players to play online casino games, but care must be taken to ensure that the sites you choose comply with the rules and regulations put forth by the German gambling authority, the Gemeinsamen Glücksspielbehörde der Länder (GGL).
German Laws About Gambling Legality and Tax on Winnings
The earliest reference to legalisation of Germany online casinos dates back to September 2021, which is when the Schleswig-Holstein Parliament enacted a law to start regulating online gambling¹, making it possible for the first time for casinos, sports betting sites, and poker sites to apply for a German gambling licence.
However, this law only applied to the state of Schleswig-Holstein and anyone who resided within. This meant that players who resided in other states faced a dilemma when trying to figure out at which online casinos they could play with full peace of mind.
This situation changed in 2021, when the new German Interstate Treaty² came into force, providing uniform regulations for online gambling across all states in Germany and laying down a nationwide gambling reform. Before the treaty came into force, there was no specific law to regulate online casinos. German players could still enjoy access to online gambling sites that were licensed by other jurisdictions, such as the Malta Gaming Authority, but without any way of knowing whether these were compliant with German laws.
The new treaty changed the German online gambling landscape drastically, as casinos wishing to accept players in the region now were required to be licensed by the GGL, which is the new gambling authority for Germany.
Since it started operations, the Authority has suffered from backlogs³ in granting these licences, which has had a somewhat negative effect in terms of the choice of online casinos available to German players. The list of licensed German casinos sites is updated by the regulator on a monthly basis, and any players wishing to see if their favourite site has been awarded a licence can check the Authority's Whitelist⁴.
One good aspect of the GGL is that it has maintained the tax-free position on winnings, with players not required to pay any taxation from online gambling.
The InterState Treaty Rules for Germany Online Casinos
The InterState Treaty has laid down a number of rules that all Deutschland casinos online must satisfy before they can be awarded a licence. Because these rules are quite strict, it can take a relatively long time for the authority to institute all the checks before eventually moving to grant a licence.
The following are the requirements that are enforced by the German gambling regulator:
All Germany online casinos must have an office registered in the EU.
The gambling site needs to be available in the German language, and all necessary information must be reproduced within.
Players are asked to create a general account, which is then used to play across different online casinos in Germany.
Players can only deposit up to a maximum of €1,000 every month across all operators.
Every licensed operator must make available an opt-out button that is clearly visible and that results in a 24-hour exclusion.
Slots cannot have an auto-play function and each round must last a minimum of five seconds.
Stakes are capped at €1 on slot games.
There are to be no online gambling adverts between 6am and 9pm.
No live betting can be made accessible.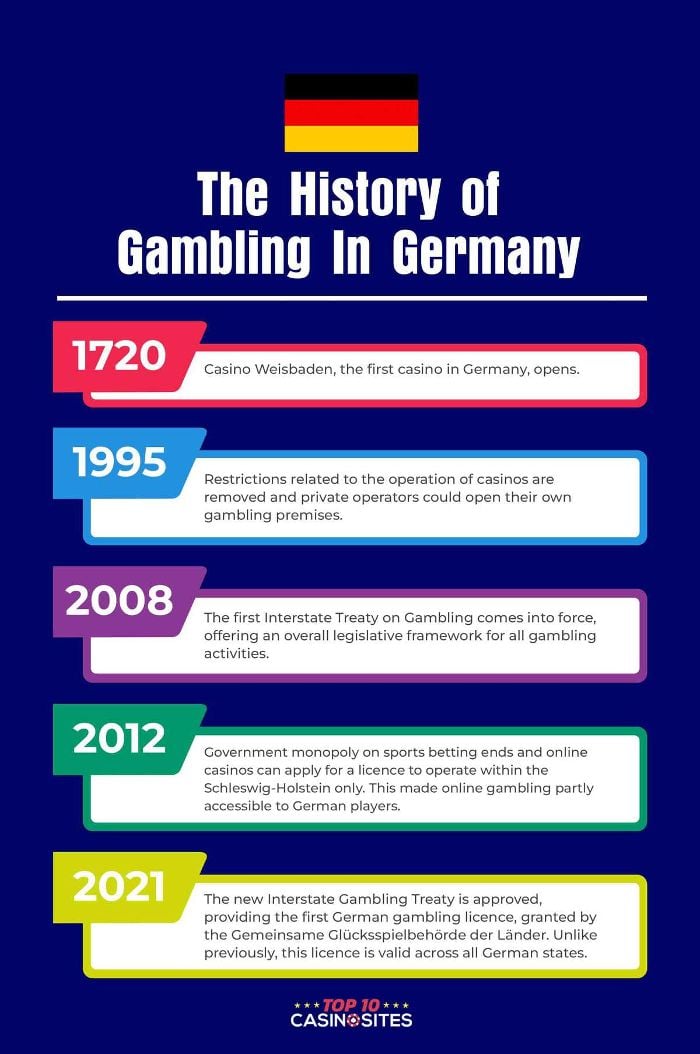 How To Choose the Best Casinos for German Players
There are literally hundreds of Germany online casinos accessible to players, not all of which will have acquired the regulator's licence yet. This may result in a bit of a daunting experience for players who aren't quite sure whether the site they've stumbled on is legit.
To help you on your way, we've compiled a list of qualities that we believe all reputable online casinos in Germany should have. All the casinos that you will find recommended on this page have passed this list of requirements, so that you can lay down a real-money wager with full confidence.
Bonuses for DE Players
German players can benefit from some great casino bonuses that come with fair terms and conditions. German gambling law doesn't exclude any form of bonus, so the best licensed sites will offer a wide variety of promos, unlike other jurisdictions like Spanish casinos, which put a heavy number of restrictions.
Types of Bonuses
Online casinos in Germany offer some great sign-up bonuses, generally in the form of a match deposit, where you'll get your first deposit matched by the site. Don't forget to keep an eye on the wagering requirements, as anything higher than 35x tends to be considered on the high side and makes it difficult to withdraw any bonus winnings.
No deposit bonuses do exactly what they say on the tin. They are the most sought-after by players, as you don't even need to put down a deposit to be eligible. They are not common, and the amount is usually low, in the region of €5 to €10.
Free spins can be offered as an addition to the welcome bonus or even as a special promo on specific titles. These also come with wagering requirements, which can be different from those required on the other bonuses.
Also legal at Germany online casinos, cashback bonuses are particularly sweet because they reduce the sting of a loss. It's an unwritten rule that if you play, you're bound to lose, so casinos will sometimes offer weekly cashbacks of 5% or even a bit more.
High rollers and regular players should also look for a site that offers good VIP bonuses. These promos are kept for the crème de la crème of players, and can take the form of birthday bonuses, weekend offers, free spins, and more.
Safety and Security
When looking for the best online casinos in Germany, we always have an eye out for the safety and security features employed by that site. The German gambling authority likewise places great importance on this aspect, laying down a number of standards that must be followed before a site is granted its licence.
These standards make it mandatory for all licensed casinos in Germany to connect to two different systems:
An evaluation system called the Safe-Server – This enables overall supervision of the site's gambling system by the authority.
The central files – These ensure compliance with the maximum monthly deposit cap, enabling the Authority to stop players from exceeding it through parallel gambling on different sites.
Moreover, any German licensed online casino found in violation of these standards will be fined and risk losing its licence. This means that if a casino has a German licence, players can rest assured that all safety and security aspects are top notch.
However, there are other things that players can check in order to make sure that both their personal data and their money are protected. The presence of certain security seals that can be found on the homepage of the site is an important factor when trying to decide whether your chosen German online casino is the right one for you.
Dataport – This is an independent German company specialising in IT security, ensuring that websites have the highest standard of compliance. They are the main IT service provider for German government agencies.
eCOGRA – A fully independent organisation that audits casino games worldwide, ensuring that they comply with the fair principles of RNG (random number generation).
Gaming Labs International – The world-standard for casino games classification, the presence of their logo guarantees instant peace of mind for players.
What Restrictions Did the Treaty Impose on Slots?
While the InterState Treaty made it possible for German players to legally play online slots, it also introduced a number of restrictions that didn't apply pre-2022. When playing slots, you cannot bet more than €1 per spin, and all autoplay functions are disabled. This is a direct result of the five-second rule, where the law lays down that players must take a short break after each spin so as to maintain control over the money they wager.
Perhaps the biggest difference from other licences is that Germany online casinos are not allowed to offer jackpots, meaning that progressive jackpots slots are sadly now banned.
Moreover, a stake tax that was introduced with the same law forced some operators to lower their RTP.
A Full Game Catalogue
When choosing the best online casino Germany for you, it's always a good idea to make sure that the site offers all your casino games before committing to a deposit. We only recommend those casinos that offer a good library and a vast choice that will keep things from getting boring. What we look for are a high number of slots, table games, and live casino. If there's a sports-betting section, that's a bonus.
Types of Games
Slots remain the most favoured casino games⁶ with all players, so an excellent slots library is a must. We look for not only the newest titles but also classics and a wide range of themes to suit all tastes.
Classic – Classic online slots are beloved by players across Germany, in particular those with themes related to the country, such as the Oktoberfest. Slots like NOVOMATIC's SteinHaus, WMS Bier Haus, Pragmatic Play's Octobeer Fortunes, and iSoftBet's Greta Goes Wild remain popular.
Megaways™ – These are freely available to German players and, once again, beer themed titles tend to be the most sought after. Megahops Megaways™ is one such example from Booming Games. iSoftBet's Riches of Rumpelstiltskin Megaways™, based on the old German fairy tale, is another one.
There is nothing in the new gambling law that prohibits Germany online casinos from offering table games, but there are some restrictions. These must be offered separately to slots, and each state in Germany is free to decide whether to allow table games or not. So basically, a Germany player in one state may have legal access to online table games, while others in a different state don't. Other than that, states are free to offer games like online roulette, blackjack and baccarat.
Sadly live dealer tables are not available at Germany online casinos, as the Treaty has outlawed all forms of live betting, including sports live betting. Of course, nothing's to stop players in Germany from trying out free demos of live casino games, and on that note you can head over to our Top10 free live dealer games page, where you can enjoy the games without needing to lay down a real-money wager or even to register.
One area that's not tackled by the new German gambling laws are Fantasy Games. These are nowhere mentioned in the law, which means that operators are perfectly free to offer such games to players if they wish. More importantly, as a player, you won't be breaking the law if you partake.
Under the new laws, only the state lottery companies can offer lottery games, so you won't find them at any private operators. Even so, players have access to a wide range of lotteries that operate within the state monopoly that's called State Lottery and Tote Association, and that includes around 16 different companies.
Germany online casinos are required to apply for a separate license if they also want to offer poker games. The first company to be awarded this licence was Entain in November 2022. The renowned brand was given both poker licences it applied for, which means that it can offer poker through its online platforms bwin and Ladbrokes. Each poker licence carries an expiry term of five years.
Reliable Software
When looking for the best Germany online casinos, make sure they offer a good mix of online casino software game developers. The gambling regulator places a high standard of care when it's granting software licences, so players can rest assured that they have access only to the best games that operate within the top standards of fairness.
Among the software providers you'll find are top ones like NetEnt and Pragmatic Play, which are present at many gambling sites, and newer ones like Rootz, which recently acquired a German licence, and GG Poker.
As the gambling regulator gets more settled in, more software licences are expected to be granted⁷ shortly, offering more variety to players.
Customer Support
The top online casinos in Germany offer wide-ranging customer support options. Look for email options as well as dedicated Help and FAQs sections.
Telephone support would be an added bonus, as well as a 24/7 live chat option. The latter is the hallmark of an operator that takes seriously good care of its players.
Option for German Language
The new gambling regulations make it mandatory for every licensed Germany online casino to offer a German-language version of the site, and to make its customer care support accessible in German. In short, no German language, no licence. When choosing your favourite site, it's best to make sure that this criterion is upheld.
Payment Options
Before signing up at your preferred Germany online casino, it's important to understand which are the best casino deposit methods and ensure that your casino of choice carries them. Thankfully, players in Germany have access to a wide range of European online banking methods that can be used when gambling.

Did you know?
German lawmakers have tried to block payment providers from offering their services to sites that aren't as yet licensed. They tried to achieve this by sending out letters informing them that the sites they were servicing were illegal in the country. However, these letters weren't legally binding, and German players continue to have access to a variety of payment options regardless of whether the site they're playing at has a German licence.
Here are some of the most popular payment methods:
Types of Payment Methods
German banks don't place any restrictions on the use of credit cards, with Visa and Mastercard being extremely popular with players. If you're playing on a licensed site, you can put in your personal details in full confidence that German law requires online casinos to maintain the highest degree of security.
E-wallet casinos offer one of the easiest ways to enjoy real-money gambling for those who prefer not to have to use their personal information at the casino. Skrill, NETELLER, and PayPal are three of the top methods, but be aware that if you use the first two, you won't always be eligible for the bonus.
Nothing's simpler than a direct bank transfer when you want to play online, as the same standards of security apply here, and your banking details will always be protected by our listed Germany online casinos.
The most popular prepaid cards in Germany are Payhawk and the paysafecard. Using a prepaid card means that you will have more control over the money you spend.
Withdrawal Times for Players in Germany
When can you expect your winnings from your favourite Germany casino online to appear in your account? This much depends both on the casino and on your withdrawal method.
Gambling laws are strict about KYC and AML processes, so a licensed site may take a bit longer with the checks before the payment is allowed through. That said, most casinos will process the withdrawal in less than three days. The faster you cooperate in terms of document requirements, the faster you'll receive your money.
If you opt to withdraw via an e-wallet, you'll be more likely to receive your funds faster. PayPal withdrawals, for example, are instant. Bank processing times tend to be longer and can take up to five days.
German Mobile Casinos & Apps
Being able to gamble on the go is a feature that is prized by players worldwide, including in Germany. Thus, Germany online casinos can be easily accessed on your mobile device, whether you're using an Android or iOS mobile device.
Mobile casinos nowadays deliver a seamless gaming experience in terms of visuals and immersive gameplay. Best of all, you can register, claim bonuses, and put real money wagers straight off your mobile device.
The best gambling apps are those that have dedicated versions that are compatible with all devices. If you'd rather not download an app, the casinos in our Top Table List above are available in-browser, with mobile-responsive versions that guarantee an equally smooth experience.
How to Start Playing at the Best Germany Online Casinos
Germany online casinos will need you to verify your identity before you can start playing. This can be done in a fast and simple manner by following these instructions.
Click on 'Register Now', which is usually found at the top right of your screen.
Key in the requested information – name and surname, date of birth, address, telephone number, email, and your German identity card.
Once done, the KYC processes kick off. Make sure you offer a scan of both sides of your identity card.
The next step is setting up your profile to include your favourite banking methods.
Make a deposit and claim your welcome bonus.
Start playing!
Famous Land-Based German Casinos
With over 50 options to choose from, brick-and-mortar casinos remain extremely popular in Germany. In fact, there are a number of luxury spa and casino resorts that attract visitors from across the world.
Casino Weisbaden
Germany's oldest casino, Casino Weisbaden, is still in operation in the former wine salon of the Kurhaus – a high-end spa house in Weisbaden, the capital of Hesse. The casino is known for its stately decor and the numerous roulette tables available, with the game being one of the most sought-after among visitors.
Casino Berlin Potsdamer Platz
Located within one of the prime locations in Berlin, Casino Berlin Potsdamer Platz is one of the largest and most modern casinos in Germany. The casino is known for large, weekly poker tournaments and once again roulette is extremely popular. There are several floors dedicated to the game, alongside blackjack. The casino also houses 500 slot machines to satisfy all enthusiasts.
Casino Baden Baden
Casino Baden Baden is located in possibly the most famous spa town in Germany. Here, old-school style rules and the casino is decorated in the style of the Belle Epoque, with gaming rooms to match. According to the website, Marlene Dietrich herself once described it as 'the most beautiful casino in the world', which definitely makes it worth a visit.
Casino Esplanade
Casino Esplanade is ideal for the more casual casino-goer. Any dress code goes here, which makes it extremely popular with tourists who don't have the luxury of their entire wardrobe to choose from. But don't be fooled: the game offerings are every bit as well-rounded, with slots, table games, and poker taking up an entire complex.
Online Gambling Statistics in Germany
The laws surrounding online gambling in Germany may be strict for operators, but gambling statistics⁴ show that this hasn't stopped players from enjoying themselves on their favourite sites, including the best slots sites Germany has to offer. At least 75% of Germans have gambled online, with 19% of this activity happening online, totalling around 12 million players. 93% of players quote slots as being their favourite form of casino game, with many of them seeking out the best slots sites Germany has available. The absolute majority of players also prefer to gamble from their mobile devices.
German gambling tax revenue rose to €596.1m in the third quarter of 2022⁵, an increase of 15.5% when compared to the previous year. A total of €123.2m came from slots alone, confirming them as the most popular casino games among German players and further highlighting the demand for the best slots sites Germany offers. In the same period, a total of €8 million in taxes from poker was gathered – poker also appears to be on the rise, as this was more than double what was collected the previous year. Despite this, slots remain the preferred choice for the majority of German players, attracting them to the top slots sites available in Germany.
How Do Online Casinos in Germany Compare To Other Markets?
Sadly, the country appears to be taking a much stricter point of view than jurisdictions like Malta, where the MGA offers a secure but sensible approach to licensing. The same can be said of Spain, where despite a strict approach towards advertising and bonuses, the regulator is dealing well with an efficient licensing process. Indeed, when compared to other European online casino sites, Germany gambling licences remain some of the most restrictive.
UK casinos are also among the most strictly regulated, with the UKGC having notoriously high standards. But even so, with thousands of online operators having obtained the green light to offer their services legally, it is nowhere near as difficult to obtain a licence as it is in Germany.
Responsible Gambling Laws in Germany
Reputable casinos place strong importance on providing adequate responsible gambling tools to players, whether they happen to be Germany online casinos or not. Our top-listed sites all offer a full suite of support tools, including auto-limits on spend and losses that can be adjusted daily, weekly, or monthly, as well as temporary breaks and self-exclusion.
Many collaborate with support agencies like GamStop and BeGambleAware, both of which help players recognise the signs of addiction and dealing with it. The German organisation, Evangelische Gesellschaft Stuttgart, also supports those who find themselves in financial difficulties due to gambling.
The German gambling regulator adds an extra layer of protection for players, thanks to a nationwide blocking system⁸ which consists of a common file of players who request self-exclusion that is administered by the Darmstadt Regional Council. Thus, players who are facing problems avoid the pitfall of finding new Germany online casinos that will allow them to register.
What's the Future Like for German Online Casinos?
With the new InterState Treaty still being fresh, we don't expect many changes to happen on the German online gambling scene in the short term. The one improvement that many are hoping for – and that the regulator itself has promised – is that the licensing process will be streamlined and tackled in a more efficient manner, in order to increase the number of licensed Germany online casinos.
Our Verdict for Online Casinos in Germany
As this guide has shown, Germany online casinos remain a complex topic, but the good news is that players can play legally and in complete peace of mind. What's more, all the casinos that we've listed on this page as these have passed the stringent standards of our in-house experts. Meantime, we will be regularly updating our list of top and trusted Germany online casinos, so check in with us again soon!
FAQS
There are several sites offering online gambling to German players, but not all of them are safe and legit. In this guide we recommended our tried and tested sites, offering the best games, bonuses, and gambling experience.

We only recommend the best casino sites Germany, and all offer generous bonuses with fair terms, so make sure you read all terms and conditions and that you claim your bonus upon registration.

Online gaming is perfectly legal in Germany, with the state regulator having the option of granting licences to specific sites. Even if you play at a site without a German licence, you are not breaking the law and you're not in any danger of bad legal consequences.

This is the main law that regulates all forms of gambling in Germany. In 2021, the treaty was changed to make provisions for a gambling regulator that grants nationwide licences to online casinos.

Besides online casinos, Germany boasts some 50 land-based casinos that are extremely popular both with local players and tourists.

The best online gambling sites in Germany will offer the option to play on your Apple, Android, or Windows devices, either through an app or a mobile browser.
Sources
¹Anon, (n.d.). German regulator hopes to clear licence application backlog by end of 2023 – iGaming NEXT. [online] Available at: https://igamingnext.com/news/ggl-backlog-of-applications/ [Accessed 7 Feb. 2023].
²themunicheye.com. (n.d.). A Look at Germany's New Online Gambling Regulations. [online] Available at: https://themunicheye.com/a-look-at-germany%27s-new-online-gambling-regulations-3848.
³Whitelist of Gambling Providers. [online] Available at: https://www.gluecksspiel-behoerde.de/en/whitelistgamblingproviders/whitelist
⁴Editor (2021). World Gambling Statistics – Will Slots Become even More Popular than They Are Now? [online] Soundsphere magazine. Available at: https://www.soundspheremag.com/blog/world-gambling-statistics-2021-will-slots-become-even-more-popular-than-they-are-now/ [Accessed 7 Feb. 2023].
⁵Thomas-Akoo, Z. (2022). Germany to approve nine more online gaming licences. [online] iGB. Available at: https://igamingbusiness.com/legal-compliance/germany-to-approve-9-more-online-licences/ [Accessed 7 Feb. 2023].
⁶ www.xace.io. (n.d.). Germany Online Gambling Statistics 2022. [online] Available at: https://www.xace.io/payments/germany-online-gambling-statistics-2022#:~:text=Data%20suggests%20that%2075%25%20of [Accessed 7 Feb. 2023].
⁷O'Boyle, D. (2022). Online slots boost German gambling tax revenue to €596.1m in Q3. [online] iGB. Available at: https://igamingbusiness.com/finance/online-slots-power-german-gambling-tax-revenue-to-e596-1m-in-q3/ [Accessed 7 Feb. 2023].
⁸www.gluecksspiel-behoerde.de. (n.d.). Spielersperrdatei – Gemeinsame Glücksspielbehörde der Länder (AöR). [online] Available at: https://www.gluecksspiel-behoerde.de/de/component/content/article/77-spielersperrdatei?catid=17:technische-rahmenbedingungen&Itemid=160 [Accessed 7 Feb. 2023]