Best Online Casinos Russia in 2023 – Top Gambling Sites
Russia's laws surrounding online gambling are pretty clear-cut: playing at online casinos is banned. Nevertheless, many citizens continue to enjoy their favourite games at online casinos in Russia registered in foreign jurisdictions. Here, our experts explain the law and other information you need to know.

Best Online Casinos Russia for 2023
Is Online Gambling Legal In Russia?
The short answer to this question is no. The long answer is a bit more complex than that, which we delve into further below. The Russian Supreme Court ruled that Russian players could not play any games of chance online, no matter where the website was registered.
To ensure citizens were following the directive, a government body by the name of Roskomnadzor was put together to find and blacklist all online gambling sites that allowed Russians to play online – even those registered in foreign jurisdictions.
Since then, the government has cracked down on this issue, threatening to remove their licences and hit them with large fines if they don't cooperate.
Even so, it is estimated that around 70% of all wagers made by Russians are made illegally. This shows that many people are still accessing Russian casino sites to play. While it is illegal, prosecution of individual players is a very rare occurrence.

Did you know?
Online sports betting is legal and has been fully regulated for over a decade. In fact, Russia actually licenses such online sites, with some of the world's biggest casino brands opting for a Russian license for sportsbooks.
Online poker, is a bit of a grey area as it is considered a game of skill rather than a game of chance. This, however, doesn't necessarily mean that you'll find Russian government-approved casino websites where you can play it legally.
History of Gambling in Russia – Casino Gambling Laws
Even though President Vladimir Putin reinstated a near total ban on gambling in 2009, due to links that were identified between criminal organisations and casino establishments. It's not all doom and gloom.
The ban does not apply to the Primorsky Krai, the Altai Krai, the Kaliningrad Oblast, and the Krasnodar Krai regions, where land-based casinos in Russia can still operate from. Online casinos by this point were not largely affected, but the 2012 Russian Supreme Court ruling brought legal online gambling to an end.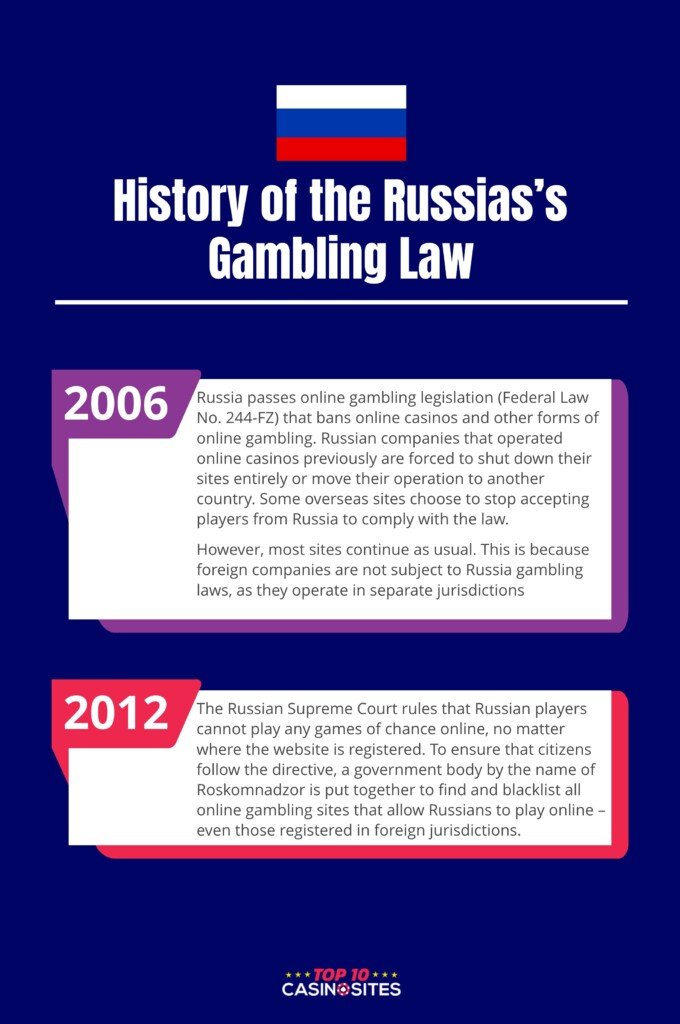 What Licences Should I Trust?
Since players don't have access to online casinos licensed in Russia, they will have to opt for casinos registered in offshore jurisdictions. Licences from the UK and those of Swedish casinos are, of course, super secure, but they are usually reserved players from those countries.
Even so, the best online casinos that accept players from Russia should have a licence from one of the three following jurisdictions:
But why should you trust such casinos? Well, because:
They follow strict rules on fairness and responsible gambling.
They are known to pay players what they are owed in the agreed time-frame.
They are answerable to jurisdictions other than Russia, so they are not likely to divulge your information to the Russian authorities.
Games at Russian Online Casino
The best online casinos Russia will stock a whole myriad of games. Most of these can be played for free, as well as for real money – but it's recommend confirming this with your casino before signing up.
Types of Games Available At Online Casino Russia
Payment Methods at Online Casinos Russia
When it comes to funding your account at any Russian online casinos, we recommend using a method that is safe and that keeps the info off your bank statements.
For that reason, credit or debit cards (including Visa and Mastercard), as well as bank transfers, should not be used. At this point, the QIWI Wallet, (which used to be a popular method among online casino Russian users) is no longer available. Here is what you should use instead:
Payment Methods for Russian Online Casinos
WebMoney is a particularly renowned service in Russia and other parts of Eastern Europe – in fact, it's got 40 million active users! What makes this service particularly unique is its 'purses' functionality, which allows you to store different assets on it.
For example, like electronic money, crypto, and gold. These assets are held by a Guarantor, which provides the utmost protection of your funds in case of liquidation or fraud.
WebMoney has a dedicated mobile application, quick transfer times, and low fees. Moreover, while the number of casinos that currently accept it is rather limited, casinos that accept Russian players are more likely to have it.
Formerly known as Yandex.Money, this electronic payment service is the second largest of its type in Russia.
The service is rather simple in that it creates a virtual card you can use to buy anything online – including online gambling services. The best part is that all you need to set up your YooMoney account is a phone number and email address. Once the card is issued, you can use it just as you would a normal credit card, and even add it to your Apple Pay or Google Pay on your phone.
Cryptocoin casinos have been on the rise for a few years now – and there's nothing mysterious about it. With cryptocurrencies like Bitcoin (used in Bitcoin casinos) increasing in value and notoriety, it's only natural that more people are investing in, and using, these digital currencies.
The best part of most cryptocurrencies is that any transactions made through them are practically anonymous, with only your public wallet number showing.
Apart from Bitcoin, there are many types of cryptocurrencies out there as well as numerous casinos that accept them. These include Litecoin casinos, Ethereum casinos, Dogecoin gaming sites, and so on. To use any of the particular currencies, you will need a crypto wallet like CoinsPaid.
Bonuses at Online Casinos Russia
Players joining the best online casinos Russia will usually be presented with a number of bonuses. Do read the terms and conditions before signing up to ensure you are eligible and that the payment method you'll be using won't disqualify you.
Bonuses at Casino Russia Online
Important Factors To Consider When Choosing an Online Casino in Russia
No matter where you're playing from in the world, joining an online casino needs to be taken seriously, particularly as you'll be divulging personal details to the brand.
The casinos mentioned in our review have all been vetted by us to ensure they are legal, licensed, and that they will take care of you. But, if you'd like to do your own research, the following aspects are of utmost importance.
On top of having a licence from a reputable jurisdiction, always ensure that the casino has SSL-encryption and takes responsible gambling seriously.
Definitely be sure to read reviews like the ones on this site as these will also help you get a feel for the different brands in order to find the right online casinos for you, be in online casino sites in Russia or abroad.
Customer support is often overlooked, but it is extremely important. Having someone you can speak to about the services offered or any problems that may arise will make your experience a lot more enjoyable.
There are some casinos that accept deposits in Russian Rubles, and others that allow you to make withdrawals in the same currency. Nevertheless, you should confirm this beforehand, particularly as having to exchange your money to euro or US dollar could cost you extra.
Of course, it's good to note that using cryptocurrency usually saves you this hassle, and the average Bitcoin casino in Russia also has Bitcoin-specific games that you can play using the cryptocurrency directly.
If you're looking to play casino games in your native language, then you'll be happy to know that some of the larger casino brands are available in Russian. Alternatively, English is the standard language at most online casinos.
Play at 7Bit Casino – a Russian-language casino
How to Play at an Online Casino in Russia
Joining one of the best online casinos in Russia is much easier than you'd expect. All you have to do is follow some simple steps to keep yourself safe before you can start playing!
Choose a trusted casino Russia and head to the site.
Read the terms and conditions for the website and for the bonus they offer before registering.
Register by entering any details required.
Once your account has been created, it is then possible to make your first deposit.
That's it! You can now claim your casino bonus and start playing all your favourite games.
The Future of Online Casinos in Russia
It seems unlikely that Russia will legalise and regularise online casinos in the near future. Nevertheless, the rise of Bitcoin casinos in Russia should make it easier for citizens to play online in a safe manner.
Russian Online Casino Conclusion
While playing at an online casino in Russia remains illegal, brands registered in offshore jurisdictions have made it easier for Russians to enjoy online gambling. As always, be caution when doing so.
If you're visiting from another country, we also have an in-depth guide about Turkey online casinos and Ukraine online casinos.
FAQs
No, a Russian Supreme Court ruling in 2012 made it clear that online gambling in or from Russia is illegal. Nevertheless, many players from the country opt for offshore registered casinos, instead – which, while still illegal, will usually not land them in trouble.

Our above list has many legal and licensed casino brands that you can join with relative peace of mind.

Yes, most online casinos Russia will give you access to one or more bonuses. Of course, always check the terms and conditions of the casino and bonus to ensure you are eligible.

The legal gambling age in Russia is 18. We certainly do not recommend gambling online or otherwise if you are younger than this. Trustworthy casinos will also not allow it.

While the Russian government taxes winnings from gambling, this is usually for land-based casinos or else sports betting online. Since gambling online is illegal, you should not be taxed on your winnings at a Russian online casino.

We recommend using WebMoney, cryptocurrencies, or YooMoney to safely and easily make a deposit to the top online casinos Russia. Never use your bank account or credit/debit card details.

You can do so easily by using the same payment methods you use to deposit. Never use your bank account or credit/debit card details.

Joining an online, live, or mobile casino Russia is usually free of charge. The minimum deposit accepted is normally around ₽825 or €10.