Casino Gamification – Best Gambling Sites With Video Game Elements in 2023
Embrace the thrilling wave of innovation in the realm of online gambling with casino gamification, an exciting new trend that integrates video game elements such as points scoring, XP gathering, and competitions to elevate your gaming experience. Read on to discover more on what a gamification casino offers in 2023!
Top Exciting New Gamification Casinos To Try Out in 2023
Top 3 New Gamification Casinos in 2023
Gamification is a casino feature that loses meaning if it is not constantly updated in innovative and exciting ways: after all, what would have been an impressively gamified a casino in the past might have become commonplace by now. That's why we're always on the prowl for the newest and hottest gamification casinos on the block.
Zoome Casino
Zoome Casino's 10-level loyalty programme is this gaming site's standout flagship feature. Zoome keeps the gamification features coming with an impressive suite of crash and arcade games too!
Rewards through its loyalty programme include 23 individual €500 money gifts, 620 free spins, cashback bonuses, and other exclusive perks! That's not mentioning this casino's impressive welcome package consisting of bonuses on your first three deposits, amounting to €1,200 and 250 free spins (T&Cs apply.)
Impressively, this casino site accepts payments in both cryptocurrencies and traditional fiat currencies. Crypto payments do mean this casino is limited to having the Curaçao gaming licence, which, while trustworthy and an industry standard, isn't quite as rigorous as certification from other licensing bodies.
Play at Zoome Casino
Katsubet Casino  
Katsubet's tournaments and VIP sections dominate when it comes to its gamification features. The latter section offers players the chance to join an eight-level exclusive programme with additional birthday bonuses, personalised VIP hosts, and Katsubet's homebrew KatsuPoint coins.
In the tournament section, you have the opportunity to battle it out with fellow players. Additionally, you can take advantage of Katsubet's impressive 100% up to 1.5 BTC first deposit bonus, which comes stocked with an extra 100 free spins (T&Cs apply).
Katsubet prides itself on its support for cryptocurrency deposits and withdrawals, but it also accepts a variety of traditional fiat currency payment methods. The casino is also licensed by Curaçao e-gaming.
Play at Katsubet Casino
OneStep Casino
OneStep's standout gamification feature is an innovative calendar mechanic that sees players benefitting from one of six different perks each day of the week. These include cashbacks, reload bonuses, free spins, casino chip bonuses on specific games, combo bonuses, and wager match bonuses.
The platform's impressive offering is rounded out with a welcome bonus consisting of a 100% match up to €200, along with 20 free spins (T&Cs apply).
The cherry on the cake is this casino's licensing, which is from the MGA.
Play at OneStep Casino
What Is Gamification?
In essence, gamification involves applying video game elements such as competitions, tournaments or points scoring to non-gaming environments.

Gamified ATMs?
The term was first coined in 2002 by Nick Pelling, a game designer who was in charge of developing a gamified interface for ATMs and vending machines. The term has since been adopted, recognised, and used in scientific papers.

Gamification is used strategically in various areas, from online marketing to website design, airline rewards programmes, health apps, e-learning platforms and, of course, online casinos!
The ultimate goal of gamification is to encourage customer participation and interaction with the businesses' services and products by making the whole process more fun and engaging.
The most popular gamification techniques used by big brands today are points scoring, badges, gold stars displaying some level of achievement, and leaderboards, prevalent in sports, sales and casino competitions.
All of the above are meant to encourage users to solve problems or quests — just as they would in a video game, and be rewarded with discounts, tokens, loyalty points or cash prizes. In return, businesses benefit from increased audience engagement and retention.
Gamification at Online Casinos
If you're an online gambling enthusiast, you've probably noticed the increasing prevalence of casino gamification. After all, what better environment to apply video gaming techniques to than gambling?
Merging them together takes your games up a notch, and enables online casinos to offer a tailored experience, boosting interaction levels, sign-ups, and most importantly for you: fun!
Gamification elements have transformed the way we play various casino staples, such as online slots, roulette, poker, blackjack, and scratchcards.

Which Casino Games Benefit?
Whilst live dealer games have always provided increased interactivity due to the real-time action involved and a human croupier overseeing things, solitary games, such as online slots, benefit the most from the implementation of gamification techniques.

The introduction of leaderboards, lucky wheels hiding cash prizes behind every spin, daily missions, tournaments, and races have turned an otherwise solitary activity into a community event for slots players.
Gamification casinos are present on all major gambling markets, and this growing trend is not showing any hints of stopping in 2023.
In fact, it is rare to find an online casino these days that doesn't have at least one element of gamification, whether it's a quest or a mystery prize. Of course, some do it better than others, and discerning which is which is where we come in!
Features of Casino Site Gamification
Casino gamification is an intricate process that is achieved through an array of strategies and tools, ranging from loyalty programmes to random prize drops or the use of native tokens.
Creative restrictions may also arise depending on the game — for example, you won't be able to integrate the same gamification techniques in online slots as you would for video poker because of the differences in layout, rules, and gameplay.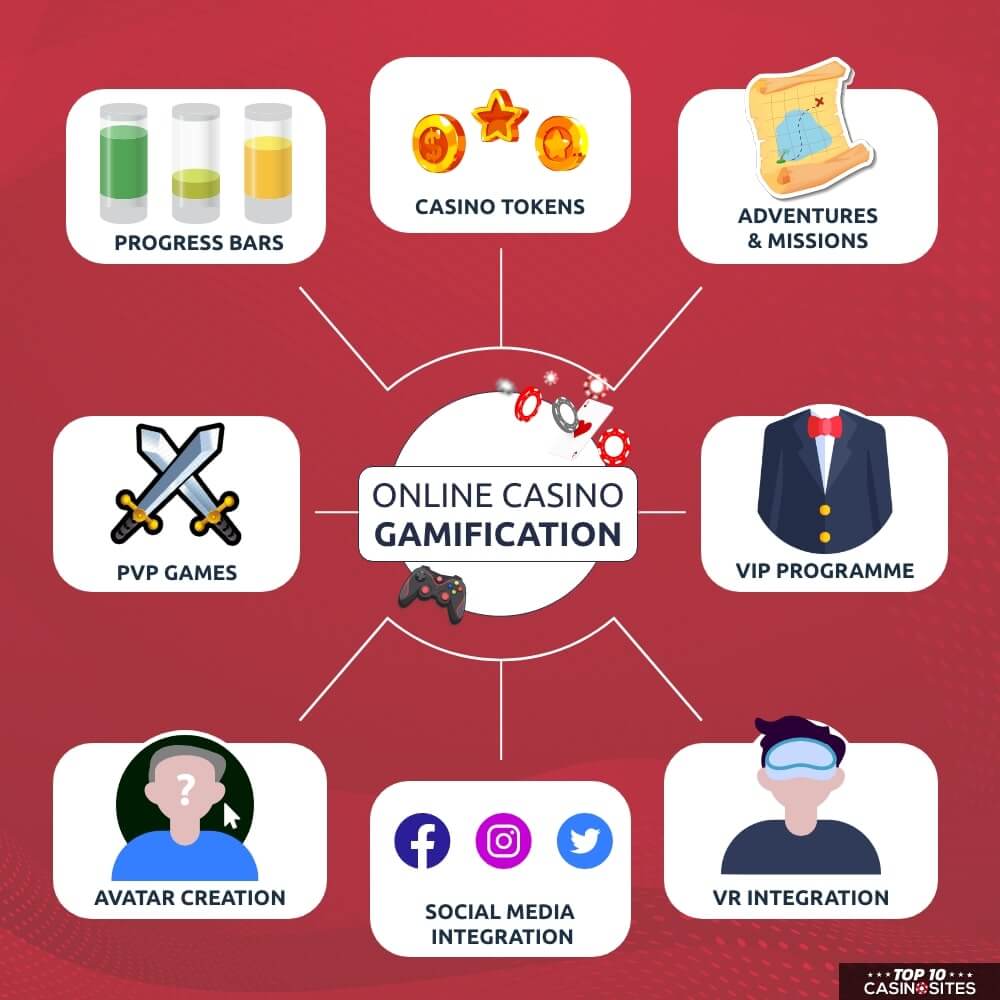 Slot Games Gamification
One of the most common ways a casino is gamified is for its casino games to have gamification features themselves! Gamifying games? Yes!
Common elements of gamification have been implemented in online slots and video slots in particular, on both a visual and auditory level. Here are some examples:
Bonus Games – Free spins are the go-to bonus game in most modern slots, usually triggered by three scatter or bonus symbols anywhere on the reels. Pick & click games, such as EGT's Jackpot Cards, are also a fairly popular example!
Symbol Collecting Mechanics – As in video games, slots players are encouraged to reveal certain symbols in a specified order to receive a cash prize, typically worth a fixed percentage of their stake (e.g. 500x).
Symbol Upgrade – Whilst character levels can be upgraded in video games, in online slots, symbols are upgraded instead (for example, regular Wild symbols from the base game becoming sticky wilds in the bonus games).
Mystery Symbols – The psychology behind mystery symbols at online slots also has its roots in gamification — finding a mystery symbol on the reels is like finding a rare item in a video game, such as a sword or a set of armour.
Bonus Buy – In video games, players can invest real money or tokens to acquire tools that will help them advance or complete a quest. Similarly, slots players can now acquire a buy pass, skip the base game, and go straight to the bonus game
Progressive Jackpots – Many online slots, such as Microgaming's Mega Moolah, offer multilevel progressive jackpots. Grinding for the big prize is, once again, an element that first originated in video games.
3D Symbols, Animations & Symbol Explosions – Gamification elements can also be implemented on a visual level via 3D rendering of symbols, state-of-the-art animations, icon destructions, or cascading reels mechanics.
Thematic Soundtracks – Online slots may also achieve gamification through soundtracks that fit particular slot themes, whether that's an Egyptian-style tune or Western country music.
There are many well-known software providers that implement gamification elements in their creations, including Yggdrasil, Big Time Gaming, and Betsoft Gaming.
The best gamification sites even go one step further and offer live slots, which are a mix of live-dealer games and online slots, with elements of gamification.

Gaming with Gamified Games!
Gonzo's Treasure Hunt Live, one of Evolution Gaming's top titles, is a great example of gamification for an online casino game. Players are invited to join the explorer character, Gonzo, and a human host, in a live treasure hunt. Bonus prizes and multipliers keep the action engaging all throughout, and it can also be played with a VR headset for the most authentic experience!

Loyalty Points, VIP Programmes, & Progress Bars
A fundamental casino site gamification technique is the integration of loyalty points or VIP programmes. These points are used as progress trackers in sports and video games.
The concept is straightforward: users are rewarded for regularly visiting the casino and staking real money on their favourite games with a set number of points.
You might already be familiar with this concept through video games, where players have to gain experience points, or XP, to level up their characters or avatars in-game.
Depending on the gambling platform, they are also called comp points (e.g. Bitkingz), zee points (Playzee) or simply loyalty points (e.g. Casumo and Kingbilly).
The acquired points can then be used to redeem various rewards, for example free spins, bonus money, deposit bonuses, or cash prizes. Some gamification casinos use a tier system, with levels such as Silver, Platinum or Gold.
Once you reach a particular number of points, you'll climb up the ranks and enjoy the custom rewards for that level (e.g. cashback, access to giveaways, high-roller bonuses, a personal account manager, and other VIP perks).
Tournaments, Races & Duels
Interaction, community building, socialisation, and, of course, competition, are all key components of gamification casinos. And all are typically achieved through slots tournaments, casino races or live dealer games competitions.
At Top10-CasinoSites, you can also play live roulette and live baccarat with a real croupier totally for free. We offer free live casino games with no strings attached — you do not need to register an account or deposit money. 
In most cases, players have to opt for the race manually and make a minimum real money wager to qualify, which will be converted to a set number of points on the leaderboard (e.g.: 1 point = $1).
When the competition ends, the players with the most points will be rewarded with free spins, cash, or even Bitcoin. Some casino gamification platforms have their own exclusive prize pools ranging from $10,000 to $50,000. Others simply integrate slots tournaments with jackpots provided by software developers, such as Pragmatic Play Drops & Wins, with prizes reaching up to €500,000.
Virtual Reality Integration
Virtual Reality uses computer-generated elements to boost authenticity and immerse the players in the game completely.
At virtual reality casinos, players truly feel like they are inside the game itself — they can interact with a virtual world of online slots and shuffle the cards at blackjack or poker, just as if they were at the table in real life.
PokerStars and Slotsmillion are just some examples of gamification casinos that support VR slot games and VR poker. However, do keep in mind that in order to participate, you will need specialised equipment (a VR set and accessories).
Play VR casino at SlotsMillion
Adventures & Missions
In the past, casino gaming was a rather predictable activity, where you simply needed to learn the rules, bet the required amounts, spin the reels, shuffle the cards or throw the dice, collect your earnings and go home.
Casino gamification has completely revamped this concept, bringing more to gambling than just spinning those reels. It has introduced a more competitive element that involves meeting objectives, levelling up, and being rewarded accordingly!
The introduction of missions, daily challenges, adventures and quests has provided players with a real feeling of achievement. Many of these challenges are also time-sensitive (30 minutes, 24 hours), creating a sense of urgency.
All you need to do is visit your dashboard and see if you'd like to take part in one of them, whether that involves wagering a certain amount, triggering a bonus round, attaining a particular win value, and so on.
In some cases, completing all challenges in the specified time frame would reveal an extra reward, keeping gamblers on their toes until the end!
As a result, online casinos have also benefitted from more site traffic, publicity, and activity on the platform.
Virtual Currencies
Just like video games have their in-game tokens or coins that you use to buy weapons, tools, or healing potions, some gamification casinos have created their own virtual currency.
For instance, Temple Nile has a bonus store called Temple Bazaar, where players can redeem rewards using Temple Tokens, ranging from holidays to shopping vouchers, iPhones, laptops, or watches.
Casino Streaming
Casino streaming is absolutely huge in 2023 on dedicated platforms such as Twitch or YouTube.
Hundreds of passionate players stream themselves spinning at popular online slots, such as Bonanza, Starburst, Dead or Alive, and Book of Shadows. Some have even captured impressive live wins and built loyal communities of followers!
Some gamification casinos, such as ComeOn!, have capitalised on this growing trend, with an innovative mixture of streaming and gambling. On platforms such as WeSpin or LiveSpins, the audience of popular streamers can make a collective buy-in, increase the size of the stakes, participate in the experience and share the jackpot.
Avatar Creation
Another casino gamification feature that's worth mentioning due to its originality and human touch is avatar creation.
Many digital gambling platforms, apps, and poker sites, such as PokerStars, enable players to create and upload their own avatar.
Interestingly enough, according to a study published on SageJournals, avatars have been proven to provide value for both players and the platform. Using them adds a social dimension to gambling and encourages integration in virtual communities.
Leaderboards
It's no secret that the instinct to compete is ingrained in all of us, and this is no different within a live poker room. Well, that's where leaderboards work their magic, giving everyone a chance to become a winner!
Leaderboards are an important casino gamification element, usually found on slots tournaments pages, live casino races, or other competitions. Some gamification casinos that use them frequently are KingBilly, Rocketpot, and Unibet.
Sometimes, a live countdown for the event is included right next to the big winners, encouraging new players to sign up and outpace them whilst there's still time.
Social Media Integration
Considering social media use is projected to reach 4.41 Billion people by 2025, it's no wonder casinos want a slice of the pie! Many gambling platforms will list their socials (Facebook, Twitter, Instagram) in their footer section and encourage users to engage with their posts, share game progress, or even recommend a friend.
For that, customers typically get rewarded with giveaways, deposit bonuses, or free spins.
Metaverse & NFT Casinos
It's not just Facebook and Microsoft who are seeking to create their own metaverse. This trend has also reached the gambling world, with many hoping for metaverse casinos to fully take off.
As you probably guessed from the name, a metaverse casino can be accessed via a 3D VR headset, allowing you to mostly likely bet and play using cryptocurrencies.
NFT gaming could also be closely intertwined in the future, with players being able to collect rare digital items through their gameplay.
How To Select & Join the Best Gamification Casino 
Has all of the above convinced you that casino gamification is the future? Are you rushing to find the best platform for you? Not so fast! Don't forget these important checks below:
Licensing & Security – As a gambler, your number one priority should always be to only play on licensed platforms with solid credentials, security protocols, and reputation. Most gamification casinos can be found in the EU, likely to also be MGA-licensed casinos. However, you can also find reputable cryptocoin casinos licensed under the laws of Curaçao (for example, Rocketpot.io).
Gamification Features – The frequency and diversity of gamification features is another aspect you should carefully consider. Stake.com is a great example, since it has a bit of everything to keep things fresh, including weekly giveaways, races, level-ups, challenges, and Drops & Wins.
Bonuses & Other Perks – Ideally, the bonuses and perks displayed should also align with the principles of gamification, such as Wheel of Fortune promos, prize boosters, loyalty points, higher cashbacks if you climb up the VIP programme ranks, and more.
If you're still on the fence about gamification casinos, the following advantages might convince you one way or the other:
Enhanced Gameplay
It is a fact that iGaming is one of the most competitive industries out there — as such, to function properly and retain consumer bases, it must constantly reinvent itself with new ideas, perks and concepts. Innovation is how this gets done.
Casino gamification has the power to achieve just that, as it encourages players to interact with their favourite games in an entirely new way and even unlock untapped potential through missions and quests.
Spinning at online slots the old-fashioned way or playing poker in person gets old after a while; gamification casinos present plenty of novelty to attract both veterans and newcomers.
Extra Rewards & Progress Tracking
There is a reason why video games attract so many people: the adventure side of it, the world building, the grinding through quests to reach the promised land at the end…
Casino gamification can transform an otherwise conventional gambling experience into an exciting mission in itself. Players are compelled to fulfil various tasks or achieve a number of points to get their rewards, which keeps them entertained and playing for longer. That means they are more likely to return to the same platform next time as well.
Sense of Achievement
For some, casino gaming can be more about the journey rather than the destination. No matter which side you're on, gamification casinos create a sense of achievement, especially through the leaderboards and progress badges.
Everyone loves an adventure, especially if it involves doing their best at something they already like — and the bragging rights are the icing on the cake!
The fact that players get rewarded for levelling up with their name displayed on the site, on top of the competition prizes, only adds a sense of satisfaction and fulfilment. Plus, it entices them to meet the next goals set by the casino with the same enthusiasm.
Increased Interactivity
Some casino games are, by definition, solitary, like jackpot slots, video poker, or other table games played online against the house.
With that said, thanks to casino gamification, even the most introverted of gamblers can turn their passion into a social activity by creating cool avatars, competing in races and tournaments, using the live chat option to interact with others, and sharing their progress on social media or via streaming.
Feeds Your Competitive Streak
From leaderboards and level-ups to power-ups and points scoring, many casino gamification features are also indicators of progress. This can be a fantastic motivator to keep challenging yourself and doing even better to stay on top of their game.
Along with all this, they can also help bag some impressive wins and bonuses for the most focused and skilled players who reach the number one spot.
Gamification Casinos vs Regular Online Casinos
There are many similarities between regular online casinos and gamification casinos. In many cases, they may advertise an identical bonus structure (e.g. first deposit bonuses, reload bonuses, and free spins).
However, the major difference is that, at a regular casino, you only need to fulfil the eligibility criteria, such as depositing a minimum sum and then meeting the wagering requirements to claim the offer in question.
With gamification casinos, extra steps are added in the mix, such as progression systems (levelling up), side games, challenges, or even fictional stories. All these make the bonus prizes so much more rewarding — claiming them feels exactly like beating the final boss in a video game!
How Does Gamification Help Online Casinos?
You're probably wondering: why do the operators go through all the trouble of gamifying their games?
The bottom line is that gamification has proven to be a powerful player retention and promotional tool.
As mentioned previously, the iGaming landscape is incredibly competitive, so player demands are ever-growing, and they are constantly in need of new experiences and features to stay loyal to a single platform.
Additionally, casino gamification enables gambling sites to personalise their existing offers, making them more interesting and interactive.
This can further help with both marketing and brand recognition — for instance, if gamification elements are also maintained in newsletters, in-app notifications, or social media posts.
Top Bonuses You Can Find at a Gamification Casino
More often than not, claiming offers at gamification casinos comes with a fun and intricate journey, which involves completing a mission or challenge, leveling up, or hitting a milestone.
Here are the best kinds of bonuses you absolutely shouldn't miss on on your first visit:
Deposit Bonuses – The vast majority of gamification casinos will match your first deposit up to a maximum threshold or even double it. Some also have tailored offers for high rollers. To claim a deposit bonus, all you need to do is fund your account with the minimum sum required and pass all verification checks. Freebies are often added on top, such as extra spins, cashback or loyalty points, but can also be offered separately.
Free Spins – Free spins bonuses can be acquired in a variety of ways at gamification casinos, like by spinning a lucky wheel, winning a slots tournament, filling up your progress bar, or reaching a particular tier in the VIP club. In some cases, you can even trade tokens for free spins.
Loyalty Points – These are typically credited to players who accomplish specific activities or wager a required amount of money on slots, blackjack, roulette or other games. Because they can be converted into cash or other goods and also boost the player's rank on the platform, they are a strong retention tool. Generally, the more points you have, the higher your status and the better your rewards.
Casino Gamification – A Passing Trend or the Future of Gambling?
Gamification is an effective strategy to attract new gamblers and keep veterans engaged, and judging by the massive adoption at online casinos in recent years, it's safe to say it has a promising future.
The bottom line is that players like to be challenged, entertained, and rewarded — and what better way than through missions, races, tournaments or even quests on a fictional map, with real prizes and jackpots?
Check out the best gamification casinos above and start your adventure today!
Casino Gamification FAQs
Casino gamification is the integration of video game features on gambling sites, ranging from missions to challenges, points scoring, and quests.

Some of the best gamification casinos we highly recommend checking out in 2023 are Bitkingz and Temple Nile.

No. Although gamification is a crowd-pleaser — especially at new online casinos, older ones maintain a classic layout and straightforward bonuses, without the addition of any video game elements.

Gamification casinos offer distinct perks you can't find at regular online casinos — you can complete daily missions, spin the wheel for a prize, or participate in slots tournaments.

Yes, most gamification casinos advertise a welcome bonus, which usually consists of a first deposit bonus or a match deposit bonus with free spins. Some gamification casinos offer higher welcome bonuses for VIP customers.

Gamification casinos advertise a myriad of bonuses, the most common ones being loyalty points, cashback, free spins, access to slots tournaments, and cash giveaways.
---