European Roulette Online – Complete Guide for 2023
European Roulette is the standard version of the classic table game and also happens to be its most popular variation. The game is primarily luck-based since players have no control of what happens to the spinning wheel or the ball.

Best Casinos to Play European Roulette
Regulated by
Games available in multiple languages
Exclusive titles
24/7 Live chat
Deposit €100, Get €200 plus 180 Free Spins
Play
Regulated by
Weekly cashback
Great mobile app
Lucrative VIP
100% 1st Deposit Bonus Up to $/€200 / 1 BTC + 200 FS
Play
What Is European Roulette?
The primary aim of European Roulette is for players to bet on which number will be declared the winner. This is determined by the wheel being spun (by a real croupier, in the case of live dealer roulette) and the introduction of a small metal ball. If the ball lands in the pocket you have bet on when the wheel comes to a stop, you will get paid out your winnings.
A European roulette wheel includes 37 numbered spaces, or pockets. Numbers 1 to 36 are coloured red or black, while the zero is coloured green. What makes European Roulette stand out from other roulette variants is the presence of a single zero on the wheel. It also boasts a lower house edge, meaning that players have the chance to win higher payouts than they would when playing American Roulette, for example.
History of European Roulette
European Roulette was first played as far back as the 17th century. It owes its discovery to the work of French mathematician, Blaise Pascal, who came up with the roulette mechanism while looking for a perpetual motion machine. The word "roulette" is, in fact, French for "little wheel", and the game soon made its way into Parisian casinos by the late 1790s. By the 19th century, it had quickly spread predominantly throughout Europe, earning its name in the process.
How to Play European Roulette
While the objective of the game is to guess in which numbered space the ball will land on the roulette wheel, there are other bets you can place too, such as whether the number will be odd or even, high or low, red or black, and so on. In order to win, players must guess correctly, and European Roulette payouts will differ according to your stake and bet type. Using a tried-and-tested roulette strategy is highly recommended, as is playing free European roulette to start with, before proceeding to real-money bets.
Step-by-Step Guide on How to Play European Roulette Online.
Find a trustworthy online casino that accepts players from your jurisdiction.
Start off by playing the game for free in demo mode to familiarise yourself with the rules and gameplay.
Study the table layout and understand the bet types.
Place your bet according to your bankroll and how much you can afford to lose.
Watch the wheel spin and collect your winnings if the ball lands in your favour!
European Roulette Table Layout
The European roulette table layout in online versions of the game is the same as its land-based counterpart. This is the green area of the table where bets are placed, and is displayed adjacent to the roulette wheel. Players make bets against the house by placing chips on the betting table, which includes the same red and black numbers that can be found on the wheel. While it may just look like a bunch of random numbers in a rectangle, the table layout shows the two types of bets in roulette – inside and outside bets.
Knowing the layout of the table and number sequence can help improve your chances of success and help you understand how to win European roulette.
European Roulette Rules
The European Roulette algorithm is pretty simple to grasp when compared to other table games, and the rules are quite straightforward. Although roulette is usually categorised as a game of skill, it's much easier to learn than blackjack or poker.
To place a bet when playing European roulette online, all you have to do is place casino chips on the area of the specific area of the table layout which represents your chosen outcome.
Example: If you wanted to bet £10 on black, you would place a £10 casino chip on the layout section marked BLACK, and if you wanted to bet £5 on the number 17, you would place a £5 chip on the number 17 on the layout.
When all bets have been placed, the wheel will be spun and winning outcomes are announced when it comes to a stop. If any of your chosen outcomes are correct, then your corresponding bets will win, and your winnings will automatically be added to your account. For example, if the number 17 wins (35-1), this would mean that bets on black (evens) and odd (evens) would also win.
European Roulette Bet Types
There are many different types of bets that can be placed in a game of roulette, but all of them fall into one of two categories: outside bets or inside bets.
Placing an outside bet means you'll be more likely to win, but payouts will be smaller. Meanwhile, inside bets offer substantial payouts, but with a much smaller chance of winning.
The lowest-risk bets involve predicting the colour of the winning number (red or black), whether that number is odd or even and whether it is high (19 to 36) or low (1 to 18). Each of these bets cover almost half of the wheel, and so they pay out the lowest odds of 1/1.
On the other hand, for a higher-risk bet, you can wager on any single number winning. With 36 numbers on the wheel, plus one zero, this is the riskiest bet available; however, if you are successful, it will pay you at the highest odds of 35/1.
Between these two extremes, you can bet on a variety of outcomes, such as whether the winning number will come from a particular dozen, or a particular area of the roulette table layout.
If you happen to be a beginner, you can also play European Roulette for free before placing any real money wagers to familiarise yourself with the different bet types and rules.
European Roulette Odds and Payouts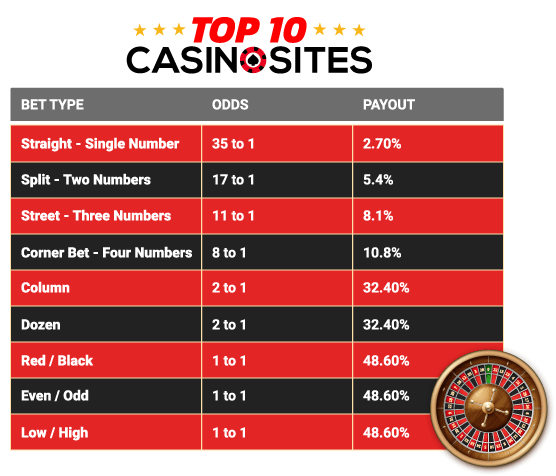 American & California Roulette vs European Roulette
It's mainly the single zero that creates a slight difference in the odds of winning in European Roulette when compared to American and California Roulette. In all versions, the payouts are the same. However, with 37 slots on the roulette wheel, the probability of winning in European Roulette is slightly higher.
A few other features distinguish European Roulette from its Californian and American counterparts, though, since there are certain rules that only exist in the European version:
The "La Partage" rule, which means that a player loses half their bet when the ball lands on zero. This is only applied to outside or even bets. When the ball lands on zero, all even bets are divided by two and half of the wager is returned to the player. By doing so, the house edge is cut to 1.35%.
The "En Prison" rule is another distinguishing feature of European roulette – if the ball lands on zero, then the bet is placed in "prison" and the player has to use the next spin to hit that number. Money is returned to the player if the number is hit, but no additional money is awarded. This scenario only occurs on outside bets.
Overall, these stakes are much more beneficial to players than American Roulette.
All the above variations of roulette can also be played at live dealer casinos.
European Roulette – Our Verdict
European roulette is often the go-to game for many because of the simplicity and entertainment it provides. It is has quickly become just as sought-after at mobile casinos, too. Get the ball rolling in style at one of our top-rated online casinos that offer this popular table game.
FAQs
Due to its immense popularity among players, many online casinos offer European Roulette as part of their table game portfolio. Simply take your pick from our top-rated operators to get that wheel spinning!

Playing European Roulette for real money is a must if you're a fan of the game. For beginners, though, we recommend playing the game for free in demo mode to familiarise yourself with the rules before placing any real-money bets.

European Roulette is the most common version of the table game, matched only perhaps by its American equivalent. It was one of the first variants of the game to be invented and has since amassed fans from all corners of the world.

A European roulette wheel features a total of 37 numbers. 1 to 36 are displayed in red or black pockets while the single 0 appears in a green pocket.

There are many different betting strategies that you can use when playing European Roulette, such as the Martingale strategy or the Fibonacci strategy; however, we recommend doing some research to find one that suits your preferences.

The higher the odds, the more favourable a bet is to the house, so players who want to give themselves the best chance of winning money should focus on bets which offer the lowest odds. Those are outcomes such as red, black, odd, even, high or low, all of which pay odds of 1/1 (even money).

Yes, mobile casinos also offer European roulette, giving players the freedom to play this popular table game on the go.