Best Live Dealer Poker Casinos & Top Live Dealer Poker Games
No online casino would be complete without a great selection of live dealer poker games such as Texas' Hold em and Caribbean Stud! Join us as we take a look at all there is to know about the most fun and social way to play poker games online!
Top Best Live Dealer Poker Casinos
What Is Poker?
Poker is one of, if not, the most popular and one of the best casino games of all time. There are plenty of interesting variations to play and since you play against other players, there is a fantastic social aspect! Poker is played with any number of playing cards and players wager over which hand is the best based on the specific rules of that particular variation of poker.
Thanks to the marvels of modern technology, players can compete in every type of poker online. You'd be pretty unlucky to find an online poker casino that doesn't offer multiple variations of this game, including live dealer games and virtual table games.
Types of Poker
One of the best things about playing online live dealer poker is the serious amount of choice you get in your game types. While all games have many similarities, usually in card values and basic scoring, there are so many unique ways to play.
We've identified the most common and popular poker types you can play at online casinos.
Poker Terms
A few necessary terms you'll hear about and certainly need to understand:
Hole Cards: These are cards dealt only to you.
Community Cards: These are cards dealt to the table and all players are able to use them to build their hands.
The Pre-Flop, Flop, Turn, River, and Showdown: These are the names of the betting stages in several poker games. The showdown is the final round when all active players must reveal and compare their hands.
Fold: To fold is to give up because you do not like your cards. You would forfeit any wagers made.
Ante: This is a wager placed before cards are dealt and many forms of poker will require an ante before you may be dealt.
Banker: This term refers to the dealer, sometimes also called the house.
Pot: This is the total of all the players antes and bets combined in community poker games.
Call: To match a bet or raise.
Raise: To increase the size of an existing bet.
Texas Hold' Em Poker
Texas Hold' Em is likely the most popular form of poker with tournaments broadcast around the globe on national television networks. Hold' em is very easy to learn and has a great element of luck involved that only increases the excitement. Some experts believe that Texas Hold' em is a game of 50% skill and 50% luck!
This popular poker type is played with multiple players. Each player is dealt 2-hole cards to be played alongside 5 community cards that impacted everyone's hand. Players try to build the best 5-card hand and wager at the draw of each community card. There are loads of strategies to win and the multiple wagering stages leads to some exciting action!
Omaha Poker
Omaha poker has seen an increase in popularity, especially in mobile games. This variation of poker is the weird uncle of Texas Hold' em – Almost identical rules except players are dealt 4-hole cards. This way players make the best 5-card hand using 2 of their hole cards and 3 of the community cards.
Straights, Flushes, and Quads are very common in Omaha Poker and definitely a great game to play when you feel your Hold' em game is strong!
3-Card Poker
3-Card Poker is the absolutely classic form of table casino poker played at live dealer online casinos. Played in every online casino and land-based casino, 3-card poker is incredibility simple to play – Players are dealt 3 cards and wager their 3-card hand against that of the house. You're only trying to have the best 3-card hand here, so the game is super quick to play and very social when other players are involved!
5-card poker is a popular variation of this game and the rules are the same with one exception – You guessed it! Players are dealt 5 cards to build the best 5-card hand instead.
Caribbean Stud Poker
This variant is a different take on 5-card poker and is sometimes called 5-card poker. As in 5-card poker, Caribbean Stud is played against the house rather than against the other players. Rather than a straight wager, like in 5-card poker, in Caribbean stud there is an added betting round. The game rules vary slightly for casino to casino so be a sure to learn the house rules before you play.
7- Card Draw
Back in the old west, if you were to hitch your wagon at the nearest saloon and saunter to the bar, you'd probably see a lot of cowboys playing 7-Card Draw. Also known as Seven-Toed Pete, and Down-the-River, 7-card draw is an old form of poker in which players are dealt 7 cards.
You must build the best 5-card hand and there is an extra betting round, in which players are able to swap their cards from the deck, if they chose to do so.
New Variants on the Classics
To keep things fresh several live game providers for online casinos have created subtle variations on poker classics. For example, Evolution Gaming have introduced 2-hand Live Casino Hold 'em. A Texas Hold' em variation in which players can play two hands at the same time!
We could be here all day identifying the myriad of new poker variations at online casinos but for a bit of change up, be sure to check out the extensive list of games on offer at your favourite online casino – You may be surprised at what you may find!
How To Play Online Poker: Live Dealer Poker Rules
With so many variations of poker, it is understandable that it can seem a little daunting to sit at the table for the first time. To give new players some confidence going in we've compiled the basic rules of some of the most popular online dealer poker games.
Always check the conditions of your operator to determine any betting limitations for the online live dealer poker game. The game operator will also specify the value of the cards and rank the possible winning hands.
Below you will find an infographic to help enhance your strategy, famously called the 'Starting Hands' guide. You can use the below guide as a handy tool to predict the percentage change of winning based on your starting cards, which will help you to make your next move.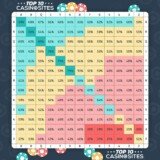 Texas Hold' em
As one of the most notable and popular forms of poker, you'll definitely want to learn how to play this online live dealer poker game.
Place your ante and then every player will be dealt 2-hole cards.
The Dealer then deals 3 Face-Up Community Cards that can be used by all players.
After a round of wagers, another community card will be dealt
Following another round of betting, the final community card will be dealt
You must build the best 5 card hand from your 2-hole cards and 3 of the community cards.
With all 5 community cards dealt, all remaining players must reveal their hands to be compared. The best hand wins!
As with all forms of poker you can fold at any stage before the showdown
Omaha Poker
Much like Texas Hold' em, the object of Omaha poker is to build the best 5 card hand using your hole cards and the community cards.
After all players ante, each player is dealt 4-hole cards. Next, 5 community cards are dealt, face-up, onto the table.
Players can only use exactly 2-hole cards and 3 community cards to build their 5-card hand.
There are 4 betting rounds, much like Texas Hold' em once again. After the final round of betting concludes, the showdown will begin.
Build the best hand from 2-hole cards and 3 of the community cards.
You may fold your hand at any time before the showdown.
3 and 5 Card Poker
3 and 5 card poker are one of the simplest forms of poker available online and a great place to start for novices. Build the best 3 or 5-card hand and beat the banker!
Begin with an ante wager. A Pair-Plus side bet can be placed on whether your hand will contain a pair or better. Three (or 5) cards will be dealt to both the players and the banker. Remember you are only playing against the banker.
Place a wager to pit your hand against the potential hand of the banker.
All cards are revealed. Operators will possibly have different rules on pay-outs depending on the bankers' specific hand but if the banker has the better hand, you will lose you ante and wager.
If you don't like the look of your hand, you can fold before placing the final wager. You will, of course, lose your ante.
Caribbean Stud Poker
There are only a few short steps to playing Caribbean stud poker and they couldn't be easier to follow.
Start with an ante wager to begin the game.
Receive your 5 cards as the dealer reveals only 1 of their 5 cards. Choose to either fold or raise.
The dealer will now reveal their remaining 4 cards. The best hand wins but if the dealer doesn't qualify, based on the house rules, then the player may win even more money.
That's it! Caribbean Stud Poker is wonderfully simple to play.
7- Card Draw
The greatest game in the old west – feel like a cowboy by winning with the best 5-cards.
Place your ante and 7-cards will be dealt to all the players.
Fold, keep all your cards, or swap selected cards from your hand to try and build a better hand. Next, another betting round will begin.
Following the betting round, it is time for the showdown. The bet 5 card hand takes the pot!
How To Win Online Live Dealer Poker – Poker Tips:
Poker is a mix of skill and luck, so obviously no one can tell you exactly how to win. However, there are certainly a few tips and strategies we can offer to increase your chances of winning at any form of poker.
If ever unsure, fold your hand. Live on to win another hand!
Watch the games that you have folded in. Learn to see if you could have won.
Play fewer hands but play them aggressively. This is especially true of Hold' em poker where if you play every hand early, you may simply bleed all your chips. Aggressive play, however, may disguise the quality of your hand.
Be patient – The law of averages dictates you're going to receive a lot of dud hands. So, play the strong hands and focus on your own game.
Basic Hand Ranking
These are the basic hand rankings for most forms of poker. There may be variations, especially in video poker where unique hands are possible, but the major forms of online live dealer poker will follow these rankings.
Royal Flush: Five sequential cards of matching suit which starts with 10 and ends with an Ace.
Straight Flush: Five sequential cards of similar suit up to 10.
Four of a Kind: Four cards of the same number.
Full House: Three of a kind plus a pair.
Flush: Five cards of the same suit.
Straight: Refers to five cards in sequential order but not necessarily of the same suit.
Three of a Kind: Three cards of the same number.
Two Pair: A combination of two different pairs.
Pair: Two cards of the same number.
High Card: This is the single highest ranked card when no other hand can be formed.
Head over to our selection of free live casino games to play at no cost right here from our site – you do not need to register an account or deposit money. Try live casino for free, today! 
Live Dealer Poker Bonuses
There is a huge number of bonuses and promotions available at any live dealer casino. Let's take a look:
Welcome Bonuses
Casino sign-up bonuses are offered by online live dealer casinos as a way to tempt potential players to sign up. These are great to take advantage of and often come in the form of a deposit match bonus, free slot spins, or extra funds to bet with.
Reload Bonuses
A reload bonus usually occurs after successive deposits are made to your online poker account. This bonus is a reward for extended play and is usually smaller than a welcome bonus offering. To obtain this bonus you'll have to make a few deposits to meet the requirements.
Loyalty and VIP bonuses
Loyalty bonuses are a way for the best online poker casinos to reward players for extended play. These bonuses often come on the form of cashback offers and sometimes they feature weekly, regardless of how long you actually play.
Truly loyal online poker players may choose to sign up to a VIP programme and reap benefits such as free spins, faster deposits and withdrawals, and better cashback offers.
Live Dealer Poker Tournaments
You've honed your skills and you're ready to take on the world! Thankfully, online casinos offering live poker have loads of tournaments to win huge prizes and test your skills against the very best.
Single-table tournaments (STTs) – a standard tournament played between 2 and 9 players. STTs are great for improving your skills and can be completed in under an hour!
Multi-table tournaments (MTTs) – these games can be huge. We are taking games between 18 to tens of thousands of players. Competition can be tough, and it is a great place to test your skills.
Rebuy tournaments – These can come in both MTT and STT formats but instead of losing when you bust out, you'll be given the chance to buy more chips to get back in the game.
Multi-buy tournaments – If you like a deep stack game, and let's face it, who doesn't, then multi-buy tournaments give you the opportunity to buy in with a deeper stack than a tournament would usually provide.
Freerolls – While some poker sites may require you to make an initial deposit to join, these tournaments are mostly free to enter. Be warned though, entrants will make some bizarre poker behaviour and it is worth folding or sitting out for the first couple of hours until the game settles.
Guaranteed Tournaments (GTD) – Guaranteed tournaments feature guaranteed prize pool amounts. That means the prize pool is not dependent on the number of players or buy-in amount.
Freezeouts – There are no buy-ins and once your chips have gone, you'll never see them again.
Bounty Tournaments – These are also commonly referred to as knockout tournaments, as they are structured so that if you knock a player out, you receive around 20-50% of your original buy-in back. Bounty tournaments are incredibly popular and super satisfying since you can hunt down a rival and take some of their chips!
Live satellites – The most affordable way of joining a live tournament. Satellites have very cheap buy-ins, sometimes as little as 50. It was a live satellite that propelled Moneymaker to poker stardom, so perhaps it'll propel you too!
What If I Don't Want To Play Live Dealer Poker?
Playing live with a visible dealer may be a bit stressful for some, or perhaps you just want to chill out and learn a bit about poker. Thankfully, such online casinos offer several different ways to play your favourite poker games.
Video Poker
If you just want to chill out by yourself and just to try to build the best hands, without the hassle of other players, then video poker is the way to go. Video Poker is a computerised form based on a 5-card draw. with simple rules and fast play. The most popular video poker variation is Jacks or better.
These days you can play video poker games with intense 3D graphics and exciting audio! Playing video poker is simple.
Place a bet and hit Deal
You'll receive 5-cards. Keep your best cards and discard the rest.
Next, you'll receive new cards to replace the discards and you'll be paid by comparing your hand to the payout table. It's so fast and so easy!
Video poker is a great way to learn basic hand ranking and ease into the world of poker.
Virtual Games
The little sister of live dealer games, virtual games are almost everything you'd see in a dealer game, except it's not real! Virtual games may come in the form of a basic table set up of your favourite poker game or a high-quality virtual representation of the live experience. Virtual games feel more like playing a video game and players may be more comfortable in this environment.
Where To Play Live Dealer Poker With Friends?
Want to play with your friends without interruption? Then you'll want to find yourself a private table. If you and any number of your friends have an account at the same poker operator, then you can set up a private table just for you and your friends to play alone.
As a private table, no uninvited guests can join and interrupt your play. You and your friends will also benefit from being able to sling some brutal banter at each other! Check out 888 Casino and King Billy for some of the best private tables online.
Best Online Live Dealer Poker Casinos
For the best online poker casinos, you absolutely must check out our top 10 best online poker casinos list. You'll be looking for the best payment methods, a great selection of your favourite games, and an appealing user interface. To help you out though, we've expanded on 3 of the very best online poker casinos.
888 Casino
Regulated by
Great Live Gaming
Massive Poker Selection
VIP Club
£88 No Deposit Bonus
Play
888 Casino have earned a fantastic reputation in the online casino industry and their dedicated poker site, 888 Poker, is no different. There are 7 tournament types and special live events with big prize pools. Tournaments can be joined instantly and require no downloads also.
You will find a wide range of online live poker games and plenty of variants too. 888 Casino is considered to have softer poker rooms, meaning that casual and intermediate players can enjoy themselves without feeling too much overwhelming competition. You'll even get the chance to play free poker online with their no deposit bonus offer.
Paddy Power
If you are new to online live dealer poker then Paddy Power should be your first stop. Paddy Power an incredibly intuitive platform with a simple design that doesn't overwhelm players who are just starting out in online poker. There are tables galore at Paddy Power too – literally thousands at any one time.
Paddy Power are always offering a great selection of exciting tournaments and there is always a sensational promotional or satellite events around the corner! If satellites are your fancy, Paddy Power have a history of teaming up with big sponsors for exclusive satellites.
King Billy
Regulated by
Over 3500 Casino Games
Leading VIP Program
Poker Tournaments
Up to €/$2500 + 250 Free Spins
Play
King Billy is one of the biggest and best online poker casinos you'll find. With loads of payment methods, thousands of games, and one of the best VIP programmes available to online poker casinos, King Billy is a must buy-in for players interested in playing poker live.
King Billy offer a huge number of poker games with live dealers, an excellent video poker selection, and even free virtual table tournaments! Great for new players, King Billy free-to-play table games are a great way to learn and hone your online poker skills. With free practice games and private tables, King Billy is one of the safest places to get into online poker.
Live Dealer Poker Conclusion
The best live dealer poker online casinos are the most social and fun ways to play your favourite poker games at any time. Join major tournaments to compete for live poker supremacy or sit back and relax to a few games of video poker. There are so many poker variants that you will never run out of ways to play!
Make sure to check out the top 10 online poker casinos list for a selection of the best locations available.
Live Dealer Poker Casinos FAQs
Poker is a massively popular casino card game in which players wager on who holds the best hand, according to the specific game rules.

There are many different variants of poker, each with their own unique set of rules. Check out our basic guides to learn how to play and then select your favourite live dealer online casino from our best poker online casinos list.

You can play live poker at almost any online casino. We have chosen 10 of the best online live dealer poker casinos for you and recommend 888, King Billy, and Paddy Power as 3 of the very best.

You can safely practice your skills in a private table with your friends or by playing video poker. Video poker is a great way to learn the values of hands and gain experience building hands before joining an online live dealer poker game.

To enter a tournament, simply sign up and join via your selected casino. You'll mostly located tournaments in the tournaments tab of the live dealer poker casino dashboard.

Yes. It is legal to play live poker at a fully licensed online live dealer poker casino.

The rules of live dealer poker are fairly easy, and you can pick it up fast. Mastering the game takes time and practice. Of course, there is always a great element of luck to playing online poker too.

It totally depends on you, but 3 poker is arguably the simplest form of live dealer poker to play.

Collusion is the awful practice where multiple players work together to defraud another play at the online poker table. They do this by sharing information to determine what hands remain in the deck. This practice is fairly uncommon, but it does happen. Collusion is highly illegal, and players will not only face a casino site ban but possible criminal charges too!

The Rake is the percentage of each pot that goes back to the house. This could be anything from 2% to as much as 10%.

Absolutely! Most tournaments are free to enter but require a buy in, while some live dealer poker online casinos offer a fantastic range of free-to-play virtual poker tables.

Absolutely. Online live dealer poker casinos offer loads of tournaments and live events. Let's not forget 2003 World Series of Poker champion, Moneymaker, began his rise to the top in an online live poker tournament.

If you are sticking to the casino sites that are regulated and licensed by the gaming commissions, you can have the peace of mind in knowing that the poker games you are playing are entirely random and fair. The logo of the gaming commission is displayed on the official website of the casino site.

There are a few online casino sites that offer live dealer poker tournaments either daily or weekly basis to all the registered players. There is no entry fee, and you can play for low stakes. The prize money is right, and if you are lucky, you can return home with a significant cash amount. Do consider taking part in the tournaments because they are fair and random with several attractive opportunities.