The Best RTP Slots To Play at Online Casinos in 2023
RTP – or 'Return to Player' – is a casino metric that tells you how much of all wagered bets you can expect to win back over the long haul. We'll break down the technicalities in easy terms below and list down the best RTP slots, helping you get the best bang for your buck!
The 10 Highest RTP Slots & Licensed Casinos Where To Play Them – 2023 Update
What Does RTP Mean in Slots?
RTP is an acronym that often comes up as a hot topic of discussion on slot machine forums and in various player communities. The reason it's often fervently brought up is because it plays a crucial role in your chances of success on the best real money slots. So, what is it exactly, and how does it affect your gameplay?
RTP stands for Return-to-Player and is expressed as a percentage. It tells you how much of the money wagered on a slot game you can expect to make back in the form of a win.
Let's take one of the best Thunderkick slots as an example. In 1429 Uncharted Seas, the RTP is of 98.5%. This means that for every €/£/$1 players wager, the game will return 98.5c/p.
But wait! Things aren't that simple. If slots were so predictable, they'd be no fun!

RTP Explanation
RTP is, at the end of the day, an estimation, not an infallible metric. It's calculated over the course of hundreds, thousands, and sometimes even millions of spins. What that tells you is that the game may theoretically return that much to the player, but over a long period of time.
Your spin-by-spin experience may be different as well, especially if you're unlucky and fall victim to a losing streak.
Why Should You Care About Slots' RTP?
RTP is super important for every beginner or veteran to the world of online gambling; however, it's not the be-all and end-all of casino gameplay.
In fact, RTP is only a small percentage of the whole picture – other factors like hit frequency in the base game and bonus rounds, as well as volatility, should also be analysed closely. All of these together make up your odds of winning and give you an idea of the payout size.
Moreover, if you casually spin just a few times, a slot with an RTP of 97% and one with an RTP of 99% can return the same amounts.
However, if you play the same video slot consistently over a long period of time, the game's return will even out and edge closer and closer to its stated RTP.
Can There Be Different RTPs for the Same Game?
Absolutely. You can find major differences even when it comes to the highest RTP slots between what the developer states and what is actually happening in practice.
Typically, there are three situations where these differences arise:
Base game vs bonus rounds – Certain slots may have two RTPs. In a game like Ooh Aah Dracula by Barcrest, the basegame RTP is 96%, but it goes up to 99% during the bonus features. Meanwhile, in King of Cats Megaways™, which is an amazing Big Time Gaming slot, the RTP is 96.72% during the Lion Mode and 96.70% during the Puma Mode.
Casinos may lower the RTP – Depending on the online casino you play at, the RTP of your favourite slot can be lowered significantly compared to the percentage promised by the developers. For example, Pragmatic Play's The Dog House Megaways™ has a theoretical RTP of 96.51%. However, some casinos may lower it to 94.55%, which is a huge downgrade. That's why it's always good to read the fine print!
Triggering free spins vs buying them – Activating the Bonus Buy feature may also affect the estimated RTP of a slot game. Some studios give you a slight uptick if you buy the bonus, others lower the RTP, while other still make no changes at all. For example, in Mammoth Gold Megaways™, if you play the game normally, you have an RTP of 96.03%, but if you buy the bonus, the RTP gets lowered to 96%.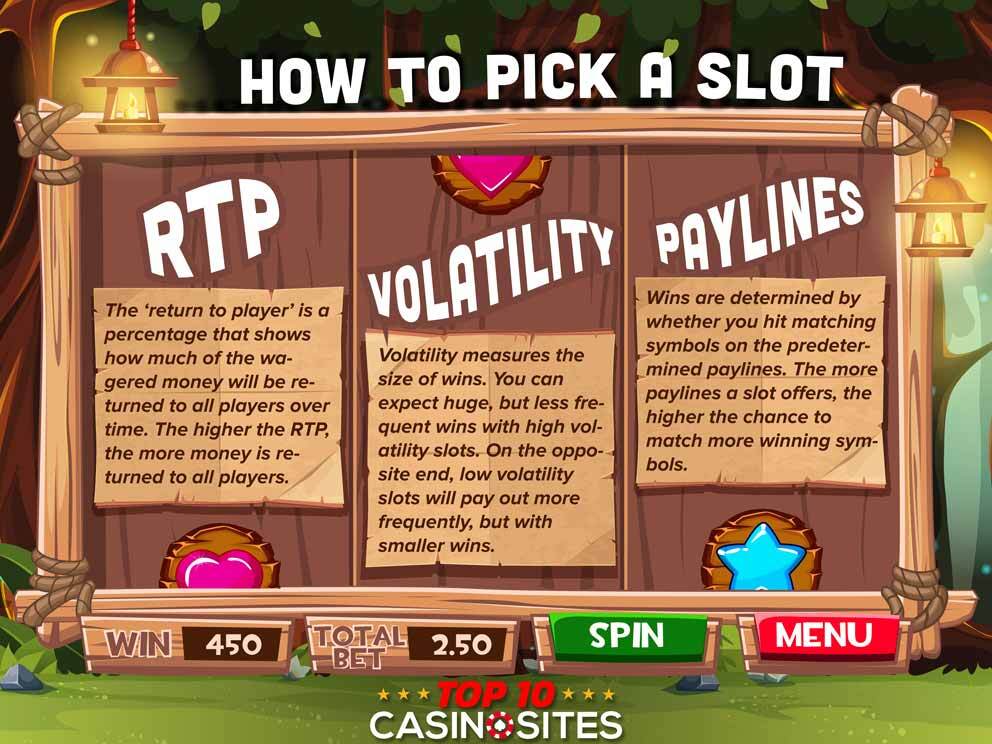 Should I choose a high or low volatility slot?
Choosing a game with high or low volatility depends on your budget! If your bankroll is large enough to afford losing multiple times in a row, then opting for slots with high volatility may make sense, as payouts when they happen tend to be larger. If your bankroll is more modest, however, one of the highest RTP slots with low volatility may be a better choice. Either way, there is no guarantee of a win or a loss.
Slot RTP Explained – An Example
RTP is not always a straightforward affair – especially now that we've discovered that RTP isn't always the same for every individual spin. But the reason for that is quite simple.
Imagine your weekly drive to the supermarket. Along the way, there may be times you hit the 50km/h mark, and other times when you're stuck in barely moving traffic. At the end of your journey, you'll have an average speed, which reflects both the slow and fast driving spells encountered.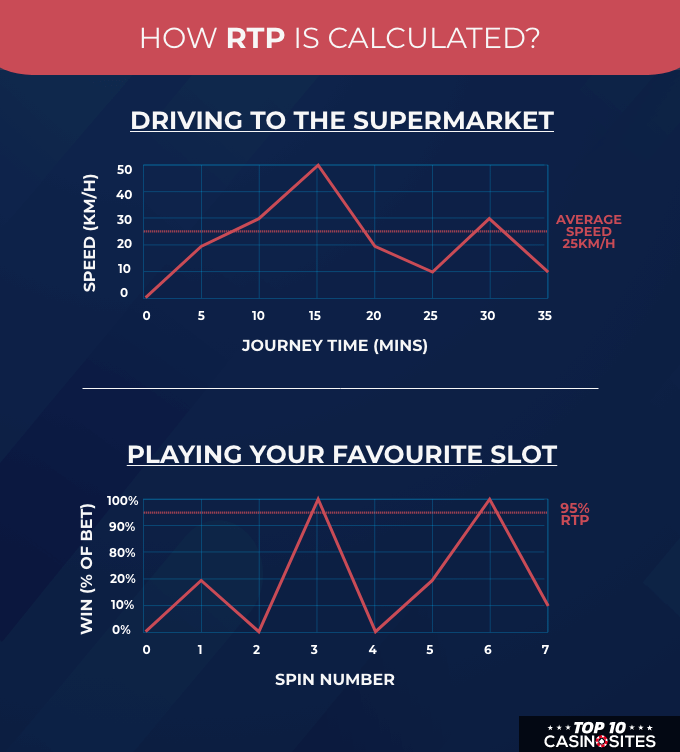 RTP is the same. As we already stated, it's measured over a million – or even a billion – spins. So while the RTP has to be accurate and certified, it does not mean that you will always get that percentage of your wagers back on any given spin, or number of spins.
Let's take Relax Gaming's Book of 99 to illustrate this point. This is one of the slots with the highest RTPs in the world, set at 99%. Now, in theory, players should get 99c/p per every €/£/$1 wagered. But someone may wager €/£/$100 in one session and get 30% of that back, while someone else may be lucky and hit the 5,000x-their-stake max jackpot with a €/£/$10 bet.

Good to know!
When playing both low and best RTP slots, you may experience winning or losing streaks. This may give you the feeling that there is something wrong with the slot, or that the casino has rigged the slot. This is practically never the case, especially if you opt for a legal and licensed casinos. Instead, this is just the RTP working as it's supposed to.
How is RTP Calculated?
Calculating RTP is an easy affair in theory. At the risk of making you feel like you're back in a Maths class, the formula for RTP is as follows:
(how much is won by players) / (how much is gambled by players)
Do keep in mind that theoretical or approximate RTP scores are higher at online casinos compared to land-based casinos.
For example, the average RTP of online slots is 95%, while at land-based establishments, you can find slot machines with 90% or even 85% RTP.
As we've said before, however, the RTP is an average over many spins, and is not indicative of what you'll receive per single spin. In fact, if you had to calculate your own RTP, you'd probably find that some spins result in a much smaller percentage, while others in a much higher one.

Who Verifies the RTP to make sure it's legit?
In the case of slots released by reputable developers, this certification is done by third-party companies or independent testing laboratories like eCOGRA, GLI, and iTech Labs. Moreover, licensed casinos cannot change a game's RTP at will. In fact, developers go to great lengths to ensure that a game is fair and according to the law.
House Edge
Did you know that 'the house always wins' is a phrase that was coined precisely to explain house edge, in easy terms? We're not kidding – it's true, and here's why.
Both RTP and House Edge are expressed as percentages. The RTP of a slot game must always be lower than 100% to ensure that players don't win all the time, because casinos must turn a profit as well. So, if the RTP is 98%, the remaining percentage of 2% is the house edge.
The easiest way to explain house edge is that it's an advantage that the casino has over its players.
The higher the RTP, the lower the house edge and the better your chances over the long run. It's why we always advise our readers to choose the best payout slots on the market.
The Malta Gaming Authority & Low RTP
It might be interesting to note that one of the more popular casino licenses now allows for slots to have an RTP as low as 85%.
The Malta Gaming Authority (MGA) argues that this will bring online slots closer to their land-based counterparts in terms of RTP. As we've seen, land-based slot machines often have a lower RTP. This is because physical space is at a premium, and therefore the game needs to provide more profit compared to online slots.
All of this makes those online casinos offering the best RTP slots even more special.
Volatility
Volatility is a casino term that describes how often you can expect to earn a payout from a slot game and the approximate size of that payout. It's also a measure of the risk involved in gameplay, so it can help you understand which game suits you, depending on your risk tolerance.
There are three classes of slots that you can identify, based on this metric:
High volatility slots: Payouts are harder to come by, but usually larger
Low volatility slots: Smaller, frequent payouts
Medium volatility slots: The intersection of the two – medium payouts, with medium frequency
The slots with the highest RTP often boast high volatility as well – that means they can produce huge wins, but very rarely. They may also require the player to bet at the max level consistently in order to get there, but this should always be done while sticking to your budget.
Top 5 High RTP Slots to Spin in 2023
If you're constantly keeping your eyes peeled for the highest RTP online slots, we share your excitement. Because of that, we've compiled a list of the best ones for you below, including their key features, RTPs, and reasons to spin:
#1 Mega Joker
Mega Joker is one of the most popular classic slots from NetEnt's portfolio. It features an arcade-style design and loads of retro symbols, such as cherries, lemons, jokers, and sevens, with a simple structure of five reels, three rows, and five paylines. The game is most famous for its insane RTP level of 99%. However, you must exercise caution, as the volatility is high.
Released all the way back in 2011, you can play it in two ways: basic and Supermeter Mode, which increases your chances of winning the progressive jackpot. If you are more conservative, you can use the 'Collect' button to preserve your winnings.
Although it's a great choice that takes us back to casino basics, the lack of a free spins feature is quite a drawback.
#2 Book of 99
Have you always been intrigued by the gods of Greek mythology? Do you also like slots with a high RTP? Then Book of 99 from Relax Gaming is the answer to your every wish. It has a 5×3 reel structure, with 10 fixed paylines and an amazing RTP of 99%.
Although the volatility is high, the hit frequency favours the player, as it's close to 30%. Over the long haul, that means a third of your base game spins have the potential to trigger a payout.
Very similar to Book of Ra by NOVOMATIC, this slot also features a magic book as the central symbol. Not only that, but it fulfills both the role of the wild, as well as that of the scatter, so it can perform substitutions or trigger the free spins. Before the start of the round, a symbol gets chosen randomly to become expansive.
#3 Jackpot 6000
Another vintage gem from NetEnt, Jackpot 6000 takes us straight to the casino floor, filled with glowing lights and old slot machines. The game makes it to our best RTP slots list because, if you activate the Supermeter Mode, the RTP goes up to a whopping 98.90% (when compared to 95% in basic mode).
The layout is quite straightforward here: three reels, three rows, and five fixed paylines, but it has several interesting features under its belt, including the Heads or Tails Double Up, Supermeter, and Jokers.
The first feature is practically a Gamble option, which allows you to collect your existing winnings or gamble for more. The Supermeter increases your odds to win, while jokers are instrumental, being wild cards that are able to complete a winning combo. If two jokers land while the Supermeter is activated, you can win a cash prize worth between 10 and 6,000 coins. The win potential is there, but watch out: the volatility is high.
#4 1429 Uncharted Seas
Are you brave enough to cross uncharted territories, where sea monsters may lurk in the shadows? Then Thunderkick is ready to reward you for your courage! Released in 2016, 1429 Uncharted Seas is still relevant to all ocean lovers, thanks to its above-average RTP of 98.6%. This great payout score is coupled with low volatility, which is rather uncommon. You can spin for as little as 10p/c, so this makes it an inspired choice for you if you're after the best payout online slots in the UK.
The layout is made up of a simple five reels and 25 paylines, and the slot design is quite unique, as it depicts an old paper map used for navigation.
There are two bonus features to look out for: the expanding wild feature and the free spins. The ship wild symbol can generate up to three fully wild reels, depending on where it lands. The compass scatter can lead you to good fortune, as it's able to reward you with up to 100 free spins total.
#5 The Catfather™
Last on our list of the best RTP slots we have The Catfather™ from Pragmatic Play. Sink your feline teeth into this 5×3 video slot, and you'll enjoy an outstanding 98.10% RTP. The nine paylines available here is where you're invited to land various kitty symbols for a truly meowtastic experience!
During the base game, you can trigger random stacked wilds on any spin: these symbols will only fall on Reels 2, 3, and 4.
A quirky mouse with glasses serves as scatter – five of which will award 25 free spins. Any wins during the Free Spins mode will receive a 4x multiplier. The low volatility is welcome, especially if you prefer consistent wins, while the top potential payout is a modest 2,251x your bet.
Progressive Jackpot Slots RTP
It's no secret to anyone that progressive jackpot slots are insanely popular. In fact, we would argue that they're the most universally loved at both online and offline casinos.
The reason for this is that they are capable of dishing out million-dollar wins to a single lucky player. However, to account for that huge win potential, progressive jackpot slots often have high variance, a lower RTP, or both.
One such example is Mega Moolah from Microgaming (88.12% RTP).
Pros & Cons of Playing the Best RTP Slots
Like everything else in life, playing the highest RTP casino slot machines comes with advantages and disadvantages. Here they are at a glance.
Pros
Better odds at winning
Great themes, top graphics, and fantastic soundtracks
Certified RTP rates from top providers
Top RTP slots (98%+) supported by many casinos
Cons
Fewer bonus features
High RTP may be made up of the base RTP + an extra percentage for bonus features
The RTP doesn't reflect what you can get per spin, but rather over thousands of spins
How To Find a Slot's RTP
Are you browsing through a list of the best payout slots online, but not sure if the listed RTP is correct? Here's how you can find it, straight from the source:
Tips and Tricks
To create buzz around a new launch or allow players to try older games for free, many software providers will publish promotional pages for their best RTP slots. These pages often include the demo game, plus other important information, such as bonus rounds, volatility, RTP, layout, and release date.
Another way to find the listed RTP is to open the slot window and click on the information ('i') icon. This will take you to an informational section, where you can also find the paytable. Here you'll encounter the main symbol types and their associated values, the bonus rounds, features, and mechanics. You'll not only learn how they work, but you'll also find out which ones affect the RTP (for example, Bonus Buy or Ante Bet).
When you select your favourite from a list of the best payout slots, one of the first metrics you'll find detailed in the casino's library is the RTP. Always compare what the casino offers to the official data from the developer to make sure you get the best RTP model there is.
Final Thoughts on Slots With the Highest RTP
When it comes to the best payout online slots, both UK players and international audiences have a wide range of options to choose from. It's a given that players want the best odds, so software developers are keen to deliver to draw the biggest crowds.
While luck plays a major role in determining your winnings, the highest RTP slots offer better chances to recoup a portion of your wagers. That being said, always choose a game that appeals to you and never wager more than you can afford to lose!
Best RTP Slots FAQs
Our Top Table List above and the detailed reviews on this page are here to get you started: you can find 10 of the highest RTP slots available to players in your region, plus a list of trustworthy online casinos to choose for your next gaming session.

It depends on the bonus type and the online casino's policy. Always read the terms and conditions to learn which games are eligible for the wagering of bonus funds. If you're in luck, the slots with the highest RTP will be listed among them!

The best RTP slots are those with a score of 97-98% or higher. In general, anything under 95% is considered low, while rates over 96.5% are considered above average.

NetEnt and Playtech would be our top picks for the best RTP slots. The former is the maker of Mega Joker (99%) and Blood Suckers (98%), while Playtech have created Goblins Cave (99.32%) and UggaBugga (99.07%). The latter two aren't included in our Top Table List because they're practically impossible to come by these days!

To our knowledge, Playtech's Goblins Cave is the game with the highest RTP, at 99.32%. It's hard to beat it, but it may explain why no casino carries this game.

RTP defines how much of the players' stakes the game will return over the long term in the form of a win, while volatility tells you how often the game awards payouts and their approximate size. These metrics go hand-in-hand to help you gauge the win potential of the best RTP slots.

The simple formula is: (how much is won by players) / (how much is gambled by players). To ensure fairness, certified third-parties like GLI or eCOGRA double-check the RTP listed by software providers against real-life data.

High RTP is always a good thing, but you shouldn't play the highest RTP slots just because of that. Instead, find a game you like and play it because it's fun to!

If you like the look and feel of a video slot, then you should not let its low RTP stop you. Playing slots is meant to be entertaining. So, if you can accept slightly lower odds, go for it.

There is no catch, really. The only downside to these games is that they tend to come with higher volatility to balance things out. So, while you can win a lot, you must remain patient and manage your budget carefully.

Some game developers offer casinos their games in different RTP models (two or even three). Consequently, you may play the same game at one casino and find it has an RTP of 98%, and play it elsewhere and find it has an RTP of 96%. Having said that, casinos cannot change the RTP of a game at will, and there are strict laws against doing so.
---