Mighty Ways™ Slots Explained – Expert Overview 2023
Mighty Ways™ slots have landed!
Are you always eager to discover the newest game engines, from Megaways™ to Megaclusters™? Well, we're happy to add Mighty Ways™ to your arsenal of online casino knowledge – find out how they work, what they offer, and how they compare to Megaways™ slots right here.
Top Casinos With Mighty Ways™ Slots
CLICK HERE TO SEE ALL THE BEST MEGAWAYS™ CASINOS
What Are Mighty Ways™ Slots?
Mighty Ways™ is the name of a brand-new slots mechanic, recently introduced by Light & Wonder studio, an American corporation better known by its former name, Scientific Games.
The mechanic was brought to our attention in June 2022, with the first game in the series based on the famous Cluedo board game.
How Do Mighty Ways™ Slots Work?
To start off, they bear many similarities to Megaways™ slots. In fact, they borrow some key elements from them:
Both slots come with a changing number of ways to win, as well as a varying number of symbols on the reels on every spin.
Another notable similarity is the bonus trail feature, which is tied to the win reactions (also known as cascading wins/reels). In this mechanic, the symbols in a winning combination are replaced by new ones, potentially providing you more wins per spin. Moreover, each cascade will help you advance one step on the bonus trail, which randomly gives out nine different bonuses. This is available in some titles in our Megaways™ catalogue. Will this be standard in Mighty Ways™? Only time will tell.
Light & Wonder also included a reel size change to make things even more exciting. So, if a winning symbol lands on one of the reels, that particular reel will increase in height by one, up to a maximum height of eight. So, in practice, as you advance within the game, the reel layout will change from 6×4 to 6×8. Of course, this idea of manipulating reel sizes or adding additional reels after winning combinations can also be seen in Infinity Reels slots and InfiniReels slots, so it's not an entirely novel concept. However, it's still experimented with frequently by many software developers such as NetEnt, since it's been a hit with players in the past. Here, Reelplay's Odin Infinity Reels Megaways™ comes to mind as the first video slot to offer an unlimited number of reels, in conjunction with Big Time Gaming's popular engine.
Are Mighty Ways™ Slots the Same as Megaways™ Slots?
Not exactly. They can, however, be considered very similar since both mechanics provide thousands of ways to win with a single paid spin, and this number is determined randomly.
That said, the differences are a lot more important when comparing the two engines, and there are quite a few of them.
Most Megaways™ slots have a starting configuration of 64 ways to win and a maximum of 117,649. On the other hand, Light & Wonder's creation has a higher configuration, ranging from 4,096 to 262,144 ways to win.
Another key differentiator is that slots employing Big Time Gaming's engine often feature one or two extra horizontal reels located above and below the main reels, where additional symbols can fall and help players score higher payouts or trigger other features. So far, this has not been the case with Light & Wonder's creation – instead, the developer chose to keep the bonus trail as the primary driver of all bonus features and stick to a regular structure of 6 reels.
Top Mighty Ways™ Slots
There is currently only one officially-released slot with this mechanic. However, there are two other video slots currently in production, which are set to be launched soon.
Moreover, unlike Big Time Gaming's engine, Light & Wonder's mechanic has not yet been licensed to other studios, making them the sole owner and supplier of these titles.
Cluedo™ Mighty Ways™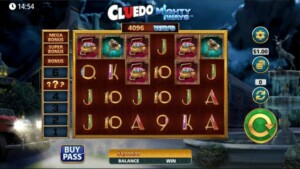 Cluedo™ Mighty Ways™ is the first video slot to showcase this engine, and is a great contender for your upcoming Halloween games list, with this murder mystery slot taking place inside a creepy mansion.
You can unlock up to 262,144 ways to win, a trail with nine bonuses in the base game, free spins and loads, loads more!
300 Shields Mighty Ways™
300 Shields Mighty Ways™ is the second slot of the genre announced by Light & Wonder studio. It is set to be released on 22 September 2022.
Right now, there is limited information available, so here's what we do know:
It will allegedly have an RTP score of between 94% and 96%, which is close to what the previous title offered – although some sources say this may be closer to 90%.
A buy pass will also be included for players outside of the United Kingdom who wish to purchase direct access to the upcoming bonus rounds.
The game will follow a structure of 6×3 as standard but can be taken up to 6×8, increasing the number of ways to win from 729 up to 1,024.
An assortment of extras will also be thrown into the mix, such as progressive win multipliers of up to 300x, free spins, cascading wins, and expanding reels. It is rumoured that the maximum win potential will be capped at 25,000x, and the betting range will be small (£/€/$0.2-£/€/$20).
For seasoned players, it will also be obvious that Light & Wonder has taken the 2014 release by its subsidiary, NextGen Gaming, and upgraded it with their new mechanic. Either way, the main inspiration remains the 2006 cinematic masterpiece, 300.
Invaders Mighty Ways™
To top off our list, we have Invaders Mighty Ways™, the third announced game within the same genre.
Since it's still under development, we once again have limited information. The game, however, is set to tackle a sci-fi theme, with green aliens, spaceships, and mad scientists depicted in comic-book format. It's expected to be released on 27 September 2022.
The slot will have six reels, up to 117,649 ways to win, and some exciting features, such as free spins, win multipliers, cascading reels, and a buy pass. Wild substitutions and scatter symbols will also be present.
Of course, this game is also an updated version of Invaders Megaways™, the demo for which you can play just below!
Features of Mighty Ways™ Slots
As we've explained, there are quite a few overlaps between the features found in new Megaways™ slots and those included in Mighty Ways™ slots, so if you're a fan of the former, you'll undoubtedly enjoy the latter!
We've also noticed similarities in betting range and maximum win potential – the only real difference lies in the RTP score. Read on to find out why this is so!

RTP & Volatility
A common denominator is a clear preference for high-volatility models– as a result, both slot types favour big-size wins with a low frequency.
Even so, we've noticed stark differences between the estimated RTP scores: If you look over our Megaways™ slots list, you'll see most games employing Big Time Gaming's iconic mechanic have RTP scores of 96% and above. This applies to both base gameplay and free spins.
However, with Light & Wonder's new engine, the base game RTP tends to be disappointingly low – 94% on average. In fact, 300 Shields Mighty Ways™ is rumoured to have an even lower RTP score of 90%, but we don't have full confirmation yet.
The only way to enjoy a better score of up to 96% for these games is to activate the Buy Passes, which are expensive and banned by the UKGC, and, therefore not always an option for all players.
This is a big downside, especially for players with a low budget.
Payout Potential
The developers cut no corners when it comes to how rewarding their novel mechanic can get in practice – these slots have a generous payout potential, with maximum wins typically capped at 25,000-50,000x your stake.
This also falls in line with what you can expect from the Megaways™ engine, so it's safe to say both mechanics are equally gratifying.
Betting Range
So far, slots with Light & Wonder's new engine seem to have relatively low betting ranges of £/€/$0.2 – £/€/$10. You will be especially tempted to try them out as a low roller, but you may not appreciate the betting restrictions if you like to play with larger sums.
Visuals & Sound Effects
The Mighty Ways™ engine is extremely new, and it's the brainchild of Scientific Games, rebranded to Light & Wonder studio. The company has a positive track record in designing modern, visually-appealing, and highly-optimised slot games. Unsurprisingly, you'll find the same level of quality here.
Games with this mechanic use HTLM5/Java Script technology, so you can try them out on home devices (laptops, computers) and mobile devices (smartphones and tablets with Android/iOS). You can also play them straight from your browser.
Bonus Games
When it comes to bonus games and special features, we have pinpointed some that are frequently included, namely free spins with progressive or unlimited win multipliers, cascading reels, and various types of wild symbols (regular, expanding, etc.).
The Bonus Buy feature is another welcome addition, allowing gamblers to pay a fixed sum to unlock entrance to the bonus rounds. Bonus trails also keep the mystery alive by hiding some modifiers until players get to unlock them.
Moreover, there are the highly-interactive Pick-and-Click bonus games, which award you specific bonuses based on your choices (e.g. free spins with a 2x multiplier).
Different Mechanics at a Glance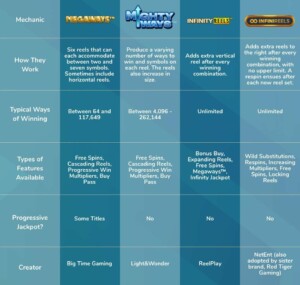 Summary
Light & Wonder is an esteemed developer of slot machines, table games, and casino management systems, and also owns some of the industry's most popular brands, including Bally and WMS. For that reason, their emerging Mighty Ways™ game engine bears the same quality level we would expect from a reputable and innovative company.
Even so, we can't help but think that Light & Wonder has drawn inspiration from the Megaways™ engine, and scored a touchdown by adding win reactions and changing reel sizes.
We're excited to see what this mechanic has in store for the future and how our readers will receive it.  Who knows, it might just be the next big thing!
FAQs
Light & Wonder is the creative studio behind the Mighty Ways™ slots engine. Previously known as Scientific Games, this company rebranded to Light & Wonder in 2022, which happened to reflect the company's new focus on slot games.

So far, only three slot games showcasing this mechanic exist, with two of them still under development.

Since they are such a novel addition, it's hard to determine their popularity just yet. However, the first game with this mechanic has been well received by players since its launch in June, and has integrated into the top online casinos globally, so that's a good sign!

So far, none of the released ones have a progressive jackpot, but that may be subject to change in the future.