Expert InfiniReels™ Slots Explained, Reviews + Free Demos!
InfiniReels™ is an original game mechanic created by Swedish software developer NetEnt, which keeps on adding reels to the game board with no upper limit set, thus offering unlimited win potential. Read on to find out all there is to know about this game mechanic and how reels can be something other than static!

Best Casinos To Play InfiniReels™ Slots in 2023
What Are InfiniReels™ Slots?
If you are an online slots connoisseur, you're probably well aware that in the past, some aspects about the gameplay were entirely unchangeable for the average player – the number of paylines, how many special symbols could fall on a single spin and, of course, the number of reels.
However, recent developments have shown us that the sky is the limit. Australian supplier Big Time Gaming was the first leading name in the industry to prove that it was possible for paylines to be anything other than fixed, thus creating a breakthrough for game engines everywhere.
Well, unsurprisingly, the innovations kept on snowballing with the addition of InfiniReels™, a brand-new game engine which showed us that reels need not necessarily be static. Designed by NetEnt and first introduced with Gods of Gold InfiniReels™ slot, this mechanic does exactly what you suspect – adds reels on the right side of the game grid consistently with the proper winning combinations.
How Do InfiniReels™ Slots Work?
When you first open the game window of an average InfiniReels™ slot, you will quickly notice an odd layout, but one that starts making sense after a few spins.
You will find a rudimentary structure reminiscent of Vegas-style slots, with only 3 reels, 3 rows, 27 ways to win, and open spaces on both sides of those reels. Such is the case of NetEnt's Gods of Gold InfiniReels™, for example, but the design is also present in other releases.
"Nothing special so far, nothing to see here", you may think…but that's where the appeal of the mechanic lies – in its simplicity. When you start spinning normally, new reel sets will get added on the right side of the screen after a qualifying win. Then, you'll get a free respin and the board will expand.
As more reels complete the grid, the rest eventually get pushed to the left to make room, so you could end up playing with a very advantageous configuration (5 reels, 243 ways to win, 6 reels, 729 ways to win and so on).
However, do keep in mind that not every spin will add extra reels. For that to happen, you need to get a winning combination of at least one matching symbol on every reel, which automatically causes the grid to expand. If that doesn't happen, the reels reset to the 3×3 default from the beginning.
InfiniReels™ Slots Features
Not all casino games are created equal, so, if you were wondering what makes InfiniReels™ slots stand out in general, we've done the research for you:
Even though, by construction, there is no upper limit to how many reels you can add to the grid, your win potential will still be influenced by the usual factors, such as RTP and volatility. Moreover, some InfiniReels™ slots have capped maximum wins, so that's something else to consider.
Luckily, because most InfiniReels™ slots are released by NetEnt, you can expect the developer's usual RTP score, which is already above average at 96-97%.
Not only do InfiniReels™ slots have an original, ever-changing configuration, but they are typically filled with special symbols and bonus features, such as increasing multipliers, wild substitutions and respins.
Evolution Gaming is an undisputed leader on the live casino market. How does that tie into InfiniReels™ slots, you may wonder? Well, you can expect the same level of visual quality from its star brands, NetEnt and Red Tiger Gaming, and that also applies to InfiniReels™ slots.
Their creations often feature 3D symbols, high-end animations and intricate designs with peak attention to detail.
Developers of InfiniReels™ Slots
So far, only NetEnt and Red Tiger Gaming have released InfiniReels™ slots, as they are sister brands – both owned by Evolution Gaming. As such, the parent company naturally also owns the creative and trademark rights for this mechanic, unlike with the Megaways™ Engine.
However, if in the future it'll benefit from the same popularity as BTG's Megaways™, we wouldn't be surprised to see the Swedish developer licensing it to other studios.
Most Popular InfiniReels™ Slots
If you're ready to try your luck and see how this expansive (no pun intended!) mechanic is treating you, we're here to help you get started on the right foot.
Here are our top 3 picks for the best InfiniReels™ slots to spin at in 2023:
1. Gods of Gold InfiniReels™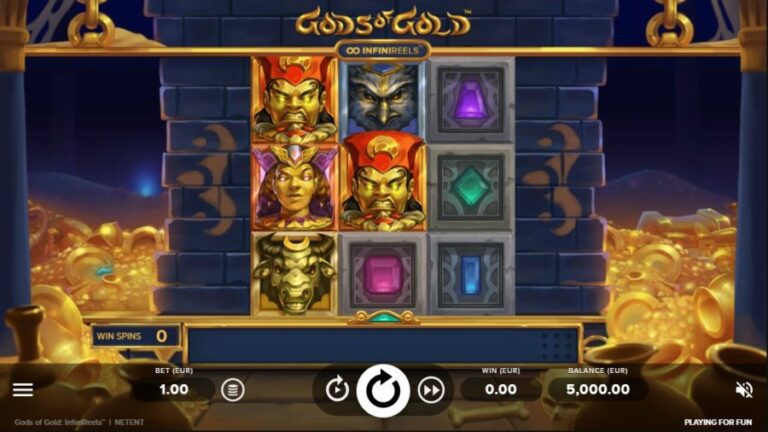 Gods of Gold InfiniReels™ is the very first InfiniReels™ slot, introduced by NetEnt in 2020. It features a medium-high variance level, a great RTP score of 96.21%, and multiple randomly-triggered features with free spins and respins (win spin, respin and multislam). You can also get a 25,000x maximum win.
2. Dragon's Fire InfiniReels™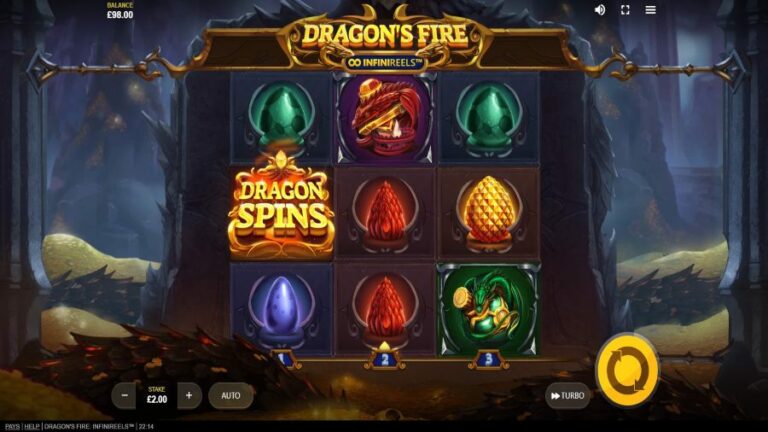 If you're not too scared to venture into a fire-spitting dragon's lair, then you'll have lots of fun with Red Tiger's fantasy-themed video slot. There are lots of bonus features too aside from the InfiniReels™ engine, such as Fire Egg, Fire Wilds and Dragon Spins, each ready to reward you with random wilds, increasing multipliers and free spins.
3. Get the Gold InfiniReels™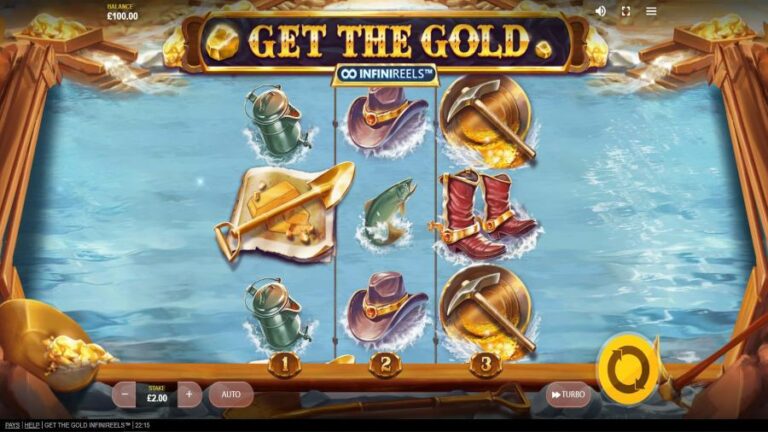 Hitting the market in January 2022 and also developed by Red Tiger Gaming, Get the Gold InfiniReels™ is the latest addition to the InfiniReels™ genre. This time, we're experiencing a classic gold miner theme, doubled by locking reels and a unique Gold Rush feature. Although this game has a rather low RTP score of 95.72%, it compensates through a top payout of 10,000x!
InfiniReels™ Slots Pros and Cons
Can these slots truly take your gameplay to infinity and beyond? Let's see:
Pros
Unique and dynamic mechanic
Reels can get added to infinity
Packed with other bonus features (respins, multipliers)
High RTP score and maximum win
Provide more alert gameplay
Cons
Limited selection available
Some casinos don't have them
InfiniReels™ Vs. InfinityReels™ Slots: A Comparison
If you had to do a double take reading this headline, so did we! These two mechanics sound awfully similar, but they're actually slightly different and developed by distinct studios.
So, to recap, InfiniReels™ is a mechanic introduced by NetEnt, in which the grid gets expanded with new reels only if you get at least one matching symbol across all 3 reels.
On the other hand, InfinityReels™ is another game engine, developed by Reelplay and first introduced with El Dorado InfinityReels™ slot. In this case, for the grid to expand, you need 5 matching symbols anywhere on the reels. Moreover, you can still get a payout even without the grid expanding. Multipliers will also typically increase by 1+ with every qualifying win.
InfiniReels™ Slot Reviews Verdict
InfiniReels™ has all the right elements to become a leading game engine, alongside Megaways™ or Megaclusters™. It is completely reshaping how we view traditional slot machines, which are, at best, restrictive in terms of layout.
Instead, InfiniReels™slots enable players to experience monster reel configurations with unlimited win potential – what's not to like?