London Casinos Slot Machines
If you're a slot machine fan and new to London you'll be happy to know each casino in the London area has a wide verity of different types of machines available. The information below breaks down the different types of machines found in most London casinos and gives a brief insight to the difference between different types of slot games available. Most casinos in London will offer a wide range of different types of slots, from three reels to five reels and networked progressive slots all offering different betting volatility. Have a read below to find out more.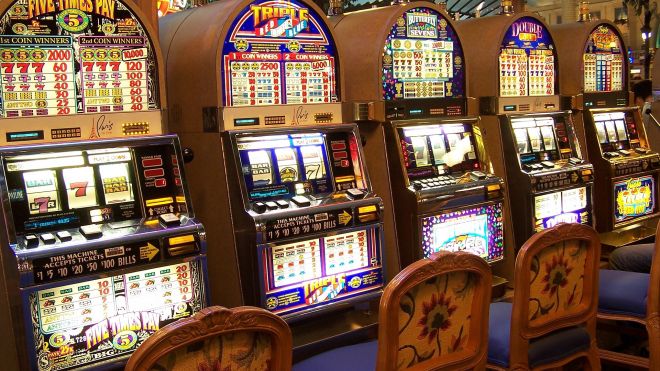 Classic Three Reel Slots
When people think of slot machines, Classic Three Reel Slots most often come to mind. Crafted with their classic fruit symbols, these slots have been a standard feature of casinos since their inception. They remain a popular fixture of almost every casino floor, offering a fast game and moderate payouts.
Classic Three Reel Slots are faster and easier to play than other slot variations. They typically have only one payline, while some machines may have three or five paylines. The symbols on the reels are typically limited to the classic cherries, grapes, bars and gold coins. To some, this structure might be boring, but it makes the game much simpler for gamblers to play and understand.
Still, this does not necessarily mean that Three Reel Slots are easier to win. Although players generally win more on Five Reel Slots, Classic Three Reel Slots tend to pay out more for wins. Players may earn a quick payout from Classic Three Reel Slots. In addition, anyone playing a three-reel slot are generally limited in their betting options, so a player with a lower budget can afford to play.
Classic Three Real Slots are a great choice for an easy, straightforward game. It's true that many slots enthusiasts simply prefer to play three reel machines because it is the classic game. Today, popular three reel games include the Pub Fruity Slot, Cool Buck Slot and Joker 8000 slots. It's clear that even as new slot variations emerge, the classic three-reel slot will remain a popular staple of every casino floor throughout London and beyond.
Five Reel Multiple Payline Slots
Five Reel Multiple Paylines Slots are similar to three reel slots with a few distinguishing features. The most notable difference is that there are five reels, instead of three. This makes a big difference on potential payouts and players' chances of winning.
Five Reel Slots also include a number of added features which include more bonus rounds that make the game much more exciting and entertaining.
While Three Reel Slots typically have only one payline, Five Reel Slots offer more possibilities of winning. Typically, these machines will have around 20 or 25 paylines. In some cases, there might be as many as 100 paylines. What does this mean? Five Reel Slots have many more ways to win but higher bankroll fluctuations.
Five Reel Slots also offer the opportunity for bonus rounds and larger jackpots. By landing on three or more scatter symbols or substitute symbols, players can earn any number of free spins depending on the machine being played. Free spins can soon amount to a large win as well as award more free spins.
Jackpots also tend to be larger, whereas the jackpots on three reel slots are spread evenly across prize levels. These jackpots can be upwards of 10,000 coins or more.
With multiple paylines and bonus rounds, playing five-reel slot machine is an exciting option to choose. Beyond these features, multiple payline machines offer more dynamic animations and great gameplay. With various themed machines, it's no wonder why these slots are so popular in the many casinos in and around London.
Progressive Jackpots
Progressive jackpots are jackpots that increase every time a slot game is played and the jackpot is not won. On many slot machines, the jackpot is a fixed amount. However, on progressive slots, the amount grows with each coin that feeds the jackpot. This amount resets to a certain value once a player wins the jackpot.
There are several types of progressive jackpots on slot machines, and some can be especially lucrative.  A standalone progressive slot machine has a jackpot that grows every time a bet is placed on that specific machine.  Local progressives offer a jackpot that is connected to several machines in a casino. These jackpots are typically under £75,000. A final type is a network jackpot that links slot machines from multiple casinos. It offers the highest jackpots which can be as large as £1 to £10 million.
To learn the value of the current jackpot, players should find the jackpot meter, which shows this amount. The meter is often large and bright and located near the slot machines. Players can watch the progressive jackpot continue to grow as the slots are played.
There's been several success stories of people winning a network progressive jackpot, the largest win from the shores of the UK was £13,209,300 which was playing mega moolah.
Low Volatility Slots
Slots offer varying degrees of volatility, which determine the risk involved in playing a slot machine game. This level of risk can range from low to high volatility. Determining the volatility of a game is important to understand how much you'll need to bet and how much the machine pays out.
Low volatility games are especially popular with players because they are less risky and require smaller budgets. Low volatility means that the payouts are smaller but occur more frequently. It's possible to win big on low volatility machines but not as likely. Instead, smaller, consistent winnings keep gamblers interested in the game. Experts say that if you leave the game with around 25% more than your starting balance, you've done well.
There are many reasons why players choose to play low volatility games. Some players find low volatility slots more exciting than high volatility slots because the games often include bonus features and animations that keep their attention. Others simply don't have the budget or time to keep up with high volatility slots.
Unfortunately, there's no easy way to find the low volatility slots in the casino. Since they aren't marked. It's recommended to check out the pay tables and determine the machine's payout. Ultimately, the volatility of a game is a matter of preference whether a game is high or low volatility does not necessarily affect a player's chance of winning.
High Volatility Slots
If you're one who enjoys chasing big wins and huge jackpots, then you'll likely prefer higher variance slots. Unlike low volatility slots, these machines are riskier and payouts occur less frequently.
The most obvious reason why players are drawn to high volatility slots is that the payouts are much larger. It may take a few more spins to happen, but when the slot machine does pay out, it can pay out huge sums. Jackpots also offer much larger amounts than in low volatility games. These results can make the time and money spent worth it.