The Best Online Casinos With A Gibraltar Licence in 2023
The tiny Gibraltar is a self-governing British overseas territory that can be found on the southern tip of the Iberian Peninsula. Starting in the early 2000s, many sportsbooks and casino operators made their home on the territory, thanks to a very low corporate tax rate. Among the online casino industry, the territory is famed for its strict policy towards issuing gambling licences, making them some of the most reputable and sought-after licences in the world, so you're safe when you know that you're playing at an online casino Gibraltar.
The 10 Best Gibraltar-Licensed Online Casinos
Online Gambling Laws and Regulations in Gibraltar
In 2005, the Gibraltar Gambling Act was passed and the Gibraltar Gambling Commission (GGC) came into being. This organization is headed by the Gibraltar Gambling Commissioner, who also acts as adviser to the Gibraltar Licensing Authority (GLA) which falls under his authority. It's the GLA that issues gambling licences including those for telephone and internet gambling. In fact, all types of gambling are allowed. Over the years, the GLA has earned itself a strong reputation of only licensing high quality casino websites and operators. But that's not the only attraction for gaming businesses. The online casino Gibraltar gaming tax is very low, and the territory offers plenty of work for over 3,000 skilled workers in the gambling industry.
Though any betting company wishing to obtain a licence will need to apply to the GLA, it falls to the Gibraltar Regulatory Authority (GRA) to look into the applicant's suitability. Set up in 2000, the GRA's role is to create and oversee regulations affecting the gambling industry.
The Gibraltar Regulatory Authority (GRA) allows the issue of a single online casino Gibraltar licence that covers all gambling activities for 5 years. There's an annual fee of £100,000, which comes with a gaming revenue tax rate of just 0.15%. This is capped at £425,000 and can go as high as £42.5 million. Furthermore, there is no VAT, no taxes on the withdrawal of capital and dividends, or property ownership for that matter. For the corporate income tax a flat rate of 10% is accounted for. After the initial 5-year licensing period, the company has the right to renew their licence and pay an annual fee of £22,400.
Also, the GRA has taken the pioneering step of licensing foreign casino operators. This has proved to be a great business model, and as a result, the issuing of remote gaming licences is now a mainstay of the whole Gibraltar economy. But getting an online casino Gibraltar licence is very difficult and, as a result, there are only 37 licensed operators on the territory to date. What is staggering, is that with just those 37 licences, Gibraltar controls over 60% of the global gambling market.
You might also hear of the Gibraltar Betting and Gaming Association (GBGA). This is a trade organisation made up of remote gambling licence holders who have been issued with a gambling licence from the Gibraltar Gambling Commissioner. Its purpose is to represent the interest of licence holders on the territory and beyond. Because of its name, many confuse it with the licensing authority.
Features of Online Casinos in Gibraltar
A major feature of an online casino Gibraltar licence is that it can be used outside of the territory of the territory. In other words, it's an international licence, and in this manner differs completely from its UK cousin, the UKGC licence. It operates under the auspices of the Gibraltar Gambling Act of 2005, which is, to all intents and purposes, exactly the same as the UK Gambling Act from the same year. It sets out 3 major points:
Creates guidelines
Sets application provisions for the gaming licence
Sets operating standards

All gambling operators outside the European Economic Area (EEA), or that are located outside of either the UK or Gibraltar, cannot legally advertise their casinos on UK territory. If a gambling company wishes to offer its services in the UK, then first they must fulfil all the requirements set out by the 2005 Gambling Act. Then they can advertise within the UK marketplace thanks to being on a "white list." This means that operators with a Gibraltar online casino licence can look for customers within the UK and vice versa. UK players can happily play on casinos with a Gibraltar licence as those same casinos will also possess a UK gambling licence.
You will not find any "new" casinos having an online casino Gibraltar licence, as the licensing authority tends to only consider those with an impeccable pedigree, with a strong and reputable history behind them. These "blue chip" casinos are all major brands within the gambling industry such as bet365, William Hill and BetVictor.
Online Casino Gibraltar Licence Requirements
All applicants must submit to a series of rigorous checks and show proof of their credentials in order to apply. The application requirements are as follows:

Gibraltar Licence Requirements
Proof of sufficient capital.
A detailed business plan.
Compliance with advertising guidelines, codes of practice and with the Companies Act.
A Gibraltar bank account.
Proof that all gambling products have been tested by independent third parties.
Details of directors, shareholders and other personnel.
Having gained the online casino Gibraltar licence, all top legal and licensed sites must then conform to the normative and rules laid down by the licensing authority. This includes following advertising guidelines, as well as maintaining adequate data protection and privacy to the benefit of all customers. Failure to do so will result in their licence being suspended. Should they fail to rectify shortcomings within a specified time frame, Gibraltar casino sites can expect to have the licence revoked completely.
An example of the type of penalties imposed would be a 2019 case in which a Gibraltar casino site failed to check the funding source of a customer who deposited £210,000 of stolen money into his account. After a Gambling Commission investigation, the casino in question was fined £322,000 for failure to prevent money laundering. Also in 2019, another casino was fined a whopping £1.2 million for failure to prevent gambling harm and failing to enforce money laundering rules.
The Gibraltar Regulatory Authority can issue 7 types of gaming licence, one of which is for Gibraltar casino sites. Those licences can be awarded to and for: bookmakers, gaming machines, gaming operators, pools promoters, betting intermediaries, remote gambling operators and lottery promoters.
Account Auditing and Record Keeping
All transaction records between the online casinos Gibraltar (including crypto casinos) and their customers are required to be kept for a minimum of 5 years. Also, the method by which they're stored is mandated by the Commissioner. Gibraltar casino sites must also provide annual accounts and allow audits without forward notice. These audits also allow Gibraltar casino sites to spot problem gamblers by examining their betting and depositing habits.
All the games offered under the online casino Gibraltar Gaming Licence will be randomly tested by independent third-party companies to ensure that they are fair and have not been manipulated in any way. Some of these third-party testing companies are leaders in their specialist auditing fields and include eCOGRA and iTech Labs.
Online Casinos in Gibraltar Payment Methods
You'll find all the usual payment methods in use for Gibraltar casino sites. These include using credit cards like MasterCard, casino e-wallets like Neteller or Skrill, Pay-by-Phone and many other methods. Keep in mind that processing times may vary depending on the method used, especially with regard to withdrawing funds. All the relevant information about payment options can be found in the "help" section of Gibraltar casino sites. Finally, please note that not all payment methods will be acceptable for all promotions.
Pros of a Gibraltar Online Casino Licence
For a player of Gibraltar casino sites and their games, a Gibraltar licence indicates that you can be certain of receiving any winnings in a timely manner, as well as feeling confident that all your personal and banking details are in safe hands. Let's have a deeper look into more pros below:
Less Tax = Bigger Bonuses
It's a fact of life that by having such a tiny taxation requirement, Gibraltar casino sites can afford to offer better bonuses and deals. Keep in mind that the casino not only has to have enough incentives to attract new players, but also needs to have enough ongoing casino bonus promotions to keep existing users happy.
The demands for player identification are less strict than those found on UK-based betting sites and enforced by the UK Gambling Commission. So, if you were looking to play slots, but without going through a rigorous sign-up process, then Gibraltar casino sites should be your first choice. Many offer payment by cryptocurrencies which are also designed to keep the sharing of your online details to an absolute minimum.
This is without a doubt one of the most prestigious gaming licences you can find anywhere in the world. This tiny territory certainly punches above its weight when it comes to some of the strict regulations and rules for its licensees. By setting such high qualifications, you can rest assured that all Gibraltar casino sites are top notch at looking after their customers' well-being in all aspects of gambling.
Being based in a UK overseas territory, and following UK laws, it's no surprise that the territory hosts so many UK players. For starters, some of the biggest betting brands from the UK, including 888casino and bet365, have made their home on the territory, and are able to serve the UK perfectly well. In order to accept players from the UK, Gibraltar casino sites must also have a UK Gambling Commission Licence. This means that Gibraltar casino sites have two strong licences, which is an additional layer of security for all players.
By law, a player's money can never be mixed with that from the casino. To that end, all Gibraltar casino sites must always have enough liquid cash on hand to cover all their players' deposits. In case of bankruptcy, this means that the casino will still be able to return the customers' money. The licensing authority also makes regular checks as to the payout times to ensure they correspond with the casino's terms and conditions.
Because online fraud and money laundering are a constant bugbear for the iGaming industry, the GRA has made eradicating all forms of financial crime one of its main pillars. In 2020, a total of £2.5 million in fines were handed out to the iGaming sector in Gibraltar as a result of failures in some Gibraltar casino sites' money laundering rules. To that end, there are a number of strict measures in place as far as online casino Gibraltar licensing requirements go. These include independent and random audits, as well as other factors like keeping online security and the storage of personal and banking information to a high standard. The Licensing Authority has the power to carry out background checks for all licence applicants, which acts as a player's guarantee that there are no scams hiding in plain sight.
This is, without a doubt, one of the foundations of the GRA. A condition of online casino Gibraltar licensing is that all casinos must have tools in place to help those needing to limit their gambling, be it by setting up deposit or session limits or requesting a self-exclusion. The GRA works hand in hand with industry bodies, like GamCare, to help problem gamblers.
Cons of a Gibraltar Online Casino Licence
In truth, there are very few cons when it comes to having a Gibraltar licence. Most of these stem from the fact that there are so few Gibraltar casino sites, which can limit the players choice in terms of available games.
In the UK, all casinos are mandated, as part of the licensing agreement, to support a strict self-exclusion scheme for UK gamblers through an independent organisation called Gamstop. By signing up, a player can opt to be excluded from all gambling sites for a period of 6 months,1 year or 5 years. There is no mechanism to shorten the period and the gambler must wait until the end of the self-exclusion before he may play again. This isn't the case for all casinos based in Gibraltar, though it will apply to those who choose to take part in the scheme, provided they also have a UKGC licence.
Less Known Games Developers
All the larger games developers are to be found behind casino games situated in Gibraltar. These include Playtech games, NYX, Betsoft casino games, Yggdrasil games, NetEnt games, and Microgaming slots. As a result, the selection of available games is huge, and you'll find many exclusive titles. But if you're interested in more niche games from smaller developers, then Gibraltar is not the place to look.
The Online Games Licensed in Gibraltar
With all the big-name casinos operating under a remote online casino Gibraltar licence, you'll find all your favourite casinos games here. These can include table games like baccarat, blackjack, poker and roulette, as well as excellent slots and live dealer casino games. And all of them can be played on your mobile.
History of Online Casino Gambling in Gibraltar
Since 1998, the peninsula's gaming authority has been handing out casino licences. But only after the Gambling Act of 2005, which brought in new and stronger regulations, did the gaming authority start to take licensing more seriously. Gone were the easy days when anyone could turn up with a suitcase of cash and get a gambling licence.
Every year, the Gibraltar Gambling Commissioner issues a new set of guidelines for the gambling industry, along with a code of conduct. Only by complying with these, can any casino hope to obtain an online casino Gibraltar licence. All licensed casinos are obliged to follow a code of conduct in line with the 4th EU Anti-Money Laundering Directive and each licence is valid for 5 years, after which the casino must reapply.
Dealing With Disputes
If there's one thing that the Gibraltar Licensing Authority is known for in the gambling industry, it's their consistent support for the customer. They are dedicated to ensuring that all disputes and disagreements are resolved. If you have any type of problem when dealing with licensed Gibraltar casino sites, then you should first reach out to the casino. If you're not satisfied with the response, then read through the "Gamling Commissioner's advice to complainants" where you'll find the "Complaint Resolution Request" form. Fill it in and send it via email to the Authority. They will then authorise a case officer to look into the matter in a timely manner.
Alternative Gambling Licence Options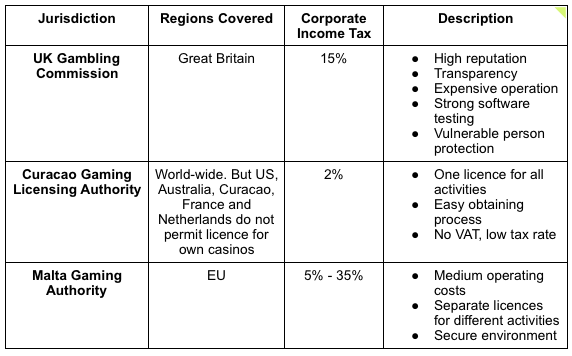 A casino licence acts as confirmation that the business operator meets a certain level of legality and security. In some ways, having a casino licence is a means of printing money, both for the casino and the issuing government, and as a result, there are some jurisdictions where licences are easier to obtain than others. As partly outlined in our table above, you'll come across Italian gambling licences, the Swedish Gambling Authority, Alderney, Malta, Antigua and Barbuda, Costa Rica licences, etc.
On top of the pile, we have the UK's licence which is issued by the UK Gambling Commission. Their rules are very strict and are primarily designed to protect the customer. As a result, a UKGC licence is one of the most highly regarded in the world, and you should feel completely safe gambling on any online casino displaying this licence.
Then we have the licence issued by the tiny territory of Curacao. The rules for obtaining this licence are a little less stringent and the cost considerably less than any European counterpart. In 1996, the Curacao Gaming Control Board first began issuing casino licences. Then in 2004, Curacao joined the Caribbean Financial Action Task Force in order to improve their licensing procedures, as well as take a stronger stand against money laundering.
Next to the UK and Gibraltar licences, as far as reputation goes, we should place the licence issued by Malta, and more specifically by the Malta Gaming Authority (MGA). They have been issuing gambling and casino licences since 2001 and are highly regarded throughout the industry. The MGA makes huge efforts to ensure that players are well protected and secure, and keeps a weather eye open on responsible gambling. As a general rule of thumb, if you want complete peace of mind when gambling at online casinos, then we would stick with those that have either a UK, a Gibraltarian or a Maltese licence.
Life After Brexit
Though these are relatively early days, Gibraltar's online gaming industry is still awaiting the fallout from the UK's decision to leave the European Union. It's especially galling when you consider that virtually the whole territory voted to remain. Many of the territory's employees make the daily commute from Spain, meaning any closure or change in the border conditions could be catastrophic. Not only is the territory outside of the Customs Union, but also it is not part of the Schengen Area either.
Secondly, there's the Gibraltar gaming tax situation. Though Gibraltar was also a member of the EU, it was able to maintain its own tax system completely independent of the UK. But new tariffs could put a drastic change into effect. Free access to the UK gaming marketplace has been allowed by the UK government only up until the end of 2020…and here we are in 2023 with things still undecided. Two titans of the Gibraltar betting-based industry, 888 and bet365, have already signalled their move to Malta. We can see many operators moving to the archipelago in the Mediterranean unless an agreement to maintain the status-quo is reached.
Online Casino Gibraltar Summary
Thanks to a low corporation tax, coupled with stringent requirements for aspiring licensees, the Gibraltar online casino licence has earned the territory an enviable reputation within the gaming industry. So it's no surprise that so many online casino customers continue to place their faith and security in the licence from this tiny Mediterranean jurisdiction.
If you have any questions regarding licensing in Gibraltar or the work of the commission, then you are free to contact the Gibraltar Gambling Commission directly.
Online Casino Gibraltar FAQs
Yes, it is…. providing that you are over 18 years of age. By the way, if you're a resident of the Gibraltarian rock, then your online deposits will be changed from Gibraltar pounds to UK pounds at the rate of 1:1.

The easiest method is to simply scroll down to the bottom of the front page of the casino in question. Here you'll see the licences clearly stated. Having an online casino Gibraltar licence means that a site is reputable and reliable, so they'll be keen on showing it off. As of this year, there are just 37 licensed gaming operators.

There is a huge number of online casinos that are licensed and regulated by the Licensing Authority. Have a look at our "The 10 Best Gibraltar-Licensed Online Casinos" list above for some of the best.

Two things: low taxation and reputation. Compared to other gaming hubs around the world, the tax rate of just 1% on gross profits between £85,000 and £425,000 is very generous and tempting. With strict laws to protect both players and operators, it's no surprise that having an online casino Gibraltar licence carries prestige, as it speaks of reliability and a high reputation, backed by strict regulations.

The local government of Gibraltar determines the rules and regulations through the offices of the Gambling Commissioner, which are then enforced by the GRA, which in turn, ensures that the licensing requirements are fulfilled. This way, a single rule will apply across the board to all operators with the same licence, without exception.