Vivo Gaming Live Casino Provider Review – Top10 CasinoSites
Vivo Gaming is a live casino provider with years of experience in the live casino space. Besides streaming all the most popular live games themselves, they also offer custom solutions for other studios and casinos. Read our Vivo Gaming review for more info!
The Best Casinos to Play Vivo Gaming Live Casino Games
While Vivo live casinos haven't quite risen to the fame of having their selection of games offered at every live casino site, you'll still find their offerings at many online casinos out there! Take a look at our list of the best Vivo Gaming casinos:
Who Are Vivo Gaming?
Vivo Gaming claims over 15 years of experience in the live casino world, which would place their origins somewhere in the mid-to-late 2010s. Either way, they've since expanded enormously, now having studios in the Caribbean, Eastern Europe, and South-East Asia. Specific studio locations include:
Colombia
Uruguay
Bulgaria
Georgia
Philippines
Cambodia
What's on Offer at Live Dealer Casinos With Vivo Gaming titles?
In trying to be one of the best live dealer games providers out there, Vivo Gaming of course had to get the basics right. This is why you'll find several variations of classic table games in live format. Blackjack, baccarat, roulette, and poker are all available from Vivo Gaming.
Nailing the basics can only get you so far, though, which is why Vivo Gaming also offers additional, slightly more niche games to spice up its menu. This includes craps, sic bo, and Dragon Tiger among others. Going just by the ones we've named so far, you can see how Vivo Gaming already has quite a strong offering!
Vivo Gaming Live Blackjack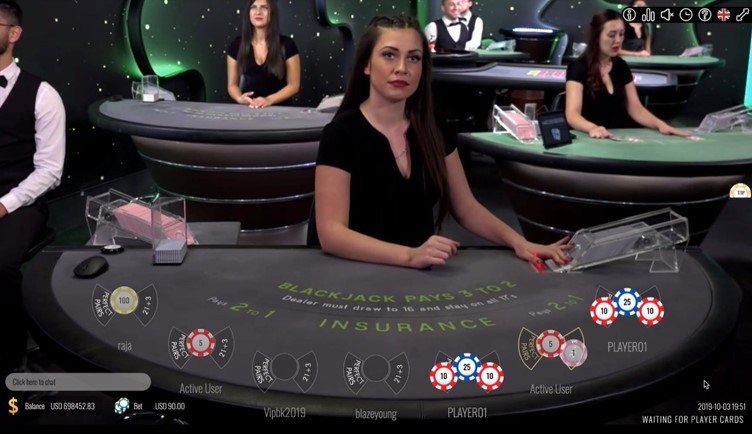 As we've mentioned above, blackjack is one of the backbones of a good live game offering. Vivo Gaming live blackjack keeps to the same easy-to-follow rules of the in-person game, only offering it to a wider online gaming audience!
The blackjack offered by Vivo Gaming casinos is of the classic 7-seat variety, using an 8-deck shuffle of cards. The dealer will stand on all 17s. You can take advantage of features unique to live gaming setups too, such as playing with multiple hands at once. Vivo Gaming allows you to have up to 3 hands of cards simultaneously.
While unfortunately no side bets are allowed during Vivo live blackjack, there is a choice of viewing modes – both 2D and 3D mode – for the duration of the game. In 2D mode, you'll be presented with the traditional live gaming view, with the betting area occupying the lower half of your game screen. In 3D mode, the live gaming video feed will take up a much larger portion of the screen, with a computer-rendered betting table/area on top. This makes the whole experience that much more immersive!
Vivo Gaming Live Baccarat
Baccarat is another casino classic that we'd sorely miss if it weren't included in Vivo Gaming's offering. There's no need for that, though, as the live gaming provider has included several varieties of live dealer baccarat in its offering.
At Vivo Gaming's studios, you'll find 11 different live baccarat tables, offering a variety of versions. These include Speed Baccarat, Squeeze Baccarat, as well as options with fantasy and fairy tale themes. It might be worth noting that Speed Baccarat is played with lightning quick 15-second betting rounds, so it's best to keep alert with that one!
Just like with Vivo live blackjack, players have a choice between 2D and 3D viewing modes. Apart from those modes, Vivo Gaming also offers a 5S view, with a larger betting area and smaller livestream window, as well as a V1 view, with an even-larger computer-rendered betting table.
There's a good range of bets available at these tables too, with a Banker Dragon Bonus bet offering a 30:1 payout for a 9-point difference between winning and losing hands.
Vivo Gaming Live Roulette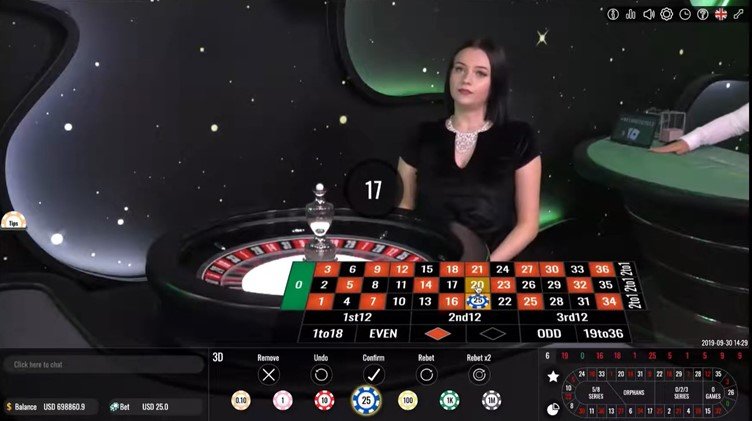 This classic and venerable French casino game is a favourite for many players worldwide. Because of that, Vivo Gaming has of course included it in their live gaming offering. The European version of live roulette is on offer here. This means there's only a single '0' pocket, affording better chances to players compared to the American version.
The game can handle an unlimited number of players to a table, seeing as everyone is betting on the one wheel rather than having an individual card hand or anything of the sort. 2D and 3D view are available once again for all players, along with a continuous cut-free stream of the roulette table. The camera slowly and dramatically zooms into the wheel once the ball is about to settle into a pocket.
Vivo Gaming also offers VIP tables for the high rollers amongst you who prefer having a table and dealer all to yourselves!
Vivo Gaming live casino also offers one of the more famous casino games to grace our screens. Poker, or Casino Hold'em live games at Vivo Gaming casinos allow an unlimited number of players to play, just like their setup with roulette.
Playing against the dealer, we'd excuse you if you felt a little bit like James Bond while playing this one. He is after all, well known for his abilities at poker! The game even includes side bets and a jackpot. Built on top of the modern HTML5 engine, it's also sure to run great on any device or browser!
Vivo Gaming Craps, Sic Bo, Dragon Tiger
Given that there are so many providers in the live casino space, Vivo Gaming understandably wants to stand out in one way or another. For some extra and perhaps slightly more niche offerings, Vivo has decided to incorporate craps, sic bo and Dragon Tiger into their live games collection.
Craps is played using two dealers, with the main dealer taking care of the table and bets, and the second dealer rolling the dice. While players will obviously miss being able to interact with the dice themselves, it's great to see this all-too-often forgotten game being given the prominence it deserves!
Sic bo is a centuries-old traditional Chinese game while Dragon Tiger is practically a simplified, two-card version of Baccarat. It's nice to see live gaming studios offering a good, varied selection of games for their users.
Free Live Casino
So you're interested in trying these live game out? We've got exactly the thing for you. Try out the exclusive Top10 free live casino of some of the best live games the industry has to offer! This is a great way to dip your toes into the live gaming world without putting any of your own money at stake! We know it can be a bit daunting to have to put real money down on a game you're not too familiar with, and now you don't have to!
At Top10-CasinoSites, you can play live Roulette and live baccarat with a real croupier for free. We offer free live casino games with no strings attached – you do not need to register an account or deposit money. 
Vivo Gaming Livestreaming Technology
While a good game selection is essential for any live casino, unlike the wealth of other online casino games, there's an additional factor that's quite important to Vivo Gaming's success and quality: livestreaming. Vivo Gaming livestreams are done in Full-HD 1080p, and can boast a 99% uptime. What that means is crystal-clear video with excellent stability.
Impressively, Vivo Gaming also provides their games in both Flash and HTML5 versions, so compatibility with your device is quite practically guaranteed. While Flash is, at this point, a legacy product, it's good to see a provider thinking of those out there who still have no option but to use it!
The menu is just a click away with an icon on the left-hand-side of the screen. Here, you can browse another game in the lobby and check the access rules and betting limits for the game you're currently in.
Vivo Gaming 2D & 3D Views
As we mentioned earlier, Vivo Gaming also offers 2 viewing options for the majority of the live dealer games on their platform. While briefly going over what these involve, let's have a rundown once more of what you'll be looking at, just for completeness' sake.
2D View is the traditional live gaming experience with a video live stream of the dealer and the game table occupying the top half of your game screen. The bottom half houses a mock-up of the betting table along with your betting options and other settings.
3D View, while not involving any fancy 3D glasses technology like you might have expected from a 2009 cinema, does feel more immersive for the player. With Vivo Gaming 3D View, the live dealer video feed will occupy the full game screen, with the betting table and options superimposed on top. This means all the same functionality, just with a larger and clearer video feed!
Vivo Gaming Languages & Currencies
Most Vivo Gaming live dealers are fluent in both English and Spanish, covering a huge portion of online players. Apart from that, the user interface is offered in a number of languages, opening up the playing options for even more players worldwide!
Depending on the casino hosting the Vivo Games livestreams, all currencies can be supported with more than 27 different languages catered for within the user experience.
Pros
Wide variety of live games available
Custom solutions depending on the casino
Variable live game viewing modes
Cons
Not common to all live casinos
Yet to rival top providers
Conclusion
All in all, Vivo Gaming casinos can excellently provide both the basics and some more niche games for the live casino experience. While lacking a Vivo Gaming app, the up-and-coming provider is sure to make a hit as it keeps getting bigger and better. We hope to see Vivo Gaming up there with the top dogs!
Vivo Gaming FAQs
Vivo Gaming is a live casino software provider offering live dealer games.

The best Vivo Gaming casinos are PlayAmo and BitStarz. Check out the full list for more recommendations.

Vivo Gaming offers all the classic live casino games and more! These include baccarat, roulette, poker, blackjack, sic bo, craps and Dragon Tiger!

Vivo Gaming 2D & 3D view are two different viewing modes for the live games on offer. 3D view offers a more immersive full-screen experience.

Vivo Gaming live dealers speak both English and Spanish, with the user interface offered in more than 27 different languages.