Your Guide To Gambling at Online Casinos in Algeria in 2023
While the country may mostly be known for having the largest chunk of the Sahara within its borders, if you're looking to gamble at online casinos in Algeria, we've taken a deep dive into all the legalities and regulations, as well as the best casino options available.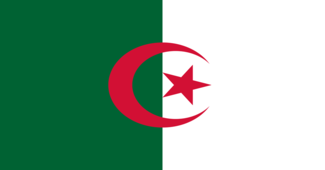 The Best Online Casinos in Algeria in 2023
Gambling & Algeria
Algeria is a Muslim country governed by Sharia law – in fact, over 99% of the population practise Sunni Islam. It's considered a religious crime for an Algerian to gain any form of wealth from gambling. The 1984 Algerian Family Code – Article 222 regulates all aspects of Sharia law, including the ban on gambling activities.
Though gambling at online casinos in Algeria is strictly forbidden, the law differentiates between players and providers of gambling services. For example, operating or working for online casinos in Algeria will land you 3 – 12 months in prison, along with a hefty fine. But we have yet to hear of a player being prosecuted for playing online.
As far as licensing goes, there is no concrete regime governing them, meaning the minimum age for gambling at online casinos in Algeria has never been established.

Casinos No, Lottery Yes?
Considering its laws, it's surprising that the lottery is allowed. A government agency, the Pari Sportif Algerian (PSA) oversees a couple of different scratch card lottery games. The Loto Erriadhi is a 49/6-ball game, and the Loto Mohtaref is a 35/7-ball game. Tickets are bought in special government offices as there's no online presence. If you win, expect to receive only 40% of the prize money, as 20% goes to the lottery provider and 40% to the government sponsorship for youth sports programmes.
Another legal betting activity is horse racing. These are organised by the Société des Courses Hippiques et du Pari Mutuel and you can only make bets at the racetrack. There are a total of nine race tracks in the country, and they offer traditional horse racing, as well as "trotting" races.
Finally, note that apart from gambling laws, you've also got to think about taxation regulation. No international online trusted casino will ever withhold your winnings or report them to the local Algerian tax authority. But, if in the unlikely circumstance the authorities did decide to take a closer look at your affairs, there is the possibility of being charged with tax evasion.
History of Gambling in Algeria
1909: Under French colonial rule, the first horse tracks were established.
1984: Sharia law becomes the basis for Algeria's legal framework. All gambling is now illegal. Then in 1998, all internet providers within the country blocked access to offensive or immoral material.
2006: The National Lottery is introduced to fund welfare programmes with a 40% tax rate.
2010: Internet censorship was enacted. At the government's discretion, any website can be blocked. Fortunately, in 2012, a decree which forces ISPs to block some domains was successfully repealed.
2018: The Code on the Post and Electronic Communications and the Law on e-commerce bans all online transactions relevant to sports betting, online casinos and lotteries.
Gambling Security in Algeria
Due to the large percentage of the Algerian population actively practising their religion, most locals have a negative outlook on all forms of gambling activities. Though there are no specific laws for those caught gambling at online casinos in Algeria, several other statutes could be used to bring charges.

Licensed Casinos
Because there aren't any online casinos licensed in Algeria, the only secure and trusted online casinos are those with a licence from an internationally-recognised authority, such as the MGA, UKGC, or Curaçao. More on this below!
Factors To Look Out For at Best Online Casinos in Algeria
Modern online casinos that accept Algerian players are fantastic hubs of entertainment, with the addition of providing nice cash prizes. Let's look at the critical factors you should be looking out for to gain the best possible casino experience, whether you're playing at a mobile casino or through your desktop!
Excellent Bonus Offers
With so many online casinos fighting for the player's attention, it's no surprise that they offer every incentive to turn heads. Many of the best online casino sites will focus on their welcome bonus.
Before you accept any casino bonuses, be sure to read the small print in the bonus terms and conditions, and don't make the mistake of just focusing on the size of the bonus. Keep in mind that the bonus will be practically useless without reasonable wagering requirements.
Great Games Selection
It's important that all online casinos in Algeria boast a massive gaming catalogue. This should include all the best slots, table games and card games, as well as a vast selection of live dealer games. Check how well they play on your portable device, whether in-browser or from the app. Also, make sure that there are games from the best games providers like Evolution Gaming, NetEnt, Play'n GO and Microgaming.
Varied Payment Options
Whether offering payments via credit cards, bank transfer, e-wallets or cryptocurrencies, ideally, you want online casinos in Algeria with multiple payment options.
Not only will there be no problems when it comes to depositing and withdrawing funds, but with some online casino sites only offering a couple of ways of making withdrawals, there's always the possibility that your funds could be voided simply because you couldn't withdraw them within a specific time limit.
Licensing From Reputable Authorities
One of the first things to look for at the best online casinos in Algeria is the gambling licence that regulates them. It should come from a reputable licensing authority, like the UK Gambling Commission or the Malta Gaming Authority.
These licences are in place to protect players. Among other things, they ensure the games are tested and fair, that you'll receive your winnings and that your banking and personal details are kept secure.
Top-Notch Customer Support
Many players only consider the online casino's customer support when they encounter a problem. When gambling at online casinos in Algeria, we always suggest that you check out the customer support before you might need it. At a minimum, they should be on call, using live chat, 24/7. Have a look at various trusted online casino reviews to see how highly rated a casino's support is by other gamblers.
Different Types of Bonuses at Algerian Online Casinos
All online casinos in Algeria want to attract and retain new players. One way of achieving this is by offering a number of bonuses, which come in all shapes and sizes. We've listed some of these below.
Welcome Bonuses
Also known as the Sign-up Bonus and the New Player Bonus, these are given out to newly-registered players. On the whole, the casino sign up bonus will be credited to your casino account the moment you make your first online deposit. The actual amount added is normally expressed as a percentage of the deposit total.
Match Bonuses
This is one of the most popular types of online casino bonuses. The casino will match however much you deposit into your account. The standard limit is 100%, meaning that if you were to deposit €/£100, then the online casinos in Algeria would give you double the amount back. Some of these match bonuses can go up to 400%!
Free Spins Bonuses
Back in the day, these were given out as a means of promoting a new slot game. But today, you'll find free spins more commonly offered alongside the welcome bonus.
In truth, the name is misleading since they're not really "free", as you've already made a deposit. To that end, you may find them called extra spins or bonus spins. Semantics! Free spins are also a great way of trying out a new slot without spending too much extra cash.
Top Up Bonuses
Also known as the reload bonus, this is part of an ongoing online casino promotion. Every time you make a new deposit into your casino account, you'll receive a cash "thank you" in the form of a percentage of the amount of new funds. Though the welcome bonus may offer a greater amount, it can only be used once. The reload bonus comes into play every time you "reload" your account.
Cashback Bonuses
Though most online casino players are perfectly content with a welcome bonus or some free spins, the cashback bonus may be the best bonus available. Essentially, you'll receive a refund of a certain percentage of your losses on a regular basis, usually once a week. Therefore, it's not an addition to your deposit but rather a consolation prize against your losses.
Popular Algerian Payment Methods
With gambling being illegal, it may be better to stay on the safe side and refrain from using your Mastercard or Visa debit cards if they were issued by an Algerian bank, like the Credit Populaire Agricole, Banque de Développement Local or the Algeria Gulf Bank.
Payment methods such as credit cards and bank transfers are very transparent. Transactions with these methods are listed clearly on bank statements.
Methods like e-wallets and cryptocurrencies are more anonymous. With an e-wallet, you can top up your account using a service like AstroPay or CASHU. When you make a deposit at any online casinos in Algeria, the funds will be converted automatically. To make a withdrawal, you'll receive Algerian dinars directly into your e-wallet.
Finally, when you sign up to an international online casino, you'll need to complete a KYC (Know Your Customer) registration. This may include uploading some forms of personal documentation. But don't worry – a reputable casino has to abide by strict rules with regard to keeping all personal and banking information safe and secure.
Money Exchanging
As the Algerian dinar (DZD) isn't commonly accepted at many offshore online casinos, we recommend that you change these for international currencies like the US dollar or Euro. Many e-wallets support multi-currency accounts, meaning there's no need to change one denomination for another.
Cryptocurrency
Though cryptocurrencies are not so popular in the country, they offer the best anonymity for players at online casinos in Algeria. Crypto casinos are considered more secure and safer than other forms of payment, as long as they have a reputable gambling licence.
If a trusted casino accepts cryptocurrencies, it's important that it's more than just Bitcoin. Look for other cryptocurrencies such as Litecoin, Bitcoin Cash and Ethereum as a minimum.
Many online casinos in Algeria offering crypto payments may want to encourage their use. To that end, there could be larger bonuses and incentives, as well as exclusive offers for players depositing with crypto.
As with all great things in life, there will be some disadvantages. For a start, if you fail to properly protect your wallet and suffer the theft of coins, they would be untraceable. Also, you can't make a reversal or chargeback as you might do with a credit card. Finally, all cryptocurrencies are volatile. They can rise and fall at an alarming rate over the course of a single day.
Cryptocurrency
Casino e-wallets like NETELLER and Skrill are excellent choices for players who prefer not to enter their credit card or bank information online when they are gambling at online casinos in Algeria.
NETELLER allows you to withdraw Algeria online casino funds directly from the wallet, as opposed to going into your bank account. This means that your online activity remains anonymous. If you want to pay with crypto but the casino in question doesn't accept this form of payment, simply upload your crypto funds to your NETELLER account and make a regular deposit from your e-wallet.
ZainCash allows you to send and receive payments directly to your mobile e-wallet, as well as make online casino deposits and withdrawals. The platform allows online casino players to manage their casino accounts with ease. There's a ZainCash app for your smartphone to simplify the whole process even further. You can also use your old analogue phone, providing you have a Zain mobile number. With this, you can recharge your prepaid card directly via your mobile.
Just as the name suggests, this is one of the fastest methods of moving funds in the Middle East. You simply download the app from either Google Play or the Apple store, charge up your account, and you're good to go within minutes. The number of daily transactions is unlimited, and you can use it at all online casinos that accept it.
Yet another e-wallet, this one allows users to use their mobile credit as a means of sending and receiving funds through an SMS. Download the app from the Apple Store or Google Play for your smartphone. If you only have an analogue phone, then no problem, as you don't need a smartphone or a bank account to use the Taif e-wallet for online gambling.
Summary of Gambling at Online Casinos in Algeria
As all gambling is illegal there, online casinos based in Algeria simply don't exist. This means the only casinos that Algerian players can access are international online gambling sites. Every top trusted international online casino will have stringent licensing terms to ensure the player is protected.
We look forward to Algeria taking cues from neighbouring countries such as Morocco and liberalising its market – but until then, this is all there is to know about casino sites in Algeria!
Online Casinos in Algeria FAQs
No, it's not. Since 1984, Sharia law forbids all forms of gambling apart from a couple of state lotteries and a small number of sports. It's always wise to keep your gambling activities private.

As the online casino you're playing on is an international website, you'll receive the same bonuses as any other player from anywhere else in the world. These will include the welcome bonus for all newly registered players, as well as free spins and other incentives.

Yes, you can! Any of the reputable online casinos in Algeria from our Top 10 list accept mobile players. Choose from any of these, register and start playing casino games on your mobile within minutes.

As of writing, there are no legal risks for playing on international gambling sites. So far, no online gambler has faced punishment, at least not to the knowledge of our editorial team. Having said that, gambling is socially unacceptable in Algeria.

Unfortunately, you cannot use the dinar at online casinos in Algeria. We suggest that you use British Pounds, US dollars or Euros and make use of e-wallets like Skrill or NETELLER.