The Best Gamomat Casinos & Gamomat Slot Games 2023
Yeah, it's a bit of a weird name but that doesn't mean these game creation boffins don't produce superb titles. Used by casinos globally – you may not have heard of them before, but you have now.  Hailing from Berlin, Gamomat may be a lesser-known game developer but the team has a huge game catalogue and are providers of some modern classics. If you enjoy a good old book-styled slot, these are your perfect providers. In this post, we will talk about the best Gammot slots. So, continue reading below.
Who are Gamomat?
As Gamomat themselves say: "Making gaming fun is serious stuff". One of the few German game creators, Gamomat are both strategists and artists. They describe the team as individualists with team spirit.
In the words of Gamomat: "We are brain teasers and quiz nights. We are high-flyers who dig deep. We are pioneers and pirates. We are soloists and an orchestra… We are the state and the springboard. We are rock and roll. We are Germany and the World". Make of that what you will but we feel it really displays the creativity behind this game provider. Either that or their copywriter has been smoking a few too many jazz cigarettes.
Proving themselves as a tightly-knit team who hold integrity and trust close to their hearts, Gamomat are a premium online game developer with the players' experience at heart, providing out-of-this-world gaming engagement for slot fans the world over.
Gamomat Slots Free Play
Unless you're completely crazy, you'll probably play a Gamomat real money slot for play money before putting in your hard-earned cash. Gamomat slots are all over the net with chances for you to try the slot before playing for real. Get a feel for the bonus rounds, the graphics, music and volatility.
There are some players that argue that the RTP is higher on free play slots, be them Gamomat free play slots or from any other provider. Luckily, this is completely false as the organisations that license and regulate these games would issue a very heavy fine to these operators. It's just really dishonest. So, feel free to play away at a Gamomat online casino or find a demo online. Then you're informed enough to spin it or bin it.
Five of the Finest Gamomat Games
With such a massive catalogue of superb titles, choosing the top 5 games was no easy task for us. Hopefully you'll also agree that these are the best games Gamomat have to offer. If they're not to your fancy, dig around on the www, play a demo and find a slot that suits you down to the ground and under.
Fancy Fruits

Fancy fruits? Well, you're in the right place with this medium volatility slot with a 96.06% RTP released back in 2015. With a modest 5 paylines, this slot is a great game for someone new to slots as it doesn't have too many features to overwhelm the novice player. Engagingly gorgeous graphics will have you chomping on an apple in no time.
Books and Pearls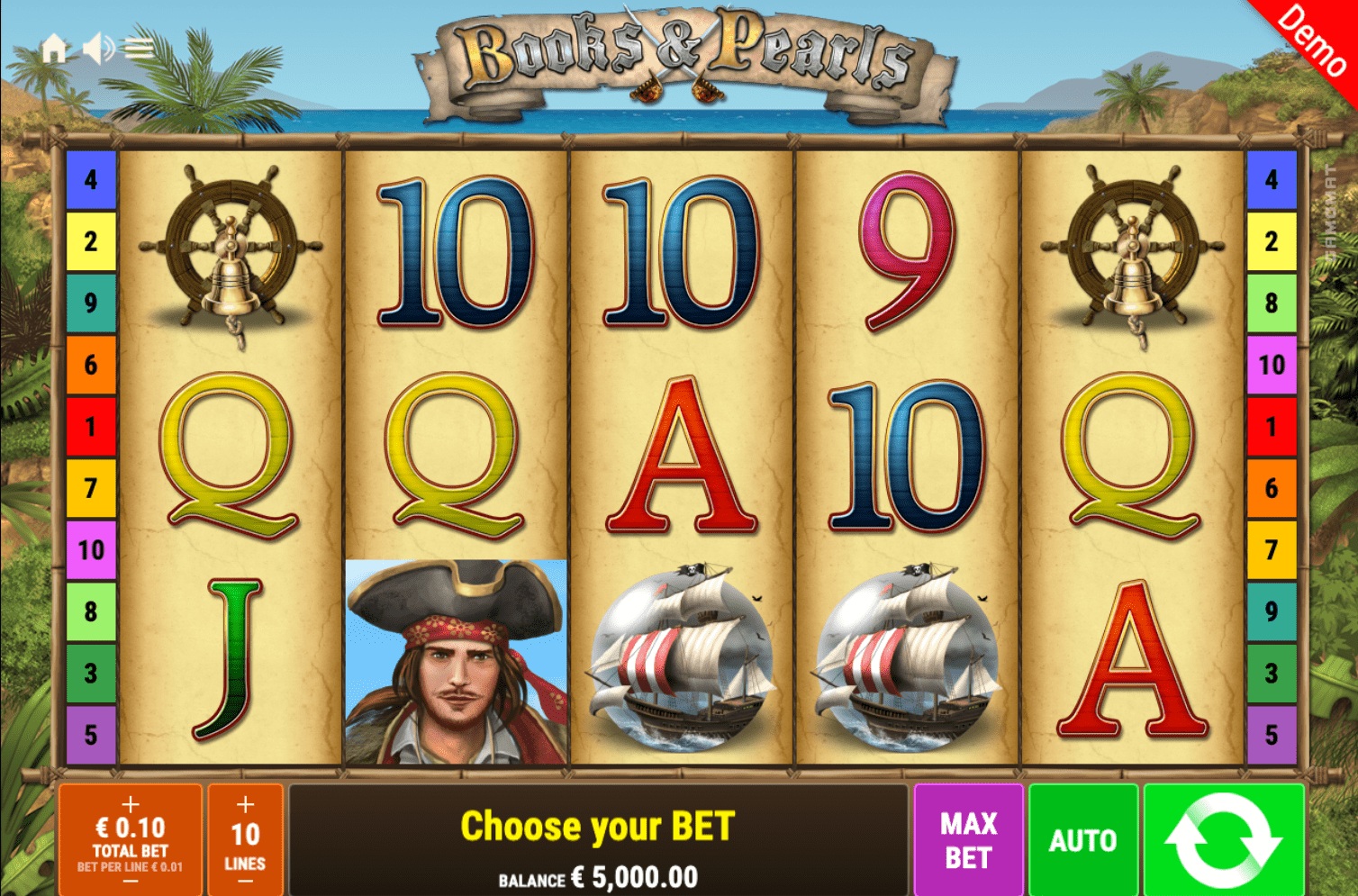 Ahoy there me hearties.  Gamomat brings us this 96.06% RTP 10 paylines slot from 2019. A great pirate theme with awesome character design and even more interesting gameplay – if book-styled slots are your thing, then this is right up your alley. With a maximum win potential of 500x, you could be enjoying a fair number of pieces of eight.
Roman Legion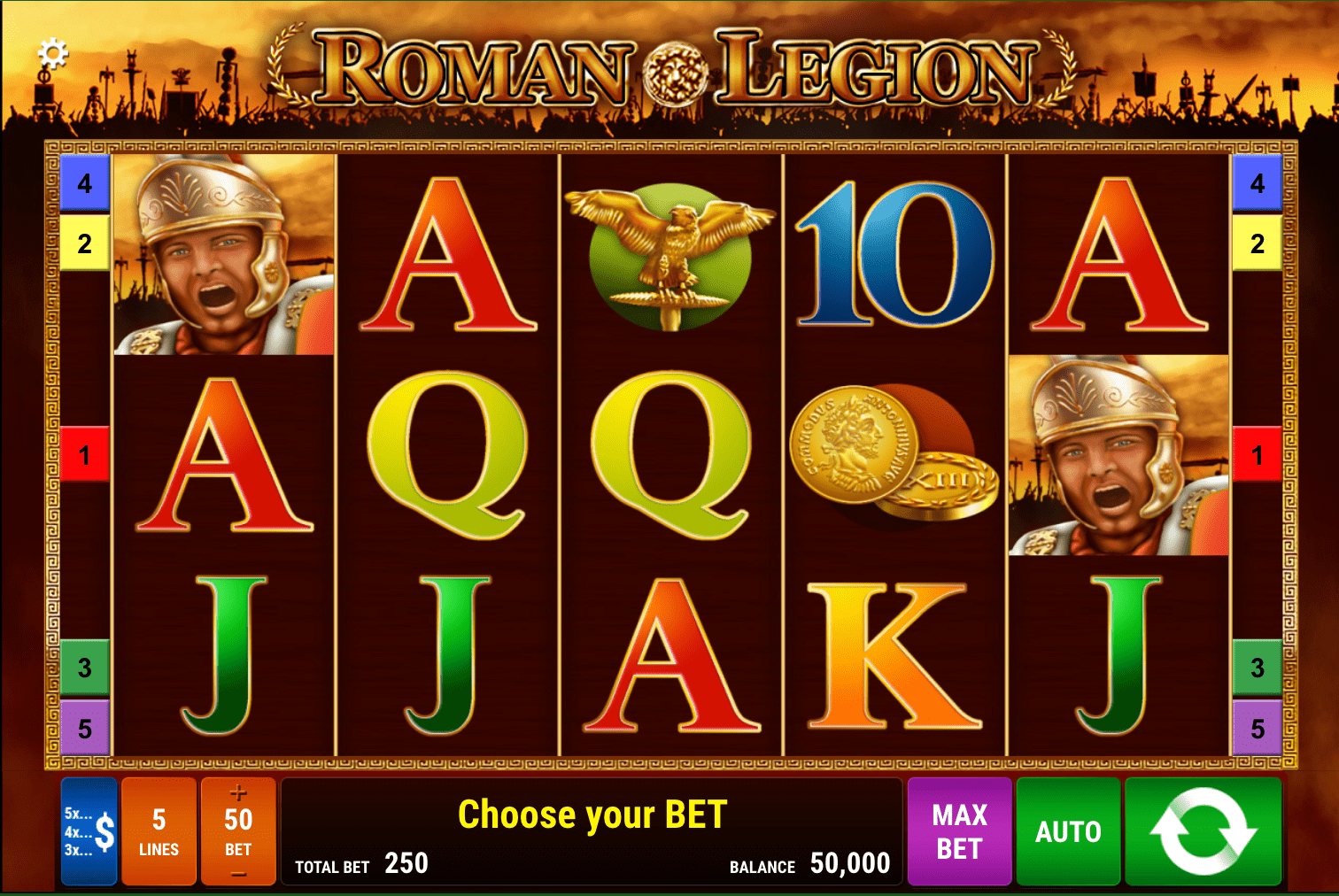 A slot fit for Julius Caesar. This is a feature-rich slot set among a backdrop of ancient Rome. Land Soldier wilds, Horseman scatters while playing Roman Legion and enjoy a colossus 250,000,000x win potential. A 5×3 Grid greets you with an RTP of 96.16%. A Thumbs up in the iGaming arena for sure.
Book of Madness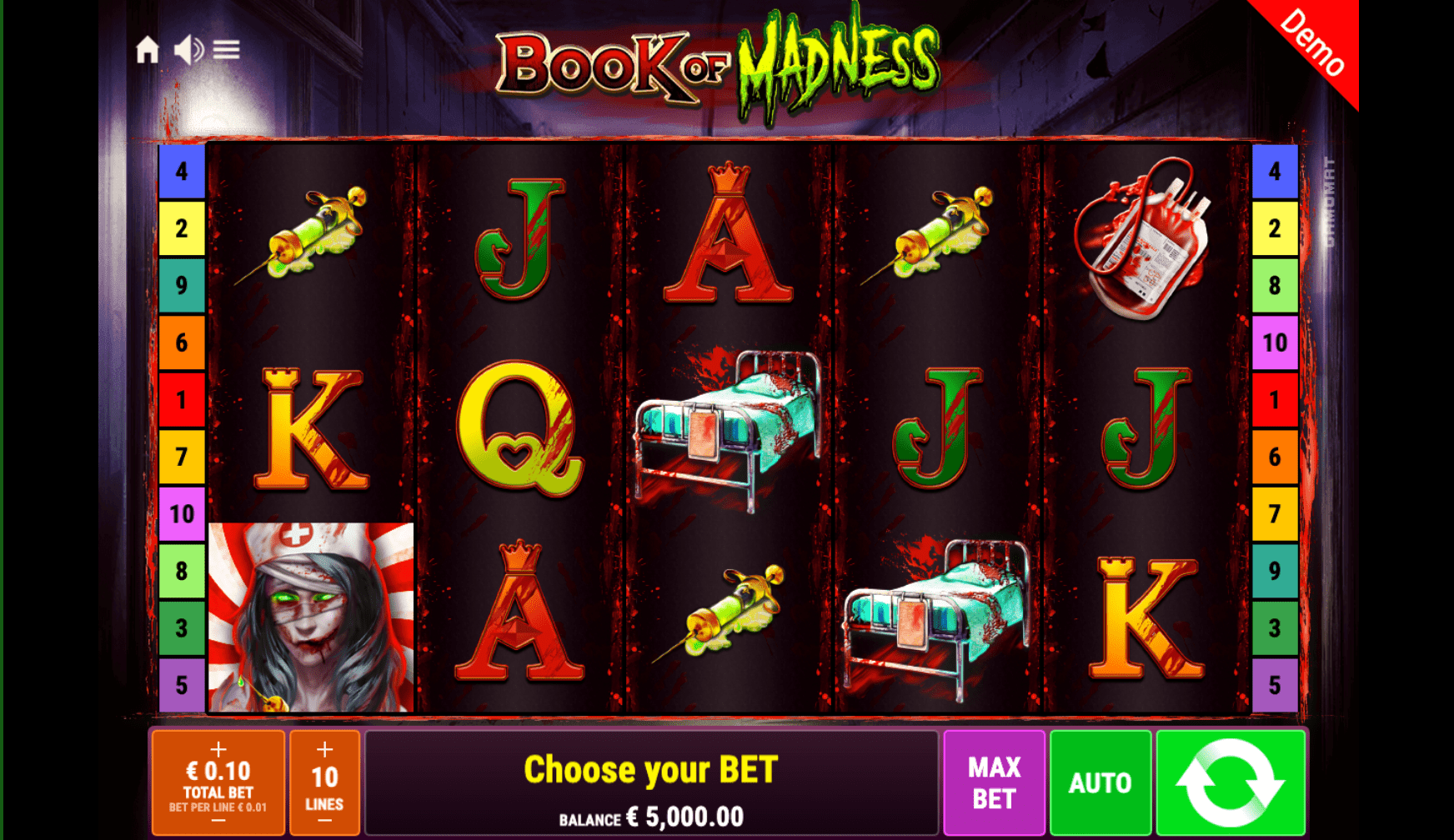 Time to get a bit mental. And spooky. This 5×3 slot with an insane maximum win potential of 500,000x is great for horror fans and players that enjoy plenty of features (including Free Spins)while being slightly terrified by the creepy theme. It might not be the kind of slot for players that usually enjoy fruit or candy-themed slots but if you like a side of terror with your gameplay, then this slot is perfect for you.
Books and Bulls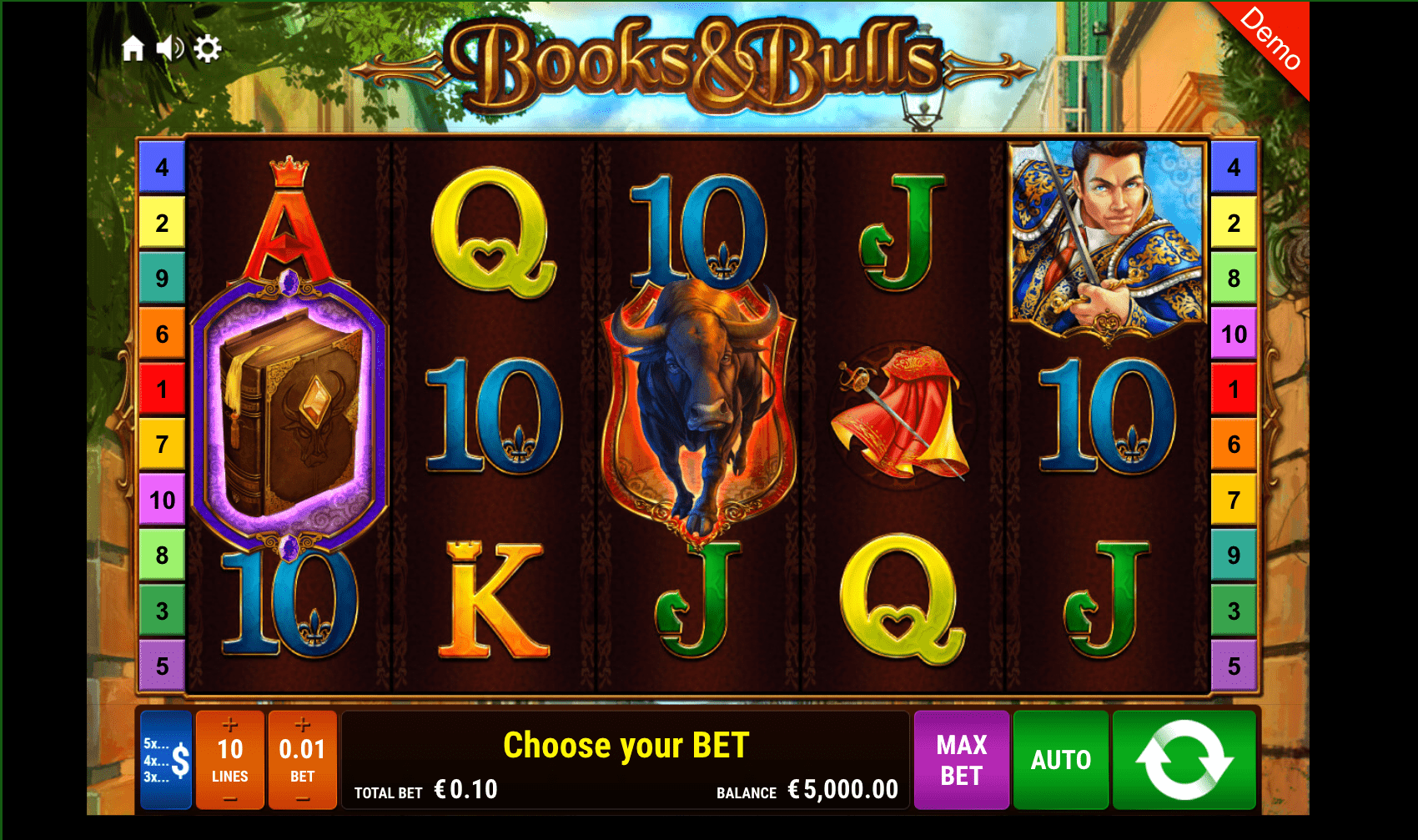 Contrary to popular belief, bulls are avid readers, hence this spectacular title from Gamomat. Slip on your matador gear and get in the ring to take on this bull fighting-themed slot. Face off against a 96.13% RTP and a 7,500x potential win boost. An exhilarating slot, it'll be one for you to grab by the horns, no matter your experience level.
Why Gamomat Games are so Popular
What we think of visual media such as TV, film and slot games are actually audio media. Imagine this – you're watching TV and there's the odd picture drop out, you can continue watching quite happily. If, on the other hand, the sound is clipped or fuzzy, the visual/audio medium is unbearable.
Gamomat knows this and this is why their slots are audio optimised, which is a brilliant touch and something most game providers kind of chuck in as an afterthought. Sure, there are a fair number of people that will turn the sound off while playing anyway, but this mainly stems from the fact that most game studios don't prioritize music and audio effects.
Furthermore, Gamomat games are solid, have amazing graphics and there's a massive amount of book-styled slots. More on this in a bit. Gamomat produces games with almost obsessive yet admirable attention to detail that keeps players coming back for more.
Why do Gamomat have so Many 'Book of' Styled Slots
Book of Dead is the most popular slot ever made, Book of Ra is also a massive hit with players. Us sentient beings feel comfortable with aspects we feel familiar with, so any slot with book in the title is going to draw attention from players. We're just waiting for a game provider to create a slot called Book of Books. We think that'll be a winner.
Best Gamomat Casinos FAQs
Our money is on Fancy Fruits, although there is little data to back this up. As we always say at Top10 Casino Sites, what's popular with one person, or a certain group of people, ranging from age to country to gender is completely subjective.

To find the true answer to this you'd need a mathematician to crunch the numbers with the following variables: players of given slot per capita, availability of slot, time spent playing the slot and a bunch of other factors. It's a bit of a complicated sum.

Gamomat slots have an RTP of around 96%+ which is a fairly decent RTP and most definitely above average. RTP is an incredibly important factor when choosing a slot but if you don't enjoy the graphics or the overall gameplay, you're not going to reach the mathematical requirement that equals the RTP on any given game. Find a game that you love and an RTP of over 96% and you're good to go.