About Us - Guide to London Casinos
The Guide to London Casinos first launched in 2007 and was the first website dedicated to reviewing all casinos in and around the London area. Being regular casino visitors we noticed that there wasn't a website which could be used by fellow casino enthusiasts as a reference point to firstly, see what promotions are being held on any particular day in all venues in and around London and secondly to have the ability to advise fellow site visitors on personal experiences gained by visiting one of the many casino venues via a comment section under each reviewed London casino.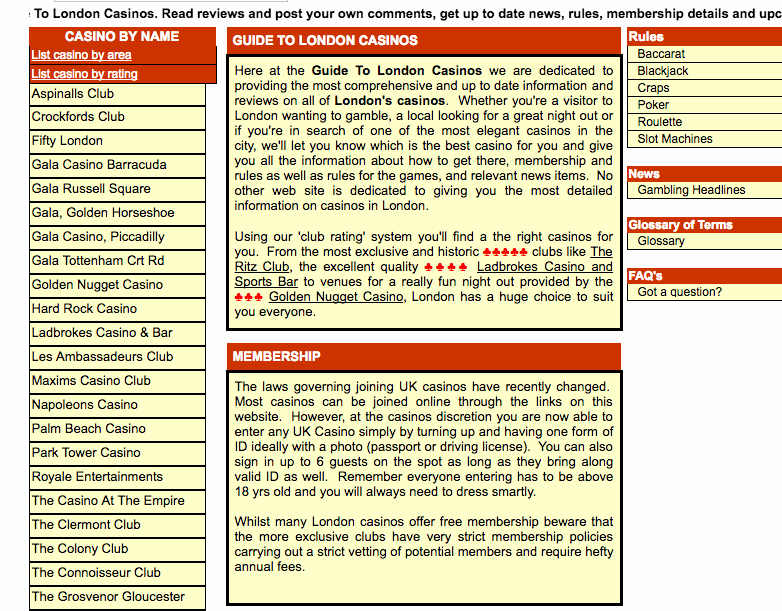 As well as reviewing venues in and around London the Guide to London Casinos provide in-depth articles on various games found in a casino which are available to help site visitors who might be interested in learning or further their learning on different games and game strategies.
London's Casinos Reviewed
Each review of every casino in London covers every area of each venue. We cover the gaming floor and the games available as well as dining facilities and social areas allowing you to make a more informed decision on which venue to visit.
London Casino Promotions
We provide regular updates on all events and promotional evenings held at each London Casino which allows you to see all relevant information in one place rather than checking multiple reference points.
The Good, Bad and the Ugly
Each casino review has a comment section. We encourage everyone who's visited a casino in London to leave a comment and share their opinion so a future readers might be able to take your opinion into account and make a better decision on which venue to choose for their night out.