Complete Guide to Online Blacklisted Casinos for Gambling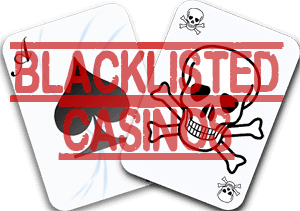 When you get online, you will come across hundreds and thousands of casino sites. Every single site is willing to take your money as a deposit, but not all of them are eager to give back your winning amount. These gambling sites misbehave with uncanny and dodgy business practice. They are known for worse player treatment and withholding the winning amount of the player concerned.
These are known as Blacklisted Casinos or Rogue Casinos or Scam Casinos and are precisely the ones you must avoid for online gameplay. Unfortunately, they run rampantly and go scot-free on the web; thereby making a majority of choices players have.
Now the million dollar question is how to spot a blacklisted casino and separate the wheat from the chaff? How to spot the bad guys and avoid them? How are you going to know whether the site is a good or bad one?
Well, it is not an easy task, and there is no full proof method that you can implement to avoid the scam casinos. But there is one way available, and it is to refer to a blacklist.
A "Blacklist" is, in fact, a list of all the rogue and bad casinos that are added to a list by the significant gambling regulatory bodies and favourite gaming software developer companies. They are inserted in the list because of the complaints filed by the gamblers and how their money is either stolen or mistreated by the site with valid proof.
So, there is a list available where all the bad guys are available in a single place. You should refer to the list to make sure that you don't end up playing at such a website and maintain distance with such shady casinos in future.
Blacklisted Casino Sites Operating with Fake Games
One of the nice things about technology and the internet is that people voice their opinion and share customer reviews just about everything under the sun. They do this with online stores, restaurants and the same goes through for the online gambling sites as well.
When players experience any troubles while gambling online, they inform us, and we keep track of everything right from complaint and issue. When we see enough problems with a gambling site, we blacklist it and tell our players to stay aloof from it.
There is a predominant rise in unlicensed and sketchy casinos that run fake or pirated games stolen from reputed software gaming companies like IGT, Thunderkick and Microgaming.
Some of the casinos that you should avoid at all cost are:
Mr Bet
Twist Casino
Casinolive
77Jackpot
Otobet
Casino Atlanta
724arena
CasinoGirl
BTC-Casino
1×2 Gaming
1bet2bet
Grand Reef
Prestige Casino
All Star Slots
VIP Golden Club
Lady Dream
Balzac Casino
Blu Casino
50 Stars
Bella Vegas
Road House Reels
Golden Galaxy
Brandy Casino
Casino Fiz
Carnival Casino
MyChance
Ace Live Casino
Drake Casino
Regals Casino
We have blacklisted these casinos for several gambling problems like payment issues, rigged games, false advertising, spamming players and other questionable practices. You are advised to maintain distance with these gambling sites and never register with them.
These sites employ unethical practices to entice innocent players, and the random number generator is replaced at the backend. It means you are cheated when you play, and you will never take home the winning amount. We keep adding the blacklisted casinos, and you are recommended to visit this webpage at regular intervals of time to check out our updated list.
The Reasons Why We Blacklist Online Casinos
First of all, you should know there is no universal list for the blacklisted casinos. When you get online, you will not find the same casino site on every blacklist you come across. There should be since it is difficult to deny when a customer is screwed by a business or online gambling site. But there is not.
Every single website compiles their own list using past experiences from the players and doing their own research work online. However, each blacklist may differ from one site to another, but the primary reason to add a particular gambling site to this list is quite apparent. It is so because they have pulled one of the scams discussed below.
Some of the commonly found shenanigans the scam casinos pull are discussed under the following headings.
Unfair Games
All the games should be fair and random to offer the best gameplay to the gamblers. But unfortunately, some rogue casinos rip off the games and alter the playing session in such a manner that players don't get the edge and end up losing on most of the occasions. A rogue casino would often tweak the free practice games to favour the gamblers and encourage them to play the lesser fair paid games.
Non Payment
For reasons unknown, some gambling sites are not willing to pay back the winning amount to the players. Now there are some valid reasons that a player might not cash out the winning amount like for instance they have resorted to cheating or other malpractices or avail abusive offers or did not adhere to the wagering requirements or other terms of bonus offers.
But the rogue or scam casinos often use the reasons mentioned above as their excuse even if there is no proof that the gambler is wrong. Instead, the casino would accuse the player and make them play more by making additional deposits with no hope of cashing out the winning amount in future.
The non-payment of the winning amount also applied to the marketing partners like for instances the affiliates. Just think that if the casino does not pay money to the affiliates in their network, how you can expect to get money from them?
Slow Payment Procedures
Just like the non-payment, a rogue site would resort to the slow payment procedure to harass the gamblers. These casinos might take several weeks or months to pay back the winning amount to the player concerned with the primary reason that they don't have cash in first place.
It is something which is really scary, and it drives out all the enthusiasm and fun from the online gambling. Meanwhile, the players get partial payments after several weeks or checks bouncing which further aggravates the problem.
Predatory Terms and Conditions
These shady casino resorts to unfair means like for instance 50X, 75X or even 100X wagering requirements for bonus rollover to cap on the amount players can win with the bonus. Here X signifies the initial deposit amount that player needs to keep in his account.
This is malpractice implemented by the casinos that you need to be wary of. Sometimes, to resolve the conflict of interest amongst players, these gambling sites would offer them some bonus or unique promotion scheme that makes them play more and lose with no hope of winning back their hard earned money.
Changing Terms
One of the frightening and gruesome things the blacklisted casinos do is to improve their terms and conditions erratically or when they feel like. This is usually done when there is a dispute or conflict of interest with a particular gambler on a specific issue that says that the player is wrong, but it is not. To support their argument and points, they would change the terms and conditions.
Regulation and Licensing
When the gambling site says it is licensed with a particular gambling authority, but it is actually not the case. Or when they talk about their location in a specific area where gambling is prohibited, and it allows them to get away with shenanigans.
It is a horrible experience for the players because they don't get any kind of customer support at times of difficulties like non-payment or troubles while playing a particular game. Even if you come across such customer care executives, they are the least polite ones, and they might threaten you verbally.
FAQ about Online Blacklisted Casinos
Here are two critical questions we usually get from all our players and other readers while playing online games. We have tried to answer them in the best possible way, and you must check it out below.
Do casinos get delisted from the blacklist category?
It definitely happens. However, it is not that common, and it may take several months or years for a blacklisted casino to become a white-listed casino. At the same time, the blacklisted site has to develop enough confidence amongst players that they have changed their shady tactics and is at their toes to render best customer service. They make sure the games are fair and doing it by the rules.
Does one lousy casino mean others are also bad?
It is certainly not the case always, but in most of the instances, it is. Like for example all the casinos run by the operator Deckmedia (Spartan Slots, Black Diamond Casino and Box24 Casino) are rogue and are blacklisted by us. If the operator is a rogue one, it is quite evident that all the online sites offered by them are also shady.
How We Compile Our List of Blacklisted Casinos?
We use a painstaking review process to list the top rated gambling sites in our list. Every single site featured on this website is evaluated across several parameters and casino features like payment process, software platform, bonuses and special promotions, different range of casino games, customer support program, encryption technology, player security and other things. We weed out the worst ones and rate the best in the industry on this platform.
If we come across any red flag with an online gambling site about late payment or horrible customer service, we dig deeper to find out the actual truth. Most of the shady casino sites that fail in the big category mentioned above end up getting blacklisted by us. However, the process to blacklist casino site is not something automatic.
Every gambling site that shows up on our radar of blacklisted ones is thoroughly reviewed by our team of experts. We get in touch with the gaming testing agencies like TST and eCOGRA to get a complete picture.
The bottom line is that the gambling sites that made up to our blacklisted category are there for some apparent reason. They have failed to discharge their services accurately and unable to redeem themselves properly even if they were given a chance to improve. They have not only failed themselves but render a poor gambling experience to the player concerned.
We would like to tell our players and readers that the blacklisted casinos are updated continuously by our team. Some gambling sites come out of the blacklist category because of the change in ownership or new set of rules. It generally takes a minimum of 1 year for us to white-list a casino from the rogue category. To be quite honest, it usually happens once in a blue moon as the majority of the shady gambling sites never come out of the rogue list.
Why Should You Trust Us?
Every single casino site that you see in our website undergoes rigorous checking, testing and review process by the experts and other gambling professionals. We have independently played at these sites as real money player and tested the games for its fairness and randomness. When you play at any our featured casino site, you will get several benefits like the ones mentioned below:
Complete safety and security while online gambling
Guaranteed payment to cash out the winning money
Myriad banking methods for online deposits and withdrawals
Trusted casino reviews by independent gaming experts in the industry
Access to vast bonuses, loyalty programs, comp points and special promotions
All the gambling sites are regulated and licensed by independent gaming regulatory bodies around the world. Hence these casinos comply with the strictest policies, and there is no foul play involved. The games are compatible with the latest smartphones across Android and iOS operating system. Register today and experience a new world of online gambling with our trusted online casino sites.
---